It's suddenly snowing on the evening of International Sex Workers' Day, which feels punishingly appropriate. I look like so many women I've scoffed at for their impractical footwear choices in the dead of a New York winter: arms mechanically fanned out to maintain balance in my short, stompy strides. I'll be damned if I wasn't going to make at least a feeble attempt at heels to observe the occasion. I'm on my way to the historic $PREAD magazine's anthology launch.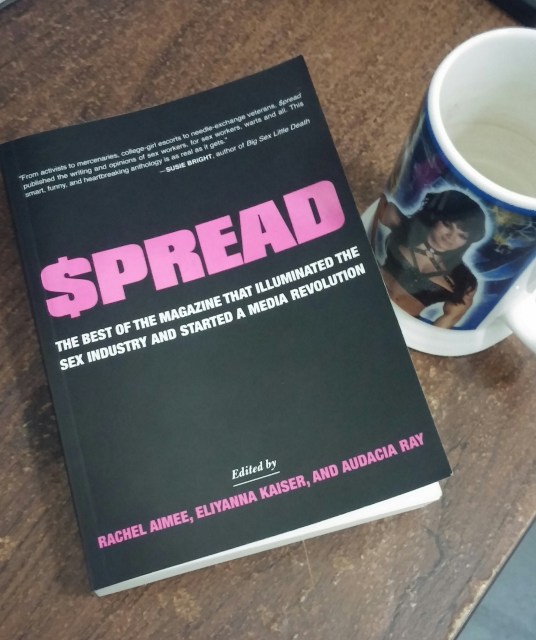 I walk into Dixon Place, a humble performance space on Chrystie Street in the Lower East Side. Open since 1986, it serves as a reminder of a NYC often mourned and chronicled. The host pleads at the beginning and end of the event for folks to knock a few back to keep the constant threat to turn their lights out for good that looms over them at bay while condos reach greater heights each year. I'm greeted by a wall hanging various $PREAD magazine covers. Their cover stories don't make any attempt to hide what the mag is about: "India's Prostitutes Stand Up to Bush," "Sex Work: Should You Tell Your Partner?" "Calculating Your Rate as an Escort" and "NYPD Blues: Boom & Bust in The City", to name a few. A video piece by local artist Damien Luxe, outlining each of her jobs and their pros and cons is projected on the wall. "Still broke" bottom lines about all but "Sex Worker."
Jennifer Baumgardner, Feminist Press' publisher/executive director, introduces the event by boasting FP's 45 years in business, and points out that then, and still very much now, feminists are polarized on "the issue" of sex work. FP made their stance known when they chose to publish $PREAD's anthology, lauding the magazine for having "created a platform where people tell the truth about their lives." This resonates earnestly with the readers, who close their eyes and nod in agreement.
The magazine's legacy turns 10 years old this month, though its publication was cut mercilessly short at five and a half years. Started by Rachel Aimee, Rebecca Lynn and Raven Strega, Aimee recalls a trio without any publication experience and an urgency to compile the stories of sex workers available to them. A call for submissions was made, an overwhelming response was received. Evidently, this was a forum sex workers were sorely lacking. Audacia Ray, $PREAD's executive editor from 2005-2008, recites the importance of the East Village to the magazine's manifestation: weekly meetings at Cafe Pick Me Up on Avenue A, fundraiser parties at the Slipper Room, etc.
Naturally, given that feminists are staunchly divided on the topic of hustling, $PREAD received some colorful hate mail when attempts to bring their magazine to seemingly like-minded organizations were made. "Dear Prostitutes," a letter starts, "Were you smoking crack when you sent this to me? Or did your syphilis get in the way of doing any research into my company?" It continues, "A true feminist works to secure the dignity and safety of all women, while you only care about yourself and your 'liberation.'" Aimee presents the physical copy of this letter, hand written on unlined paper with pencil in juvenile handwriting. Others found solace in the magazine that they did not find elsewhere. "I love receiving $PREAD. I feel like I'm hanging out with my best sex worker friends in every issue," a reader writes.
Syd V. reads from her featured piece "Hell's Kitchen: Growing Up Loving a Working Mother" about being the young daughter of a dominatrix and escort service manager. A side of sex work we rarely see, Syd makes connections from childhood to her understandings of sex and kink. She includes an anecdote about her first "safeword," a word she was to ask for if anyone was "trying to take her anywhere," as they would know this secret word (having been born in the 80s to two native New Yorkers, I know this tale well.) In the story she tells us about the complicated lattice work of running an escort service her mother had to face. The drivers she hired to protect the escorts was too costly, but she could not choose to exploit her workers by cutting into their income to pay the drivers. Faced with either doing away with the workers' safety or a fraction of their pay, her mother closed up shop.
Brendan Conner looks like a substitute teacher I had a major crush on in middle school (which prompted the inquiry, 'was Mr. F turning tricks when he wasn't teaching Social Studies?'). He shoves his hands in his pockets and his shoulders creep up to his ears while he prefaces his reading with some notes on his privilege as a white, cis male working in the sex trades. He reads the introduction to the anthology's "Violence" chapter, perhaps his sheepish body language is due in part to his privilege that affords him an outward image as a less easy target for the more obvious forms of violence sex workers endure (and sometimes, succumb to). The intro begins with a quote from serial killer Gary Ridgway, "I picked prostitutes because I thought I could kill as many of them as I wanted without getting caught." Most of Ridgway's murders carried out in the early 80s, but this epidemic rides into the present: as many as 17 victims identified as women in the sex trades are linked to a killer sti ll unidentified on Long Island. Remains have been uncovered as recently as December of 2011.
Marisa Brigati tells of a safe haven in Mexico City for working girls. Founded by by Carmen Munoz, Casa Xochiquetzal works to keep girls from feeling forced to work the streets in order secure shelter or food, but are not discouraged from doing so for other means or motives. Casa Xochiquetzal houses many retired workers as well. Brigati calls attention to the ongoing call to end human trafficking, and calls it out as a ploy to "turn them into sweatshop laborers to benefit the first world." The crowd lets out a collective "mmm," to affirm Brigati's point.
$PREAD did not reach everyone it wanted to. An overwhelming percentage of its readers had graduate degrees or higher, and to my eye, the line up of this event's readers all appear to be white. Audacia Ray, also known for founding Red Umbrella Project and writing Naked On the Internet: Hookups, Downloads and Cashing In on Internet Sexploration, challenges the audience to consider who is not represented in this anthology and to lift up the voices of those who don't utilize the more common platforms that this generation of hustlers seek: blogging, for one.
Damien Luxe turns the event over from a reading into an art show, first showcasing a small collection of video pieces from sex workers, emphasizing that this cannot represent hustlers as an entity, that nothing can, and citing reasons why certain artists are not represented (one felt publicly attaching a name, even a pseudonym, to sex work was too great a risk. Another was "too busy hustling.") Xandra Ibarra/La Chica Boom's "Balboa Method" is a stand-out piece to me. In it Ibarra is heavily made up while a masculine voice berates her, her face repeatedly slapped with a corndog. Enduring enough of this, she grits her teeth and knits her eyebrows together, like a pitbull subjected to instigation. Her expression then relaxes into a struck and submissive one, and the corndog is forced into her mouth like a phallus by a hand with American flags painted on each nail. Morgan Page's "Treat You Like a Lady" features a new snippet from the introduction of Bill C-63, which sought to do away with prostitution in Canada. Playing on the inflated presence of men in power as dominatrix clients, the piece cuts to flogging scenes involving such a man before returning back to the news segment. Senator Don Plett, who represents this bill in this video insists that a woman needs to be "treated like a lady" rather than "exploited." When faced with the concern that this bill will only present more danger to prostitutes, he then says, "Of course we don't want to make life safer for prostitutes, we want to do away with prostitution." How chivalrous.
The lights hit, people ascend the stairs to admire the artwork on the walls by artists such as Molly Crabapple and Cristy Road while patrons do their part to keep Dixon Place alive through social drinking. I swing open the door, heart heavy for the loss of $PREAD magazine and the voices that it did carry, my heels silenced by the street's slush.