This week is Banned Books Week, the American Library Association's annual celebration of intellectual freedom that highlights the books that schools and libraries attempt to ban.
Queer content is a leading reason for attempted bans — between 1990 and 1999, there were 495 challenges related to homosexuality; between 2000 and 2009, there were 361, according to the ALA. (About 10% of challenged books are ultimately banned.) And of the ten most-challenged books for 2016, the top five are cited for having queer content: This One Summer, written by Mariko Tamaki and illustrated by Jilian Tamaki; Drama, by Raina Telgemeier; George, by Alex Gino; I Am Jazz, written by Jessica Herthel and Jazz Jennings, and illustrated by Shelagh McNicholas; and Two Boys Kissing, by David Levithan. (Other books are cited for being sexually explicit, for explicit language, and — in the case of Bill Cosby's book — for allegations of sexual assault against the author.)
In a statement published by the ALA's Office for Intellectual Freedom, Mariko Tamaki and Jillian Tamaki note:
"We worry about what it means to define certain content, such as LGBTQ content, as being of inappropriate for young readers. Which implicitly defines readers who do relate to this content, who share these experiences, as not normal, when really they are part of the diversity of young people's lives.

A book doesn't stop existing by taking it off the shelf. Nor do the ideas contained within. Pulling a book from a library shelf makes it inaccessible to kids who depend on the library for books. It's an infringement on the freedom to read, to explore, to experience things outside of your world, to see yourself and your story in the pages of the books you read."
Fighting censorship – of queer content and of all other types of content – is very, very important here in 2017. Read queer banned books. Support their authors. And maybe buy an extra copy or two of the ones below and leave them in a school library somewhere.
---
This One Summer written by Mariko Tamaki and illustrated by Jilian Tamaki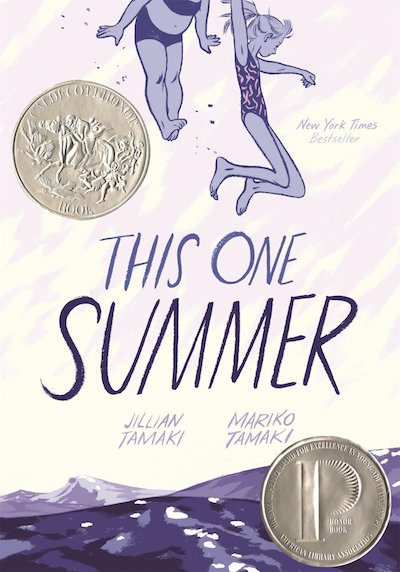 This One Summer is a beautiful graphic novel about teen girls growing up one summer. In her review at Autostraddle, Mey says it "shifts smoothly between feeling like a cool drink of strawberry lemonade on the beach, the uncomfortable feeling of sand in your shoes, holding hands with someone you love as you lay in the warm sun and finally, the emotional punch that comes when you're a kid and you realize that your summer is over and you have to go back to school the next day." It topped the challenged books list for 2016 for "LGBT characters, drug use and profanity, and it was considered sexually explicit with mature themes."
---
Drama by Raina Telgemeier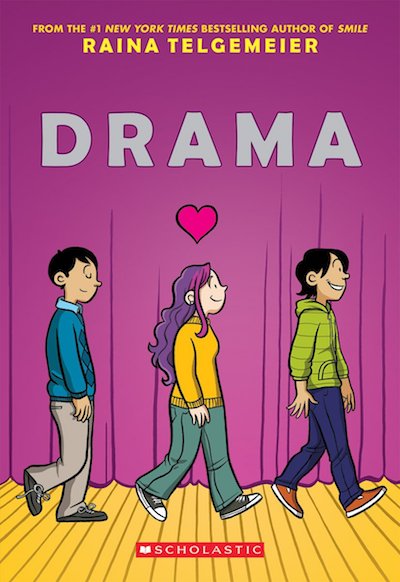 Drama is a sweet graphic novel about middle-school drama, onstage and off. In a review at the New York Times, Ada Calhoun writes:
"The Horatio Alger of graphic novelists, Telgemeier draws up-by-their-book-bags characters who value hard work and seize a chance that has nothing to do with looks or even with love. While capable of boy craziness, they concentrate on friendship and creative fulfillment. The better Telgemeier's books sell, the less hand-wringing to do over the next generation. If this is what the youth of America are into, the kids are all right."
Drama is second on the top-challenged books list for 2016 for "LGBT characters, was deemed sexually explicit, and was considered to have an offensive political viewpoint."
---
I Am Jazz written by Jessica Herthel and Jazz Jennings and illustrated by Shelagh McNicholas
I Am Jazz is a picture book slash memoir by 12-year-old Jazz Jennings about her early experiences as a trans kid. Janet Mock notes: "All young people — regardless of difference — deserve the things Jazz shares in her lovely book: a loving family, supportive friends, and the freedom to be their true selves. A beautifully illustrated and accessible primer on one trans girl's journey of living her truth." It's fourth on the top-challenged books list for 2016 "because it portrays a transgender child and because of language, sex education, and offensive viewpoints." It also appeared on the 2015 list, with reasons given including "inaccurate, homosexuality, sex education, religious viewpoint, and unsuited for age group."
---
Fun Home by Alison Bechdel
Alison Bechdel's acclaimed graphic memoir about growing up gay with a closeted gay dad who also directs a funeral home made the 2015 most-challenged books list for "violence and other ('graphic images')." Fun Home has also been challenged for being porn, which… it isn't. In the Washington Post, Charles Brownstein, executive director of the Comic Book Legal Defense Fund, explains that graphic novels are subject to increasing challenges in part because they are easily decontextualized:
"Graphic novels are frequently reduced to a single image or sequence of images that can be removed from the larger context of the work, and used to justify censorship. Comics' use of images and words give the stories added power that resonates with audiences, and makes works like 'This One Summer' and 'Drama' even more compelling. These works must be considered as a whole to be fully appreciated."

---
Pulitzer Prize winning, National Book Award winning, and critically acclaimed, The Color Purple is a crucial American literary text. In a 1982 review at the New York Times, Mel Watkins praises "the novel's intense emotional impact," calls it "striking and consummately well-written," and notes:
"The cumulative effect is a novel that is convincing because of the authenticity of its folk voice. And, refreshingly, it is not just the two narractor-correspondents who come vividly alive in this tale. A number of memorable female characters emerge. There is Shug Avery, whose pride, independence and appetite for living act as a catalyst for Celie and others, and Sofia, whose rebellious spirit leads her not only to desert her overbearing husband but also to challenge the social order of the racist community in which she lives."
The Color Purple is on the 2007 most-challenged list for "homosexuality, offensive language, sexually explicit," and is seventeenth on the top 100 lists for 1990 to 1999 and 2000 to 2009.
---
"Her body of work is phenomenal and she has garnered almost every award and accolade imaginable. But I believe that if she were here she would say that her greatest accomplishment is what she gave to the people. It was the voice she gave to the voiceless. It was in the faith that she taught us to demonstrate. It was in the stories she told, for we know that if no one documents the stories of our community, it is as if we never existed," writes Carolyn Wysinger at Autostraddle of Maya Angelou. I Know Why the Caged Bird Sings is the first volume of Angelou's literary autobiography, and it appears on the 2004 most-challenged books list with the reasons "homosexuality, offensive language, racism, sexually explicit, unsuited to age group." It's also listed for 2007, 2002, and 2001; sixth on the 100 most-banned and -challenged books list for 2000 to 2009 and third on the top-100 list for 1990 to 1999.
---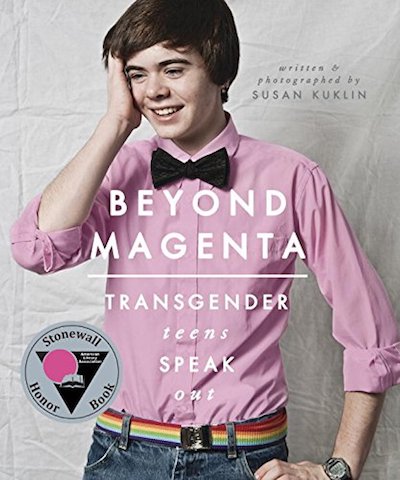 In the opening note to her book of portraits of and interviews with six trans or genderqueer teens, Kuklin notes: "My subjects' willingness to brave bullying and condemnation in order to reveal their individual selves makes it impossible to be nothing less than awestruck." The teens she features discuss bullying, coming out, going back in the closet, parents, friends, dating, self-exploration, and growing into the people they know themselves to be. A Publishers' Weekly review called it "a sorely needed resource for teens and, frankly, many adults." Beyond Magenta was fourth on the top-challenged books list for 2015, with the following reasons listed: "anti-family, offensive language, homosexuality, sex education, political viewpoint, religious viewpoint, unsuited for age group, and other ('wants to remove from collection to ward off complaints')."
---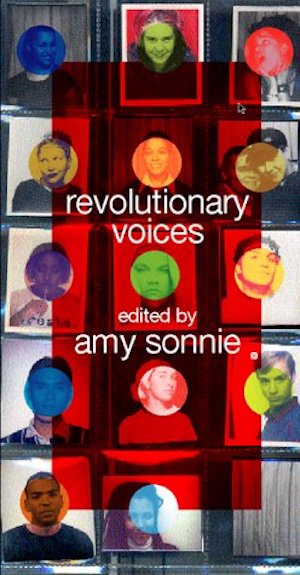 This 2000 Alyson anthology is by and for queer youth and was a Lambda finalist in two categories. In her introduction, Margot Kelly Rodriguez calls it "an extraordinary collection that speaks out against the injustices in our communities, exposes the violence and pain we withstand, and celebrates out ability to survive in a world that quite literally does not want us." Revolutionary Voices made the 2010 most-challenged books list for "homosexuality, sexually explicit."
---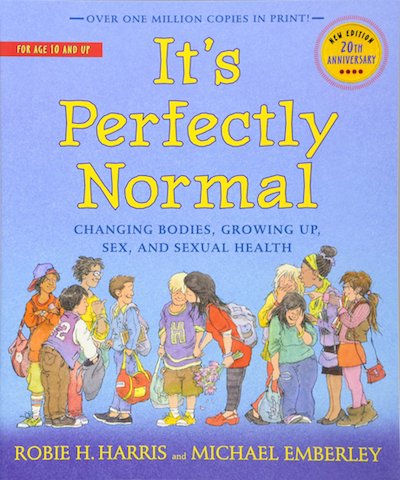 In the introduction to It's Perfectly Normal, Harris writes: "You may wonder why it's a good idea to learn some facts about bodies, about growing up, about sex, and about sexual health. It's important because these facts can help you stay healthy, take good care of yourself, and make good decisions about yourself as your are growing up and for the rest of your life." But denying kids and teens adequate sex education is a long-standing tradition in the American educational system, so it's not surprising that It's Perfectly Normal appears on the 2005 most-challenged list for "abortion, homosexuality, nudity, religious viewpoint, sex education, unsuited to age group," and is also on the top 10 lists for 2014, 2007, and 2003.