I immediately fell in love with (RE)Sisters: Stories of Rebel Girls, Revolution, Empowerment and Escape, a new YA/adult fiction anthology by emerging women writers, published by For Books' Sake and edited by Jane Bradley. My heart was hooked somewhere in the middle of the first story, "Kin Selection," by Eliana Ramage. Ramage chronicles a young woman's navigation of the many spaces and identities she inhabits: college life, adoptive family, birth family, racial identity, Navajo identity and fame she never asked for, which follows her after a childhood at the center of an infamous custody battle.
Ramage's story is not a false start; it's just the first of a beautiful selection of stories by young women, about young women, all trying to carve paths in the uncharted territories of their lives. It's not a specifically queer anthology, but there are a whole bunch of queers to be found in the pages of (RE)Sisters. And I'm not talking vague references to gal pals – there are stolen kisses, straddling and public declarations of love. Queerness is resistance in (RE)Sisters. It's powerful; it's brave; it's celebrated; it's reveled in.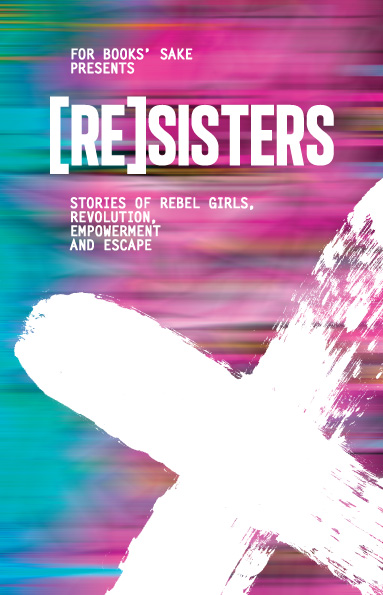 (RE)Sisters is populated by emerging women writers from all over the world, speaking to a wide diversity of experience. Though there's not a lot specifically dealing with gender identity or trans identity, nothing cissexist or gender-essentialist jumped out at me while I read. I think trans women and gender-nonconforming people who connect with the experience of girlhood and womanhood will be able to see themselves reflected in the pages of (RE)Sisters.
In the book's introduction, Bradley outlines (Re)Sisters' aims:
"(RE)Sisters contains works of fiction. But it also contains a lot of truth. The characters feel the same pressures and pains, fears and frustrations, and employ the same survival strategies as their real-life counterparts. Some of the situations depicted are extreme, but they are a reflection of girls' experiences, and to exclude them would be at best an omission and at worst dangerous. No-one wins when we look at girls with rose-tinted glasses. (RE)Sisters explores girlhood in all its gore and glory."
And it does. Through rule-breaking, more than one unauthorized hot air balloon flight, and many other creative and brave attempts at escape, (RE)Sisters reveals truths about what we know, but may not always be able to say: that we are itching to break free of the implicit and explicit confines the white supremacist, patriarchal, heterosexist, cissexist, ableist, imperialist world puts on us. Some of the escape attempts are successful, some are left ambiguous, but the hope and resilience are always tangible.
While all rooted in fiction, the stories in (RE)Sisters take place in the past, present and future, sometimes with a hint of magical realism. Two of the hardest-hitting stories take place in dystopian worlds, pulling back the curtain on some conditions of our current reality. In "A Whole Plate of Biscuits" by Angela Kanter, girls are separated out from the boys in their classrooms. Their teachers don't acknowledge them. We later learn that girls aren't allowed to have pens or contact lenses – they can be present in society, but they can't have the tools they need to thrive. Two girls, Isha and Matty, find a space for subverting, resisting and generally saying "fuck you" to the rules and rule-makers, through the teaching of women elders and through their own attraction to each other.
In "Disharmony," Tanvi Berwah depicts a world where people with dark skin are isolated from society until they have a dangerous operation to lighten their skin. The narrator has lived her life in isolation, waiting for her operation and the so-called "freedom through blue eyes" she is promised, when her dark-skinned infant niece is put into her care. Her love for her niece inspires her to call into question the racial order she's taken as fact and internalized. Again, the love between women inspires strength, bravery and resistance.
One of the unexpected delights of this book is that, while the stories largely resist falling into tropes, they do have original takes on everyday young-queer minutia that I've rarely found in mainstream fiction. In "The Bathtub" by Kate Spivey, two women road-trip through a vast and open landscape, accompanied by their cats who roam free inside the sweltering car, climbing on the dashboard and copiloting in the driver's lap. In "Upside Down" by Alaina Symanovich, the main character, Kate, chronicles her complex relationship with friend and sex interest, Ari. Symoanovich writes, Kate "kept a box in her bedroom where she stored fossils of Ari: handwritten notes, water bottle caps, movie ticket stubs." She perfectly captures the way everyday items become artifacts with hidden significance, and made me think of my own boxes of fossils, pushed far under my bed.
The label of "young adult" for this collection is broad – subjects of the stories range in age from teens to early 20s. I went in expecting to feel it resonate with a younger version of myself, which it did. But I also found the stories reaching straight into the rawest parts of my 24-year-old heart.
(RE)Sisters is a great read for anyone who finds power in resisting patriarchy through their relationships with people of any gender.