Feature image via Shutterstock.
AUTOSTRADDLE ANONYMOUS SEX TOY REVIEW:
Over the last few years, sex toy companies and stores have asked us to review their toys in exchange for, you know, their toys. This week, one of our anonymous reviewers tried out the Lelo Ina Wave, a rabbit vibrator sent to us by Bondara.
Material: silicone
Color: teal, purple or pink
Size: 8″ long, 4 1/4″ insertable, 1 1/2″ in diameter
Price: $199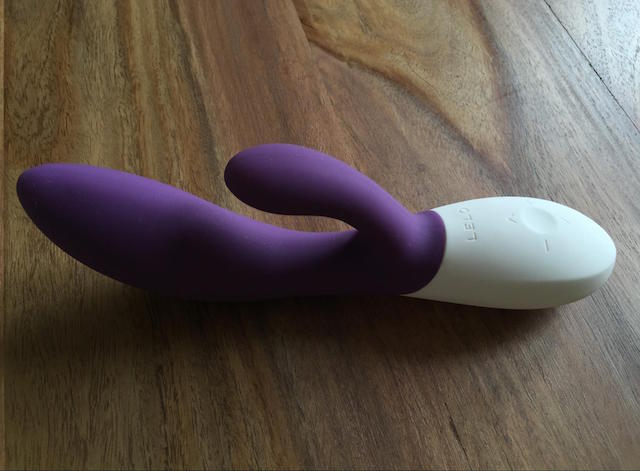 I saw the Ina Wave at my local sex toy store and loved the new "come hither" motion concept. It seemed like it might be very similar to how I like my g-spot stimulated with fingers, with the added bonus of clit stimulation. (I'd also never used a rabbit-style vibrator before.) I'm not a huge fan of strong clitoral pressure or vibration, but this vibrator has multiple speeds so I thought it might go low enough for me. But it ultimately didn't matter that it does — between the wave motion and the stiff clit-stimulating nub, the Ina Wave pinches almost too much to use.
I can't seem to get this toy to work with my body. I'm sore after using it because the rabbit nub has way too much tension on my clit and the area around it. I got it to fit correctly when I stopped the wave motion at the point the shaft was furthest away from the nub so it was as open as possible, pulled the nub back all the way with my fingers during insertion, and then gently let it spring back into position.
And once in position, it didn't feel great — the tension on my clit was too much. I think the nub should be positioned differently or be bendable or adjustable fit a variety of bodies. I tried it several times and found it way too pinchy to have it in long enough to experiment more. I had an activity partner try it as well who likes stronger clit pressure than I do, but they also felt it was too pinchy and gave up after a minute.
Then I tried using the wave motion. The shaft's waving is essentially up and down in a way that could in theory hit the g-spot. I made you a gif to demonstrate:
I found I had to hold the handle tightly in place when I used the wave settings, or the toy just used the rabbit nub as a pivot point or worked its way out of my body. It also pinched harder and didn't feel actually feel that different than the regular non-wave settings.
The toy has ten modes and three don't wave, so you can turn the motion off if it's too much. You can also adjust the speed/intensity for each mode for a variety of sensations. If you hold down the + and – buttons together for three seconds you activate or deactivate a travel lock so the vibrator doesn't turn itself on in your bag and panic the TSA. I like that the buttons are flush and not raised, it feels nicer quality that way, and they were still easy to find without looking.
The outside of the Ina Wave is a really luxurious soft silicone, including the handle. The silicone is very smooth, but also pretty grippy, so you will probably need to use lube. It also collects dust: The packaging looked nice but the lining of the box was felted and left lots of black fuzz on the toy, making it seem dirty. Thankfully that all came off when I washed it.
When the package arrived, I accidentally received a UK version instead of a US version, so while the toy was the same, the plug was a big UK three-prong plug. Thankfully I have a travel adapter so I could charge it, and the UK plug it came with was 100–240v.
The manual says it's waterproof and submergible up to 1m, and that the inside of the dc plug port is waterproof. However, I think for $200 it should have induction charging, or at least a little cover on the dc plug port to keep it clean.
In the end I don't recommend this toy, but Lelo does make a non-rabbit version which would take the great wave motion (if the end of the toy is held firmly by you or maybe by a partner) and actually fit more bodies.