I started taking Remi to political and activist spaces when she was very small. Partly this is because I work in the often-fraught world of "professional activism," a.k.a. paid community organizing and legislative advocacy and civil rights nonprofit work. When I went back to work after parental leave, Remi was eight weeks old and it was literally my job to show up to government meetings and community organizing planning sessions and rallies and marches and protests.
In many ways, I'm extremely lucky. I'm living the dream of a lot of y'all: fighting the good fight and getting paid a living wage for it, to boot. In other ways, I'm limited by having to channel my activism through my work, leaving little time for me to pursue things I'm personally passionate about. Or, rather, finding it incredibly hard to extrapolate my personal activism from my work activism because there's so much overlap. Regardless, activist spaces are just a part of my life out of choice and out of obligation to my job.
It was inevitable that I'd be one of those parents who brings their kids with them. When Remi was very little, she spent half-days at the office with me. I had a whole setup in my office with places for Remi to play and sleep. I'd sometimes hire babysitters to come to my office so I could slip out for a city council meeting or evening training. Other times, I'd strap Remi to me and we'd head out to a rally or meeting or event. Often, I'd schedule meetings at my office so I could let Remi play on the floor while we planned and strategized around campaigns.
My job responsibilities changed around Remi's tenth month of life and I'm out in the field less now. It's honestly a welcome reprieve with a little one around, but it also means I have fewer opportunities to share my work with Remi. I still try to take her to events like lobby days and meetings where I think I'll be able to provide kid-friendly space.
Before I had kids, I saw parents (usually cis moms) bringing their kids to marches and rallies and meetings and I was so in awe of how they made motherhood/parenting and activism look so seamlessly compatible. If I ever wanted to have kids, I'd wanna be like that, I'd think. I wouldn't slow down at all. I'd just bring them with me.
Now that I have a toddler, I realize how challenging it is to bring a kid to a lobby day or entertain a kid through a three-hour meeting. Y'all. It's exhausting. It's often embarrassing and overwhelming.
Yet I do it anyway — out of necessity when I can't get a babysitter, usually — but also because I want Remi to have these formative experiences. She doesn't totally understand what we're doing yet, but I want advocacy and activism to be a part of her story of growing up. Who knows?
For example, on a recent trip to Albany to see a long, long, long overdue transgender non-discrimination bill pass, I brought Remi into the Senate Gallery with me so I could watch the vote. One of my queer mom friends who used to work on that legislative campaign also brought her kid, who's younger than Remi. I was very jealous of her ability to nurse her kid through it while mine was yelling, "Baby Shark!" "Yeah!" "Mommy!" during the floor debate. Remi was having a ton of fun, but I eventually had to take her out to the hallway outside the Senate Gallery anyway because she was just too loud and is not yet old enough to sit still and be quiet for more than five minutes at a time. I missed the actual vote because I set up a station for Remi on a bench and didn't feel like packing up to bring her back in.
Later, my boss asked me to speak at a press conference about the bill, which was a really nice thing to ask me to do. However, the press conference went on for hours, Remi got hungry and frustrated, and it was ultimately… very hard for both of us. At one point, Remi just spread out face down on the floor and I let her because, like, I was right there with her and also she wasn't running around or touching anyone, so it was a better situation IMO.
It was OK, though. I was glad we were there. I'm glad I have these pics to show Remi, that I can tell her she was a part of this historic vote, that she got to see protections enacted that directly impact her family and her dad. It was worth it.
I want Remi to see herself as a member of society with an obligation to helping others. I hope that, in small ways, she is getting that message through osmosis, through coming with me into the "field" and through seeing me working. I feel bad about how much I work and how that takes time away from her, but I also feel proud that she sees me working and will grow up with a sense that activism, hard work, and helping others is important.
My parents didn't necessarily try to include me in their activism with intention, I don't think, but I remember much of it distinctly. They were both involved in their teachers' union and my dad was the president of the union at their rural school district. I remember stuffing folders for union meetings, cuddling up to my mom in my parents' bed during my dad's annual trip to Albany for the union's lobby day.
I remember watching them plot to systemically take over the local school board and starting their own activist organization in our town to do so, spray-painting lawn signs in a barn with other parents. I often was brought along, probably out of necessity. I didn't really understand the context for it all and I was often bored and stuck playing with other people's kids for longer than I would have preferred. Later, as an adult, I realized that my inherently strong moral compass was bolstered, in large part, by seeing my parents affect change in their communities throughout my life.
I want Remi to have that gift and I hope that one day she finds her own way to fight for the causes that are important to her, even if they're different than my own. I can't wait until she's old enough to really understand what I do, what we are doing together, to form her own opinions and ask her own questions about it. I can't wait to see what gifts Remi brings to the movement.
These days, when I see another parent dragging their kids along to some action or community meeting or what-have-you, I give them a knowing smile. It's not easy. We're making it look easy, but it's all a show. What I'm saying is, if you're sitting in the Senate Gallery trying to hear the floor debate and someone's kid starts crying or yelling "Baby Shark!," please be kind to them. They're doing their best and that kid is going to be awesome one day very soon.
---
Four Queer Parenting Things I'm Currently Over-Processing
1) Four Words, Y'all!
Out of seemingly nowhere last week, Remi started busting out complete sentences and four-word sentences. "I want the apple!" "Get my cup!" "I want to go!" As you can tell, she's two years old and pretty demanding. Waffle and I were both floored. We were eating breakfast out two weekends ago and she just started saying whole sentences out of the mother f-ing blue!
Language development is so cool and weird! I can't believe that she'll be basically talking like an adult in a year.
---
2. Potty Training Prep
Remi is showing a lot of signs of potty-training readiness. We've been talking about the potty, playing with potty toys, reading books about the potty, watching kids' TV shows about using the potty. We weren't going to get her a little kid potty. Rather, we planned to just let her use the big potty right away (with a seat insert for little butts) but decided to get her a free-standing little potty after she started showing a genuine interest.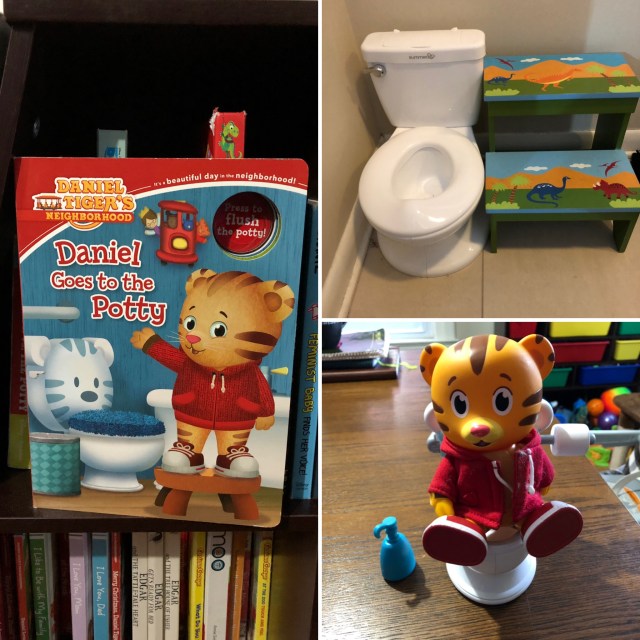 Honestly, we're both feeling pretty gun-shy. I don't want to start until Remi can completely remove and put on her pants by herself. She's close — she's got the legs and front all figured out — but she's still learning how to get the pants over her rear end. I also kind of want her to be even more verbal and patient before we start because I don't want it to go on forever. That said, she understand us and follows directions pretty well already.
I know it's not a race. I also know that somehow Remi will be potty-training probably before her next birthday. It's just really hard to imagine. It feels like when we were transitioning her off of bottles or when she started eating real solid food, like… HOW?! I imagine, like those things, it will just happen with some patience and practice. At the moment, it feels impossible that we'll figure this out in the next few months?
---
3. Parenting Things I've Googled This Week:
potty training average age
orange feet toddler cause
how many words should a 28 month old know
language development two three years old
above average language skills toddler
---
4. Penguins, Attention!