Sometimes being an actor in New York can be a very frustrating experience. I wake up at 5 am, drag myself to open calls filled with a bunch of obnoxious people, freak out for six hours waiting to be seen, sing for 30 seconds and then go to work trying not to feel too worthless. If you happen to be wondering what, exactly, it's like to live the open call, non-union life of a queer girl with stars in her eyes, I just happen to have a vlog about that.
After almost 6 years trying to get on Broadway by going to open calls, I realized there had to be a better way for me to utilize my skills and fuel my soul. Really, it is all about connections. I met Maggie Keenan-Bolger through an article that Autostraddle did about her show Queering History. I emailed her and she told me I could help out by selling tickets for the show, after which we grabbed a beer together. This landed me an audition for the show I'm currently doing with her, which you may have heard about, called The Birds and The Bees: Unabridged.
This show is a devised theatre piece on female sexuality, but it's not limited to the female viewpoint — we opened up the casting process to anybody besides cisgender men, a.k.a. anybody left out of the mainstream discourse about sexuality, which has historically been defined by cisgender men. What's devised theatre? It means that our cast was formed through an audition process to get enthusiastic and diverse people to discuss their experiences with sex and sexuality in order to form a previously-unwritten show. Originally, we started with about 20 women and gathered information through the surveys (which some of you might have taken; THANK YOU!!!). After collecting input from our cast and the surveys, we realized that we were missing some crucial viewpoints, and were able to add several cast members including two disabled women and a trans* man.
We reached out to a number of organizations but were unable to find a trans* woman who was interested and able to commit the time — unfortunately, the traditional theatre world hasn't been friendly to trans folks so the casting pool is pretty limited. Over time we hope to take part in changing that, and visibility for our project on websites like this one, with its diverse readership, are part of that initiative. We are hoping to eventually tour a version of the play to colleges and will continue to work to find someone (or someones) who is excited about being a part of the project and is able to provide a perspective on sexuality from the trans* female viewpoint.
However we do have trans* female representation in our accompanying visual art exhibit, so if you're a trans* woman visual artist reading this, we'd love to see more submissions to alleviate somewhat the lack of representation in the performance piece. It is absolutely our goal in further incarnations of the performance piece to be sure that the trans* woman voice is included as well, so please contact us if you're interested in participating! Historically trans* women are often left out of conversations about female sexuality and we know our project will be at its best when we have those voices included.
---
Growing up gay is a unique experience in that my interactions with sex and sexuality are very different from those of many of my cast-mates who grew up identifying as straight. There wasn't a rulebook or very many examples of lesbian relationships, so I was forced to do a lot of research and communicate with my peers and partners on a regular basis. The perceived gender gap (Men are from mars…blah, blah, blah) was not typically an issue in my relationships and so I believed that it was possible to openly communicate with my sexual partners. Within our cast, it's fascinating to discuss our experiences because it makes me realize just how differently-situated my knowledge on sex and sexuality is. I was interested to find out how the other lesbian as well as the trans man in the cast were feeling about their experiences and their additions to this groundbreaking show. So, I talked to Cole and Holly about their feelings on theatre and Birds and the Bees.
Cole
Where are you from and where did you receive your training for your theatre profession?
I'm from Rockaway, NJ, but I also lived in the south (Virginia and North Carolina) for a long time.  I have a B.A. in Theatre and Dance from James Madison University and an M.A. in Theatre History and Criticism from CUNY, Brooklyn College.
Is theatre/acting your primary job? If not, what else do you do?
Well, I currently temp at the Kaplan Bar Review, and I am also an adjunct lecturer of public speaking at CUNY, BMCC.
Do you think your experience as a queer/trans person has influenced your interaction with theatre?
Oh, hugely. Inescapably. It's all I do, actually, is talk/write/create about my subjectivity as a transman and how it is the lens through which I see the world. The stage is a perspective on the world, a lens in itself, so my stage is a trans/queer stage, even if I write or act straight characters. My body is queer as is my body of work. I write theory about transmasculine spectatorship and embodied practice. As a playwright, I am hyper-focused on transmen characters. The plays are never ever about their transitions or about explaining their identities to anybody. They're just people who are trans and they do stuff that is not about being trans. Which is surprisingly revolutionary, believe it or not. As a script reader for two companies, I'm sad to say I read piles of transphobic or trans-uninformed junk. If only I could balance it out by generating tons of original plays that don't suck! I've only got a few, and I'm in the beginnings of a new one.
How do you think your experiences in theatre vary from straight or cisgender identified people? 
Oh wow… want to read my 50 page thesis on this? Well, basically, I believe that my subjectivity as a trans person does create a barrier between myself and the normative-studio-training expectations of the body. Dysphoria is a real thing. I have a theory about disappearing body parts, and I've been working on developing trans actor training that is based on an idea of fragmented resistance as opposed to "wholeness." I can't think of any technique that doesn't require a sense of a unified bodily calm to even start, and why don't ya just Google gender dysphoria? I don't believe that having a dysphoric body should mean trans people can't be actors. Besides, there are trans actors. Cast us, please. Stop casting cis people as trans people. 'Preesh.
What have been your experiences with Birds and the Bees, what do you bring to the table and what are you excited about?
I get to experience a ton of anxiety! But that happens with me and actor training. I also get to experience a lot of fun, and I love watching characters and scenes materialize before my eyes. As a playwright who writes in a more or less traditional sense of storytelling structure, I am not used to the idea of a group-devised piece.
As for what I bring to the table, I bring a beard. It's a very different experience of femaleness than the rest of the cast, and one that is always ignored because I pass as male. While others either ignore it or forget it, I have to remember every time I have to use a stall in the men's room or on any number of other daily moment's when my body and I are aware of each other. I may be the only cast member who is female but does not identify as one.
Can you talk about a moment or exercise in rehearsal that stuck out to you (humorous moment, moment of discovery, etc)?
I think my favorite moment so far was a group-devised scene that acted out an entire "morning after," in which an unfortunate toilet situation resulted in a girl leaving a bag of poop behind in the apartment of her fling, ensuring the status of the date as a one-night-stand, never to be heard from again.
Holly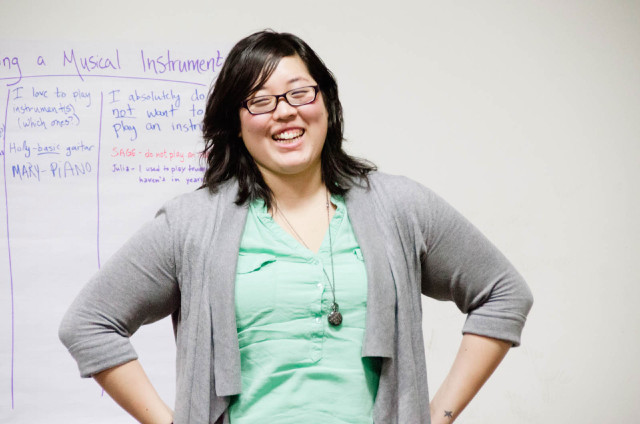 What drew you to this project?
There is very limited information being given to people, especially young women, about female sexuality. I wanted to learn from the people involved in this project and help others become more aware and accepting of different points of view. With so many recent attacks on women's rights, now is when a project like this is especially necessary. I wish I could have had a group of people like this to learn from when I was growing up.
Where are you from and where did you receive your training for your theatre profession?
I was born in Seoul and grew up in Mansfield, Ohio. I have a BFA in Acting from Long Island University, CW Post. Epic Theatre Ensemble, Roundabout Theatre Company and the New York Public Library's Theatre on Film and Tape Archive taught me what I know for my career in theatre administration.
Is theatre/acting your primary job? If not what else do you do?
Yes, theatre is my primary job. I'm currently the Production Supervisor at the Theatre on Film and Tape Archive. We tape many Broadway and Off-Broadway productions to be included in the Lincoln Center archive.
How do you think your experience as a queer person has influenced your interaction with theatre?
I grew up watching, listening to and acting in theatre. As a child, I became a huge musical theatre nerd – I used to listen to my cassette of The Phantom of the Opera during recess. My career is in theatre and I couldn't imagine doing anything else. Despite my love for this community, I wish queer women were better represented, both on the creative end and in what ends up on stage. I recently saw February House and Fun Home at The Public, both of which feature queer female characters. Had I seen theatre like this when I was growing up, discovering my own sexuality, and coming out would have been much easier. Theatre taught me that it was fine to be different; I wish it had shown me it was fine to be a queer woman, as well.
How do you think your experiences in theatre vary from hetero people? 
Queer women spend a lot of time seeing and telling other people's stories in theatre. Creating a complex, developed character always defaults to the character being straight (or more recently, a gay man). For the most part, you will only see other queer women on stage if they are token, stereotypical and minor characters (Legally Blonde, Hairspray). Seeing yourself constantly tokenized gets rough, but projects like this help change the norm.
What have been your experiences with birds and the bees, what do you bring to the table and what are you excited about?
I've loved working on this project. The devising aspect scares the control freak in me that just wants a script, but that's probably a good thing. The people we are working with bring tremendous intelligence, humor and empathy to the table. As a queer person of color I think I have a unique perspective on how each of these factors affect my experience with sexuality. I can't wait to see how the show turns out. We've had great support from those that know about the project. I'm anxious to continue the conversations we've been having with people that see the show. I also look forward to seeing the art installation that is a part of this project.
Do you have any funny, awkward or poignant stories of your experiences as a queer person in theatre?
In an acting class my freshman year of college, I was working on a scene from Stop Kiss, a play about two women falling in love and a brutal physical attack after their first kiss. Our Teaching Assistant was coaching us in front of the class, only half of which knew that I was gay. It was already a bit awkward for me as the material was hitting a little too close to home. At some point the TA said, "you have to imagine what that would be like, since none of you know what it's like to have feelings for someone of the same sex." I was mortified and tried not to look at any of my friends that knew in the silence that followed. I came out to everyone in my class soon after that.
Our Kickstarter campaign ends on February 16th. There are all sorts of cool things that you can get by donating. For only $1 you can get the best piece of sex advice e-mailed to you, for $10 you can get a list of the top 10 books and movies about sexuality and for $25 you can get a mixed tape from the cast of boot-knocking music. Other awesome incentives include naming a character in the show, a mystery box and a VIP invitation to the show where you will have the opportunity to dine with cast and crew. Your name will also be entered in a raffle where you will have the opportunity to win a product or event from one of our sponsors. If those aren't enough reason to help us out, consider that your donation will help us to make the world a better place by facilitating open and honest discussion about female sexuality.
The Birds and The Bees: Unabridged will have performances the last week of March (27th-30th) and you can buy tickets at our website.
Come see us, like us on facebook, visit our tumblr and help us fund our show.