Short on time or energy to read? Then this month's Ask Your Friendly Neighborhood Lesbrarian is for you! I recently received this email:
Hello Casey! I currently don't have the energy to read entire novels, so do you know where I can find collections or anthologies of short stories featuring lesbian and/or bi women characters? Any genre is good, but I especially like urban fantasy, science fiction, and other speculative fiction. I would also prefer stories with happy endings. Thank you!
I'm sure this person isn't alone in their struggle, and they've already come up with a great solution: short stories! But especially for science fiction and fantasy lovers — never mind readers who are also looking for queer representation — short stories can be hard to find. The sci fi and fantasy sections of libraries and bookstores are full of trilogies, or series with even more installments, or big epic novels running at 600 pages or more. Below are some very short alternatives! Some are anthologies featuring work by a wide variety of authors, and some are short story collections by a single author. They're all over the speculative fiction spectrum, from hard sci fi focused on technology, lesbian romance set in space, horror (of various levels of scariness), magic realism, fairy tales, stories about witches, and more! If you're into comics, two of the anthologies feature all comics! And there are plenty of happy endings to be had in all of them.
---
Topside Press — a publisher run by and focused on trans writers — has really outdone itself with its latest anthology of 25 speculative fiction stories by trans writers. Naturally the collection is focused on trans experiences, but plenty of them are also lesbian/bi experiences. Calvin Gimpelevich's "Rent, Don't Sell," for example, features a cis lesbian veteran and amputee whose love interest is Natasha, a trans woman who's used the latest body swapping technology only to find herself struggling with a different kind of dysphoria. Trish Salah's "It Can Grow!!!" is about a queer trans woman trying to figure out how to deal with her brain-eating amoeba, such as by taking home the trans guy she meets at the dyke bar where her girlfriend is a bartender. Other stories are about surviving the apocalypse in an intergenerational trans and queer group of misfits, what it it's like to be a futuristic trans woman Virgin Mary, and how a non-binary person deals with an alien twin version of themselves who spawns from a giant egg.
---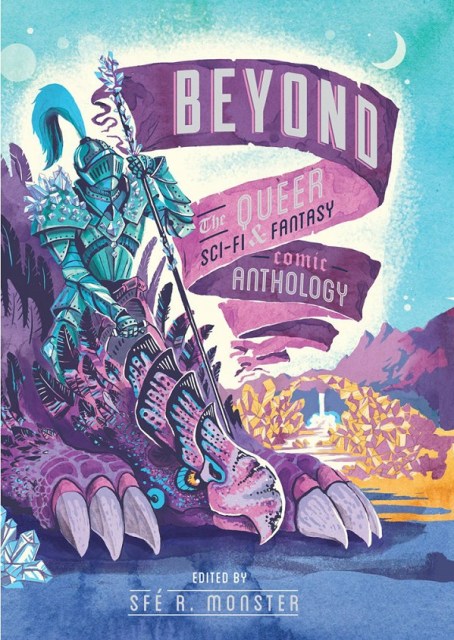 Like Meanwhile, Elsewhere, Beyond: The Queer Sci-Fi and Fantasy Comic Anthology is a one of a kind anthology. All queer, all comics, and all science fiction and fantasy! There's an immense amount of diversity in Beyond, from the racial and ethnic backgrounds of characters to art style to variations on many subgenres of speculative fiction. Notable stories with queer women characters include: "They Simply Pass" by Kristina Stipetic, a story about a women robot society with an unusual same-sex reproductive system and one robot who is rebelling against her role, and "The Monster Queen" by Savannah Horrocks and April J. Martins, wherein a princess falls in love with a (lady) monster. If you want more after finishing this book, you're in luck! There is a second volume in the works; the successful kickstarter ended earlier this year and the book is set to come out in late 2017 or early 2018.
---
This slim volume could be easily read in a few hours, but you'll want to stretch out and savor it. All the authors are Indigenous, and most identify as LGBT and/or two-spirit. Two opening essays introduce some two-spirit history and talk what these Indigenous writers find powerful in speculative genres; if you're new to the idea of two-spirit, these essays provide crucial context and background. Standout stories with queer women characters include "Né Le!" by Darcie Little Badger (Lipan Apache), which features a lesbian romance and puppies aboard a spaceship headed to Mars, and "Perfectly You" by David A. Robertson (Cree), where a young queer Cree woman Emma participates in a ground-breaking new piece of virtual reality with unexpected results.
---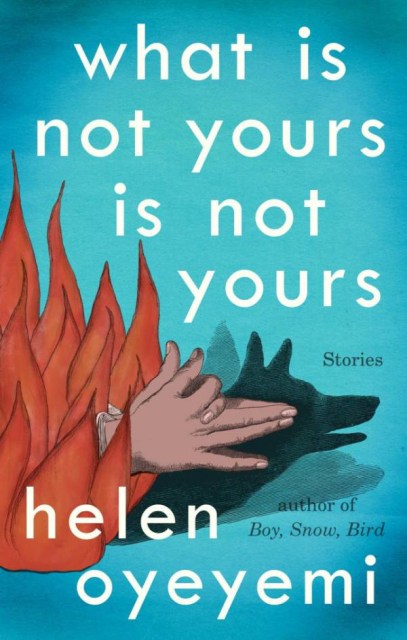 What Is Not Yours Is Not Yours is Oyeyemi's short story collection debut told in her trademark mythical, mesmerizing voice. These stories, many of which have recurring characters and themes, could be called magical realism; to me they feel like fairy tales that happen to take place in the real world. They're about things like magical diaries with locks on them that someone can't resist opening (that story is called "If a Book Is Locked There's Probably a Good Reason for That Don't You Think"), puppets who are alive, and trying to recreate the presence of a loved one after their death. One reviewer quoted on the book jacket calls Oyeyemi's writing "gently perverse" which perfectly captures how weird and wonderful her atmospheric stories are. Most of them feature queer characters of various stripes, including a character who uses he and she pronouns and could be identified as non-binary; the majority of the characters are people of color as well.
---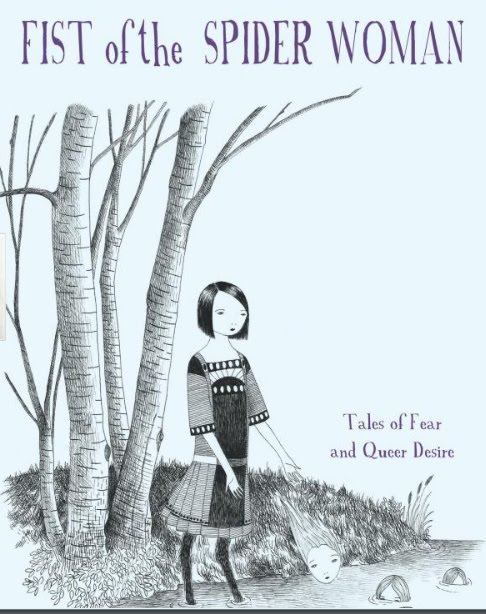 Starting with the two questions "What do queer women fear the most?" and "What do queer women desire the most?," Amber Dawn created this amazing collection of stories to both turn you on and scare you, sometimes simultaneously. The stories range from ones that are genuinely terrifying and not so erotic to ones that would be at home in an erotica anthology. For example, Aurelia T. Evans's "In Circles," which features an intersex main character, will make you never think of that silly sleepover game Bloody Mary the same way again. Dawn's "Here Lies the Last Lesbian Rental in East Vancouver" is part ghost story, part anti-gentrification treatise, and part mean mommy and little girl kinky erotica. "Homeland" by Kristyn Dunnion peels back the horrors possible in the average night at your local lesbian bar. "Crabby" by Michelle Tea, however, is actually quite funny, for a story about getting crabs from doing sex work. That's just the beginning!
---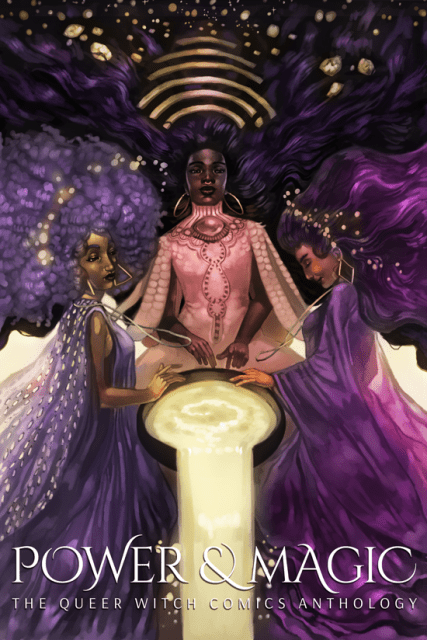 Power & Magic is another one-of-a-kind anthology: it collects 15 original comics about queer witches of color. There's a wonderful mix of drawing styles throughout the collection, a nice balance of light-hearted and more serious stories, and representation from diverse cultures, ethnicities, and abilities. One of my personal favorites is the poetic "Your Heart Is an Apple" by Nivedita Sekar, which describes the dating woes (and joys) of a mermaid/witch who uses a cane. Other standouts include "The Whisperer" by Arianne Hokoki, where two young witches escape the trauma in their lives via a magical bus akin to the Knight Bus in Harry Potter, falling in love in the process and "The Shop that Never Stays" by Gabrielle Robinson and Hannah Lazarte where a woman wakes up every morning in the same strange shop after a spell gone wrong. This anthology is the first book published by Joamette Gil's Power & Magic Press. Keep a look out for their future projects!
---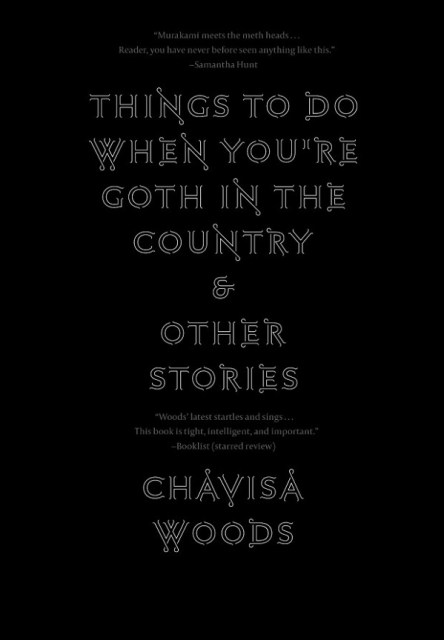 Woods's second book and debut short story collection Things to Do When You're Goth in the Country & Other Stories is a knock-your-socks-off-it's-so-good kind of book. The stories range from quite out there — a trans guy who wakes up one morning with a miniature version of the Gaza strip happening on his head — to just barely speculative: a lesbian takes ecstasy with her schizophrenic girlfriend at a gathering of people with super high IQs and it's unclear throughout what exactly is real. Woods writes beautifully with honesty, generosity, insight, and inventiveness, mostly about rural, white, poor America. The stories feel at once intimately real and strangely uncanny. Other stories feature topics like senior Baptists contemplating polyamory and group sex; tween girl BFFs, one of whom is queer but doesn't know it yet, making friends with a homeless woman living in a mausoleum; and a queer writer returning to her Midwest home to poverty, crime, meth, and strange floating green orbs in the sky.
---
Been looking for queer fairy tale retellings? Look no further than Emma Donoghue's masterful collection Kissing The Witch. She somehow manages to tell these stories in a voice that channels the velvety effortless feel of an ancient storyteller telling tales that have been passed down around campfires for eons while infusing them with an unmistakeably queer feminist contemporary consciousness. These are fairy tales with their often dark origins in mind; think Brothers Grimm, not Disney. Donoghue's language throughout the collection is evocative and emotional; she writes "Every since my mother died the feather bed felt hard as a stone floor. Every word that came out of my mouth limped away like a toad" in her retelling of Cinderella, "The Tale of the Shoe." In "The Tale of the Rose" — a retelling of "Beauty and the Beast"— the beast is, of course, a woman. And the lesbian witches? They get kissed, and they live happily ever after.