Welcome to the sixth installment of Ask Your Friendly Neighbourhood Lesbrarian! I love getting your questions, so keep sending them to me by Twitter (@canlesbrarian) and email (stepaniukcasey [at] gmail.com).
Back in December, a few Autostraddlers got to talking about queer sci-fi in the comments on my post on queer high fantasy books. This is not surprising as the nerds who like fantasy are also often the nerds who like science fiction (I include myself in this, obviously). Tiny Valkyrie and femmefantastic hit on how hard it is to find queer sci-fi. They mentioned Tanya Huff's Valor series, Ammonite by Nicola Griffith (I'd also add Slow River), the Daughters of a Coral Dawn trilogy by Katherine V. Forrest and Stardust Bound by Karen Cadora as great books that they've already read, but asked for more.
So what other queer science fiction should you read? The below suggestions include a variety of sci-fi sub-genres — hard and soft sci-fi, military sci-fi and space opera — to please all sorts of fans. The definition of military sci-fi is pretty obvious, while space operas have the melodrama of a soap opera, but set in outer space and usually with cool spaceships and interplanetary battles. Hard sci-fi tends to focus on technology, while soft sci-fi tends to focus on people and relationships. As always, I've focused on the ladies and this is not a definitive list — share your own suggestions in the comments!
---
O Human Star, Vol 1, by Blue Delliquanti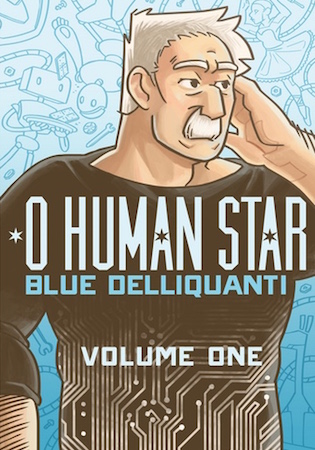 O Human Star is full of artificial intelligence; complex plot; engaging characters; clean, evocative drawings; plus lots of gay stuff. It was my favorite comics discovery last year. Alistair is an inventor who basically started the robot revolution but died suddenly and never got to see the results. Until he suddenly wakes up in a body remarkably like the one that's supposed to be dead and has to track down his old partner — romantic and professional — Brendan, who appears to be raising a robot teen girl who looks an awful lot like Alistair. The characters cover most of the rainbow spectrum: queer cis guys, a trans girl (who's also a robot!) and queer girls (cis and trans). O Human Star is also an ongoing web comic. Volume 2 comes out in print in March.
---
Ascension by Jacqueline Koyanagi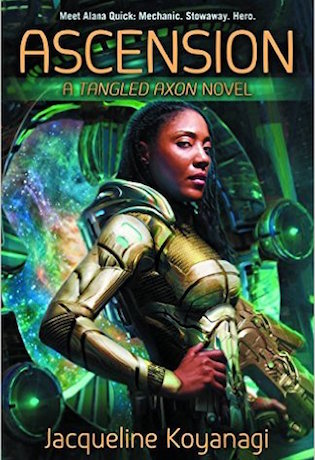 In this space opera, Alana is a sky surgeon — read: spaceship engineer — who's fallen on hard times. Desperate for work, she stows away on a ship, where she falls in love with both the ship and its lady captain. They end up on a journey across the galaxy to save Nova, Alana's sister, a spirit guide who works with energy to transform reality. The writing is lovely, especially in the way that Koyanagi describes spaceships in Alana's voice like they're beautiful women, and the world-building is really imaginative. Did I mention that in addition to being a lesbian, Alana is also Black and chronically ill? Other characters are bisexual, Latina, Black, and polyamorous. Ascension is a beautiful marriage of an effortlessly diverse cast and exciting, inventive sci-fi storytelling.
---

Forgive the cheesy Canadian-indie-press cover of Big Big Sky; this book is rad and queer as fuck. It's a wonderfully weird, feminist look at a dystopian future where a group of young women, brainwashed to be killer assassins in an all-female military society, decide to escape the compound they've lived in their whole lives with no idea what the outside world is like. (When they first encounter men, they call them "strange beasts.") Dunnion's world-building is unique and thorough, down to some futuristic slang (persevere, it's well thought-out). Of course, two of the women are in love. I say women but the characters are not fully human: one later turns into a giant raven, another becomes a fish-human hybrid.
---

This compulsively readable roller-coaster of a young adult book is a cross between The X-Files and adorable queer teen romance, and is my personal Malinda Lo favorite. Plus, the main character Reese is explicitly bisexual! It all starts when Reese and her debate team partner David's school trip goes awry: when all national flights are grounded after thousands of birds hurl themselves into airplanes, they have to drive home to San Francisco from Arizona. Along the way, they get in a bad car accident and wake up in a military hospital with no memory of how they got there or how they've been healed. When they get home, things go from weird to weirder. Warning: cliffhanger ending! Relief: Inheritance, the sequel, moves at a mercifully slower pace.
---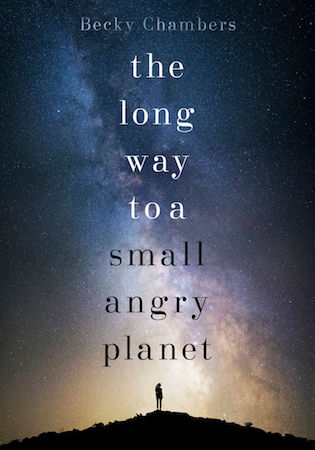 If you're looking for a classic, character- and relationship-driven space opera, but queer, you'll love The Long Way to a Small Angry Planet. It's like Star Trek but with lesbians and more aliens. This novel follows a motley crew of wormhole tunnelers of various sapient species — space highway makers — along a dangerous journey to a planet that has recently signed a treaty with the galactic government. This is a wonderfully, intricately imagined world that delves deep into what makes humans human. Chambers's alien species are incredibly detailed, with cultures so rich it's impossible to not believe they're real. She somehow deftly weaves an exciting plot with a mediation on relationships, notably interspecies ones — including between a human woman and a non-human female of a sapient species kind of akin to lizards.
---
Bisexual Chinese-Vietnamese teenage superhero: what more do you need to know? Not Your Sidekick is a nice sci-fi twist to the superhero genre: it's set in an unfamiliar future of self-driving cars and holographic TV, after war and radiation aftermath. Jess — the daughter of superheroes but with no superpowers herself — takes on an internship with her town's worst supervillain. She gets to work with Abby, her long-time crush, and has a mysterious co-intern who seems to never be in the same place as Abby at the same time. At the internship, Jess discovers a secret plot bigger than the villains and heroes put together. Beware the cliffhanger ending, but there is a sequel coming sometime in late 2017.
---
The Caphenon takes place on Alsea, a planet not unlike Earth in that its inhabitants look up at the sky and wonder if aliens exist — until alien ships start fighting in the skies and it turns out Alsea is a coveted prize in an interstellar war. Andira Tal from Alsea and Captain Ekayta Serrado — captain of the aliens who have saved Alsea for now — are the leaders of their people (and the book) and must to work together to protect the planet from powerful galactic forces. The Caphenon has both space opera and military sci-fi elements going on, as well as more than one queer lady. It's full of excellent storytelling and skilled science-backed world-building, and romance takes a backseat.
---
Like The Long Way to a Small Angry Planet, The Stars Change is set in a future where humans share the galaxy. Mohanraj is also interested in character dynamics and relationships, and delves a lot more deeply into the erotic, making for an unusual combination of erotica and sci-fi that doesn't sell either genre short. The Stars Change is set on a South-Asian-settled university planet on the brink of interstellar war, but rather than focusing on battle, it looks at how humans (and non-humans) deal with the news. Intensely preoccupied with knowledge, The Stars Change is a rare combination of thought-provoking and steamy science fiction, complete with black and white illustrations.