Welcome to Queer Outfit of the Week where I scour the world and tell you all about my one favorite queer outfit this week. I'll envision a scenario where you or your girlfriend or your best friend or your mom or your cat could wear it and talk all about why it's a great outfit for that event. Every week will be a different style, gender presentation and event so there's a little something for everyone — even the person who just wants to look at pictures of stylish queers! So let's get to it — we're going to figure out what the heck we're going to wear this week!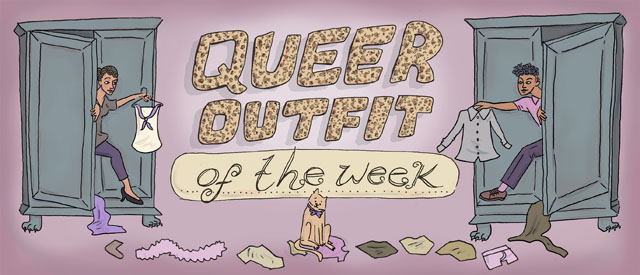 Header by Rory Midhani
---
Are you headed up to A-Camp this week?! I am! Get ready for workshops, panels, crafts and yes, even some camping.
Normally if I were going to show you guys an outfit to wear to an event I was attending, I would use this as a moment for unabashed self promotion. But alas, I do camp all wrong. I always wear heels and high-waisted pants and then tromp around shocked when I look out of place and get all my nice clothes dusty. That being said, I should state for the record that the perfect look for camp is whatever makes your heart sing! Still, there are two individuals who put the camping back in a-camp: Autostraddle/A-Camp staffers Cee and Taylor.
The overall key to this A-Camp look is the vague essence of Boy Scout. With that in mind you want to either start with an old boy scout/scout leader shirt or simply a tan or green canvas shirt with two breast pockets with flaps and buttons. If you're cold you can throw a long-sleeved thermal underneath your button-up, which is generally a good idea because weather on the mountain is crazy and can change in an instant.
If your canvas shirt doesn't have any merit badges on it, pump up the boy scout volume with a couple of patches of your own choosing. Or make your own queer scout merit badge!
The obvious companion for a canvas top is some khaki cargo pants. I suggest going for a shade of khaki that is different than your top. Matching bottoms might push you over the edge from "essence of Boy Scout" to "Boy Scout costume." That is not the look you're going for (unless it is). If you're on the femmier side of things you might want to go for some narrow cut, cropped cargo pants. Alternatively you might prefer to wear black leggings because there is literally not a thing in the world that black leggings doesn't go with. You could also wear shorts, for a full Boy Scout effect, but I really think you'll be cold and the Jewish mother in me is just so not okay with that.
On your feet you'll want something sturdy but comfortable. Brown leather boat shoes or brown hiking boots are both good options. Just like when we went apple picking, center of center and femme of center might want military style boots and MOC folks might prefer more of a hiking boot. Desert shoes are also a great option for the Clarks fans out there.
Finally, you'll want to accessorize with a bandana. Maybe even in your Rainbow War team color! Where are you going to tie that bandana? Well wherever the hell you want. Tie it around your neck or pin your hair back with it. Maybe you want to flag with it out your back pocket or stick it in your front pocket because you're actually using that thing for snot. To full complete your look you'll want to add in a camping headlamp, a pocket knife and something attached to a carabiner.
Now that you have your outfit, you just have to get it all up the mountain! Happy Camping!
---
If you see something that you think should be featured on Queer Outfit of the Week, send me an ASS message, ask on my tumblr, or tweet me @Ohheyitslizz