This is Part 10 of a 12 column series. If you're just joining in, start at the beginning!
---
I am coming to the end of this pregnancy journey, which of course means the beginning of a much bigger journey. Time has flown by. I imagined at this point I'd be feeling quite tired of being pregnant. I mean three quarters of a YEAR being pregnant?! That's a long time to give one's body over to a new and unpredictable experience, to another person, a person I've never even met, a person pretty much guaranteed to be utterly unable to imagine what I've done for her already. (Kidding / not kidding!)
Twenty-eight weeks in, I entered the third trimester and thought, "this is it! The tie-breaker trimester!" So many people told me they were reading the series and decided "oh goodness, pregnancy is not for me" after my first trimester column, but then "oh wow, that sounds awesome, I totally want to get pregnant!" after my second trimester column. I felt some pressure on this trimester. What would it be like? Would it drastically tip the scales back from the nearly absurd levels of deliciousness I felt during the second trimester to the not-so-much-fun-at-all state of being of the first trimester?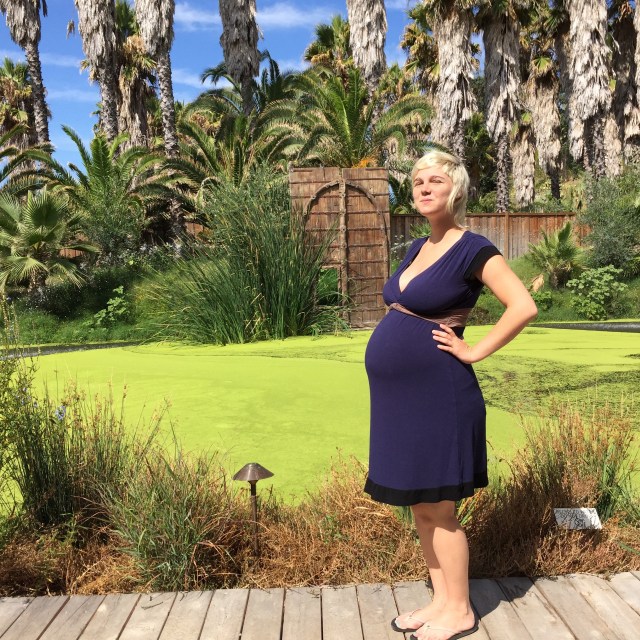 I was warned by nearly every previously pregnant person I'd known that it got much harder again towards the end. The second trimester bliss and ease would not stick around. Pregnancy books, too, harkened of heartburn and shortness of breath and trouble rolling over and swelling and all sorts of grotesque ailments awaiting. I put off writing this column and recording the video for weeks, feeling like I must not have fully entered the third trimester yet, feeling like I didn't have anything that different to say yet, feeling like something harder must be around the bend.
Here I am, though, at nearly 40 weeks (just three days from my due date!), feeling great. For me, very very lucky me, the third trimester has not particularly challenging or uncomfortable. It's been actually pretty darn awesome. I feel a weird sense of shame writing this, like I don't deserve it. Or like my experience will somehow diminish that of so many others who do feel just darn sick of it by the end. I suppose all I can say is I've heard it can totally be hard at the end for many, so you've been warned, people deciding whether or not to get pregnant based on my column. (Insert inappropriate-for-essay-form smiley face emoji here.)
This is not to say that I'm some sort of mythical creature who has had no physical complaints to speak of in the last several months. Although I never got the much discussed shortness of breath (maybe because I have a super long torso or did oh so much yoga?), I definitely had my bouts with heartburn. The worst was right after I traveled and thus was more out of control of my diet and routine. That shit hurts! I was woken up several times in the middle of the night with a burning throat, only able to fall back asleep on a wedge pillow all propped up.
Digestive enzymes with meals and chewable papaya enzymes just after cured me in the nick of time, 5 days into the nighttime wakings, the very day I sent Simone out to buy a bottle of Tums. Now if I get a hint of it, slippery elm tablets or chewing a few papaya enzymes does the trick nearly instantaneously. Much of my symptoms have been like that. Something will come up for a few days, bad enough to be annoying, perhaps, like hip pain that makes it hard to sleep, but then I will go to yoga a few times, or commit to doing hip stretches every night before bed, say, and the symptom will fade into the background. I've been very tuned into my body and doing my best to take very good care of myself.
There have been some more constant body weirdnesses, too, though, of course. I mean, I'm about to birth another human, I've gained 30 pounds, and my blood volume has nearly doubled, so let's be real. I find them to be pretty minor annoyances though. I run much, much hotter, going from sleeping with a comforter to often with nothing at all. In these last few weeks of somewhat bizarre San Francisco heat, I've needed a fan in the bedroom to make it easier to sleep (no air conditioning here). When you're pregnant your temperature goes up and your sweat point goes down (to make your body more efficient at cooling your baby, who has no way to sweat themselves…) So I sweat.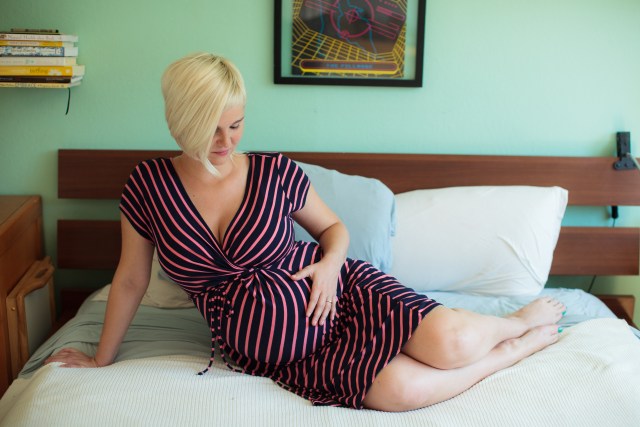 I'd also be remiss not to mention the hunger and thirst of the third trimester. I eat ALL THE TIME! If you're anything like me, plan to increase your grocery budget, wanna-be-pregnant folks. Waiters stare at restaurants. I've filled my house with healthy easy snacks. I'm a little bit terrified about how much I will want to consume when I'm breastfeeding, when your caloric needs go even further up. Eating a ton of calories when you care as much as I do about the quality and healthiness of those calories can be a little tricky, but I'm doing it. That and more water than anyone would ever think humanly possible. I say this as an already very serious water drinker. Give me all the water. With ice cubes, please.
Given the fantastic quantities of water, and the baby's ever-heavier head pressing on my bladder, I have to pee all the time again. It's the trickiest when we're out all day, or if I do too much of my water drinking the second half of the day and end up waking up seven times in the middle of the night to pee. But even then it's not terrible. I figure I might as well get used to it, and I file it under minor annoyances whilst trying to remind myself to drink as much as possible before 3pm the next day instead.
Swelling, I should tell you, is also a thing that happens to most pregnant people at some point. Worst in the heat or if you eat too much salt (beware processed food!) or if you're sitting all the time (as so many of us do for work.) At 35 weeks I could still don heels, but no longer, as my pregnant-in-summertime feet don't fit. This stiletto devotee now wears flip flops regularly in public. They warned me motherhood would do wacky things to my identity. Aside from the aesthetic issues, feet and hands can get achy with the swelling, but massage and exercise and lots of water help.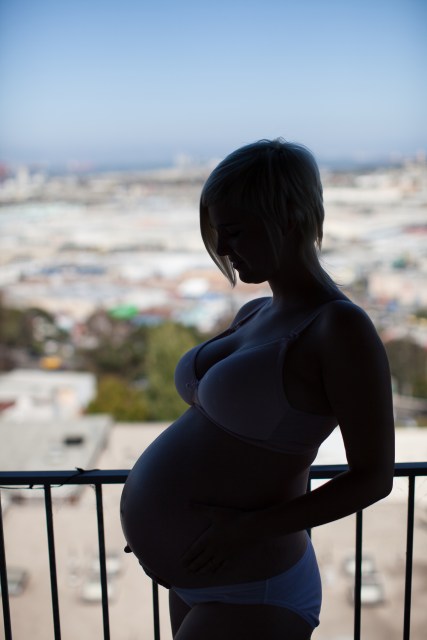 So does, for me at least, an appreciation of this baby and this body. I just love how I look pregnant. I still kind of want to be pregnant forever. I don't feel quite ready, even days from my due date, to give this experience up! I love this baby inside who makes this belly grow. She is so much stronger now (sometimes her jabs hurt but that's cool too), and she gets hiccups all the time, which I find adorable. I feel my uterus contract more and more, practicing for labor and giving baby a little hug.
Sometimes I still feel in utter awe of being here. The depth of gratitude I feel for getting the chance to carry this little love to 28 weeks, 35 weeks, and now, here, more than 39 weeks is profound. I carry this gratitude with the weight of my previous loss, with the knowledge that not everyone who wants to gets to have this experiences, with the remarkable truth that there will soon be a person in the world who I grew in my body.
Y'all, I managed not to cry in this third trimester video, but here I am now, writing, tears rolling down my face at my desk, just a few feet away from our new rocking chair where I plan to spend hours nursing my baby. It is so very humbling, in the best possible way, to be taken over by this transformative experience. To be the custodian, for such a short time, really, of this new life, of this person who will grow up and feel all her own feelings and live out all her dreams and be wounded and sometimes scared and all the things that make us human.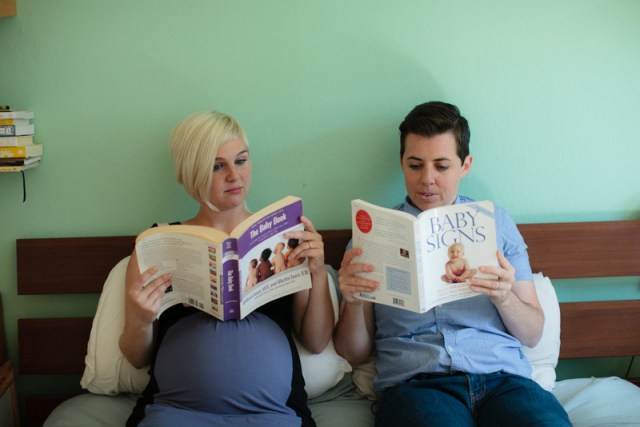 I am still in awe that growing a person is a thing my body can do. In awe that it's a thing bodies can do at all. That it's how all of us got here. I feel tickled thinking about all the other completely mundane and utterly miraculous things I will get to witness in the life of this child.
I feel patient as I wait for Tiny to emerge, confident she will make her appearance when it's just right for her. I wouldn't mind if that took weeks more, might prefer it even, as I savor having her to myself in this sweet way. Feeling her ever more powerful limbs travel across my uterus. Listening to her heartbeat in weekly appointments. Falling asleep with my belly on Simone's back as Tiny kicks her to sleep. We love you so much little one, and we look forward to meeting you so very, very soon.