I've had the same hair for 4 or 5 years now: wavy, almost-curly hair that falls in ringlets just past my shoulders. Learning to care for it has been a process. I started with the Rite-Aid-brand, silicone heavy "leave-in conditioners" that left my hair drier and crunchier than it was before. Since then, I've read think pieces and beauty blogs instructing me on how to handle my in-between hair. My hair, after all, is a far-cry from the glossy white hair that advertisers market for. It's thick, coarse, frizzy, and dry. Learning from people of color, predominantly online, I've learned to wash it less, condition it whenever it is wet, and moisturize it with oil. It's indicative of the work I've done to understand my body, and more particularly, those racialized aspects of my identity.
When I was a child, though, I wanted my hair to be straight. My mother was insistent that I never flat iron my hair. She invoked images of her own sister, bent over an ironing table in their Queens apartment, pressing the hot steam to her dark brown hair as if it were a wool coat.
No matter what I did to straighten my hair at friends' houses, it did not listen. While it might appear disciplined for 30 minutes, slowly, the curls would return, and the shine would be lost. I, like my hair, tried to be more digestible. I made myself smaller, tried to speak less, tried to disappear. But I couldn't stop myself from writing. Some years later, I would be proud of my body's resistance. But in 9th grade, I wanted out.
At fourteen or so, I cut my own hair off in my family's bathroom.
It was fall. The walls in the bathroom were a scattering of teal and icy blue tiles. I was looking in the mirror, halfway to falling in love with someone at the time. I was so afraid of my newfound affection that I feared would damage me. I was so afraid to grow up in the world as the kind of person I am. I called out to my mother, "Mom, I'm cutting my hair!" To which she said, "Okay, honey, make sure it is even."
I cut my long, wavy hair up to my ears. And for the first time in my life, my hair was straight. Or I pretended that it was. Other things in my life appeared straight too, if I looked away at the right times.
The truth was that even as I cut it off, my hair was talking. It said, look at how beautiful I may be, if I am nurtured, if I am known. While people in middle school had manufactured curls with hot tools and fancy YouTube tutorials, I had paraded around with my big 50s barrel curls. Sometimes, upon receiving a compliment, I might find some affection within me for those curls. As I got older, my hair got bigger and longer. I grew into my sexuality and found my hair evidence of my body's health and abundance.
In college, as I concurrently listened to my body, I listened to my head, listened to who my heart wanted to love. My hair finally reached past my shoulders and to my bust. I stopped watching videos online of white women attempting care for hair adjacent to mine in texture. I went to the Devacurl salon on Broome Street in Manhattan and sat in awe as a blond woman with curls fastened around the crown of her head like bubbles sheared my own. (I paid 200 dollars and swore to cut my hair for under 40 dollars for the rest of my life.)
Before I left for India, I was finally proud of my hair: the way, when just oiled, the curls seemed to dance under any light, the ringlets twisting and dancing down my shoulders like its own piece of abstract art.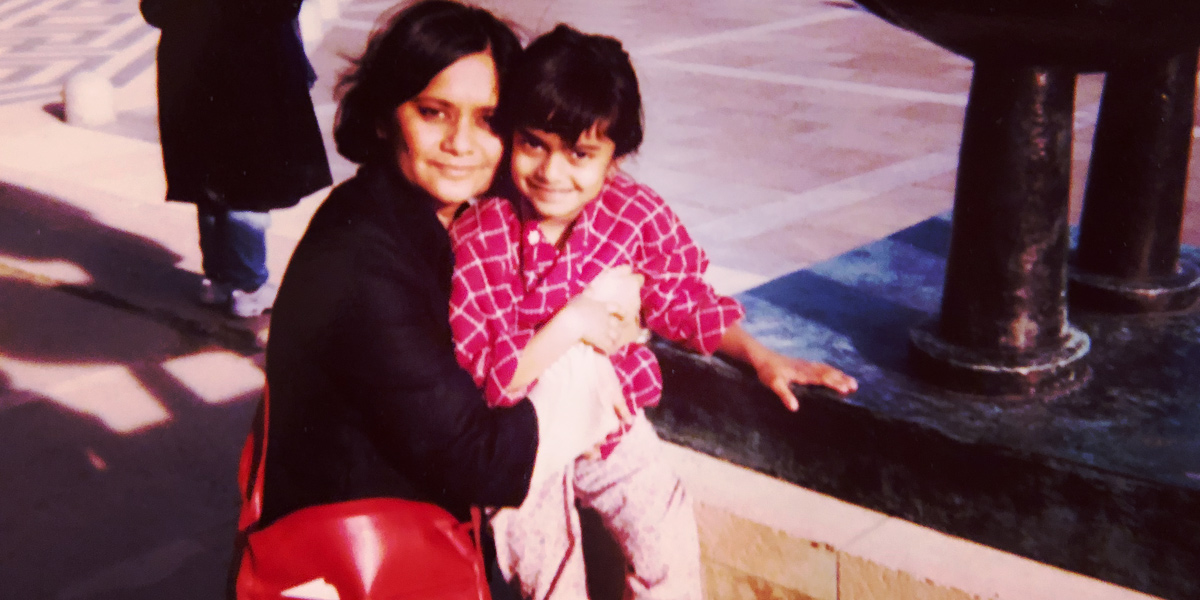 Over this last summer, I played with the idea of cutting my hair many times. I have wanted to be queerer and queerer the more time I spent in the world. I was tired of having to prove to people that I was as gay as I knew myself to be. I was tired of having the relative privilege of passing. My queerness felt to me the most true part of myself, and I could feel it grow light in the weightlessness of August's breeze. I looked at photos of women on Instagram and pitched the idea of me, with shorter hair, to many of my friends. Unlike my first dramatic haircut, this one would be of running towards something, instead of running away.
When I asked one of my closest friends, they said that no, I wouldn't look good with a bob. Okay, I thought, I'll have to find another way.
I, ever struggling to understand the exact size of my body and presence in the world, took them at their word. And truly, I loved my hair. It had always meant so much to me. I felt that I was finally doing it justice. It spilled forth from my scalp, a cloud of curls, and I felt very much the kind of woman I had always wanted to be. Never the kind of person that was meant to flourish in the world.
And yet, here I was.
When I went to India to study abroad, I expected the trip to be good for my hair. After all, here was a place where millions of people had hair exactly like mine, knew precisely how to care for it, love it, enrich it. But it's one thing to have expectations, and another entirely to see them fulfilled.
Two months into studying abroad, things changed. I've always been comfortable presenting as uber feminine because, I believe, of the politics of presenting that way in the United States. Yes, I'm feminine, but I'm questioning expectations in the way I put together prints: bright colors borrowed from my mother's closet, large black and brown sweaters from my father's. In India, though, my production of personal presentation does not exist outside the norm. I try to wear traditional clothes for the sake of my safety, try to pass as straight, given that I'm living in a country where I have just been decriminalized. I grew up hearing, from my mother, how easy it is for people in this society to discipline the bodies of those who challenge the norm.
Producing a normalized presentation has come at the cost of my queerness. It always felt palpable on my skin at home. I could feel it interweaving itself in everything I touched. Here, its perfume is noticeably absent. I feel divorced from my queerness. Voicing this frustration has made me think about what parts of my presentation I can control without risking my safety. And it brings me back to my hair. Here, my hair is not the political tool it is the United States. It does not signify any resistance or pride. If anything, my hair conforms; young, Hindu women often have their hair long as an indicator of fertility. I can't stand to be lumped in with these people, or to be further perceived as straight, or Hindu, or "good," as my host-mom has often described me.
A few weekends into the trip, I was at Durga Pooja (a religious ceremony for the goddess Durga). Durga is a warrior goddess and an iteration of the god Parvati. She is known for fighting for the oppressed, and specifically for killing Mahishasura, a buffalo demon. She is one of the only female goddesses who is considered on par with if not more important than the male gods, though only in certain regions of India. I was shocked to see that the figurine styled to look like the goddess looked so much like me. She had big, upturned eyes, small lips, and the thickest, curliest, black hair all the way to the floor. Her figure was covered in gold and silk. To call it abundant does not approach the sheer magnitude of beauty and ornament at that religious event. In all other depictions, devis (goddesses) in Hinduism have their hair tied up as an indication of modesty. In her act of rage, Durga's hair unspools before her. People at the Pooja even came up to me, pointing, saying, "Your hair looks just like hers."
This would be an uncomplicated, romantic story, if I took this as a sign to keep my hair long. Durga, after all, is a murderous woman who has to be prevented from destroying the balance of the universe. She is central to Bengali culture, which is my culture, yes. But she's also emblematic of a woman gone awry, driven mad by her passions. This is further complicated by Durga's attachment to Hinduism, which (see one of the essays I wrote upon arriving) is not something I'm interested in supporting.
A professor recently lent me a book called "Women and the Hindu Right" that asserts how Hinduism and Communalism at large are tools of power which use women's bodies as landscapes for contesting said power. In South Asia, with its history of violence between Hindu and Muslim people, Muslim women and folk have paid the price for the weaponizing of Durga's image to justify the murderous woman. The radical, revolutionary women in this iteration (who is inspired by Durga) is fundamentally supportive of the institutions the men before her created. She is deeply feminine, and yes, angry, but in a way that is useful to the men around her. She is revolutionary, but she is still an object to be prepared for marriage, that endless act of subjugation on which the caste system is built.
The caste system, and the misogyny enshrined within it, has taken things from the women in my family. Casteism was maintained by endogamy or arranging marriages within a certain caste group. Women were not allowed to make choices for themselves because their lives had to serve the caste system. And so, the caste system took away women's freedoms and with it their ability to reach for abundance, that thing which my hair always seemed to symbolize. My hair seemed an indicator to the aunties in India that I was a "traditional" woman, that I was like them, that I was truly "Indian."
I recoiled from the possibility that my hair, that force which has always resisted discipline, seemed to have become an indicator of just that. I had few ways to express my queerness safely, to demand I be understood outside of that structural paradigm. I was tired of aunties reminding me of my imminent marriages and children and families. I was tired of being told about the men people were sure I would marry. Women like you, they said, playing with my long hair, marry lovely men. And so quickly, I decided. I needed to cut my hair off.
During a break, I used airline miles to fly to Taipei, where I could communicate effectively with the hairdresser. My Hindi was still nascent after those two months. But my Mandarin? Easy. Right before the hairdresser brought the silvery scissors to my chin, she asked me: Was I sure?
No, I said. I wasn't. But please, cut it off.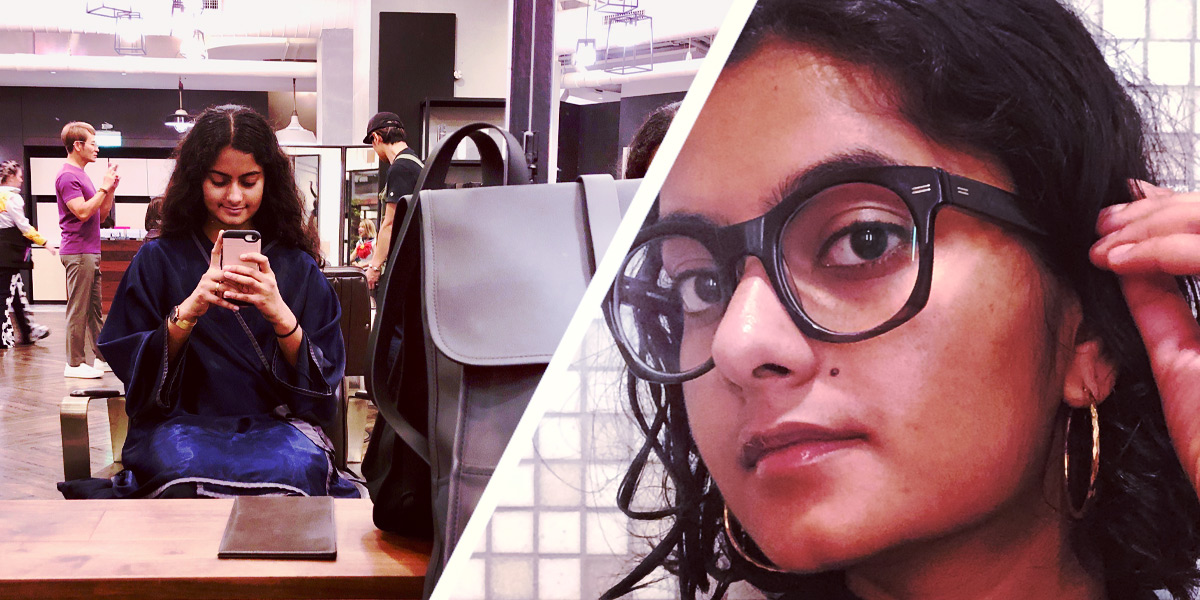 Days after I cut my hair in Taipei, I started rewatching episodes of The Good Place, a sitcom about the afterlife. I wrapped myself in the soft fluffy duvet offered by the hostel and made like I was home in New York, hiding from the cold. One of the characters is played by Jameela Jamil. Jamil is famous, among other things, for advocating against narrow and impossible beauty standards. She is brown and painfully beautiful. Although my hair texture was never like hers — it was too curly, too coarse — I found myself missing my hair when I watched the show. I could have been like her, I thought: elegant, beautiful. But then I recalled that she did not exist in the context that I have been living in for the past few months.
In an American context, my femininity was never the digestible kind; I was able to use my racialized femininity to create spaces for breathing. Jameela Jamil's character in The Good Place is deeply English. Certainly, hers is a subjecthood created by the diasporic colonial context, and so it is related to mine, but not the same. Not right now.
In India, in a different context, I was not able to use femininity as a tool to fight back. Though so much of this place is easy for me — the food, and the perpetual sunlight — its expectations are impossible. Femininity and its baggage have become the very gas that the culture was using to suffocate me. It was in that context, then, that I found my face pressed to the glass in Taipei, desperate for air.
I hadn't realized how my hair taught me lessons about who I was until I had to cut it all away. When I talked to my friend Kelsey about the choice to cut my hair, I worried that I wouldn't like my hair when I came back to the United States. The truth is that I love — I loved — my hair — but now it is gone. I am back to the haircut I gave myself when I felt similarly stifled at the cliff's edge of adolescence, intent on forcing myself to be certain kind of pretty.
Kelsey said something I'm still thinking about today: Sometimes I like to think of [queerness] as something you have to hold onto tighter in certain times and places, but that never means it isn't there. I had felt over the past two months like part of me was melting into the humid air. I needed to make sure I didn't lose some pieces of who I was while I was here. I have been looking the whole time for a way to hold on to my queerness, to fasten it to me like a lucky charm, a rabbit's foot, a loved one's stuffed elephant.
I needed a way to escape all the expectations and demands of the colonial product that is Indian Womanhood — the way my hair became a symbol of fertility, heterosexuality, violence, and a particular strain of femininity.
Shearing away the hair that took years to grow is my way of holding on. It's true, I'm sad at times, but I think it's time for me to let go of that girl in the bathroom on 84th Street, so afraid of what the world would do to her.
It's time to say goodbye to all that, all those memories of hopelessness and helplessness. I'm not sure I am any of the things that the aunties here tell me I am: Good. Hindu. Girl. I'm not sure about a lot of things these days. But I've found a way to care for myself that keeps me alive. This story isn't really about my hair. It's about adjusting to the expectations the world has for me, the way I am demanded to prim and trim different components to who I am to fit their expectations. So this is a story about femininity, yes, but it's also about the way my femininity weaves the tapestry of being alongside the threads of my queerness. Cutting my hair was about asking questions, and challenging. It was about regaining my autonomy and asserting my refusal to engage with those lofty and hurtful expectations.
And who knows? Perhaps I'll find something else to love about myself in the interim, something that tells stories about my sexuality that I'm finally ready to hear, answers. Perhaps this new thing will not be the kind to be cut away with a simple stroke of scissors.