I want to be upfront about the fact that Episode 303 of Pretty Little Liars basically contains no lesbian content. If you want to stop reading now I won't forgive you at all. Maybe you should redirect yourself to here.
Despite that, I still thought it was a pretty good episode. First of all, Tobey Your Thirst did not make a guest appearance. So that was nice. Second of all I watched it while eating this $30 breakfast in Europe.
We pick up with our Liars right where we left off: Jenna is still faking blind which is super awkward, mostly because Tammin Sursok's portrayal of the blind has gone from vaguely offensive to tragically offensive.
To prove she's not really blind, Aria agrees to accompany Jenna on the piano for her next flute recital. While there is almost no evidence that Jenna is gay, I would like to point out that flute is like the fifth queerest instrument after drums, fiddle, ukulele and Your Feelings.
Of course we're also still dealing with Dark Lucas who is 100% less fun than Dark Willow.
Now that Ella's gone pants-on-fire, Emily is rocking a 94% on a test she didn't finish. Instead of taking the score and running, Emily has decided this is a good time to stop all the lying and fess up.
Actually this is an ongoing theme in the show this season: no lying. I'm very into it because, with the exception of Ms. Marin stealing a shitton of money, most of the secrets are out in the open now. At some point the shit has to hit the fan, and the less shit the better because, as anyone with a sick great dane knows, shit is a bitch to clean up.
Everything is not not as it seems over at the Hastings household where Melissa is looking awfully not pregnant. At first I assumed she'd had her baby but then it occurred to me that she also lacked the characteristic TV screaming baby. Don't worry though, she's still sitting on that goddamn couch.
Ms. Hastings has gathered the girls to announce that she is defending Garret even though Spencer is convinced he totes murdered Ali. Mama Hastings reminds Spencer that everyone deserves a good legal defense and Spencer reminds her mom of that one time she was in a lesbian short film. Spencer answers all our confusion about skinny No Baby Melissa by saying, "I'm sorry you lost your baby." I guess Melissa miscarried three months prior while on vacation. So that's not really funny. I'll just move on.
Either way Spencer suspects that Melissa's baby daddy might be Garret, so she calls 1-800-MEDICALRECORDS to dig up some shit on Melissa. Wouldn't you know it? Melissa never stayed at the hospital she claimed. Calling 1-800-CREDITCARDBILL Spencer discovers that Mellissa and her mother actually just stayed at a hotel for the weekend. So it looks like Melissa lost her baby way before she admitted to losing her baby. Or maybe was never pregnant with Ian's demon seed at all! What a fucking liar.
Over at Jenna's place, music abounds because, like I said, the flute is gay. Aria snoops while she plays and plays while she snoops and may I just say Jenna is looking goooood in those white pants.
Aria finds a sticky-note with H. Cobb on it.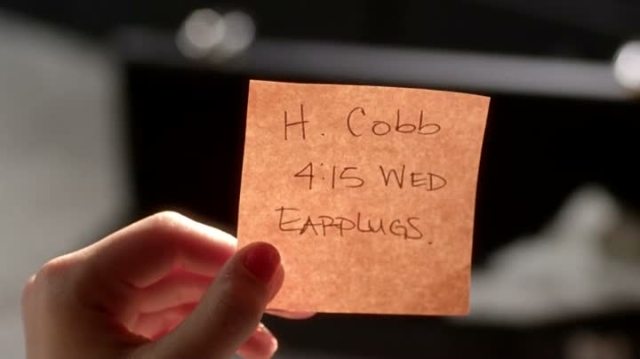 The Liars assume it's a doctor's appointment for Jenna's eyes. I dunno, H. Cobb seems more like a butler's name to me (but maybe that's because of Albert Nobbs).


Pages: 1 2See entire article on one page