Previously on Pretty Little Liars, Alison became the first person in Rosewood to ever dial 911. Emily got her heart mangled up in tangled up knots over Sara Harvey, who left the nest to go live with one of her old friends who used to wish she was dead but doesn't wish it anymore. Aria gave Mona a doll with its creepy little porcelain hands all tied up with twine. And Hanna and Spencer became neurosurgeons from YouTube.
The Liars have returned home from Charles' horrible birthday party, and the local news is all over their shit. Alison made one little call to the police, and now CBS and Fox and NBC and ABC are all reporting live from the Rosewood town square saying, "Charles DiLaurentis" and "Big A" and "Red Coat" and talking about the everfilling grave in the Hastings/DiLaurentis backyard and how many times Charles was responsible for stuffing someone in there.
Alison: My heart is broken for my poor brother.
Hanna: That doesn't align with what I know about any person you've ever been or anything you've ever done. When Jason was molesting us and videoing our slumber parties, you hated his guts. This brother tried to boil you like some shrimps!
Emily: Hanna, summon your chill, please.
Hanna: No! This is ridiculous. This motherfucker has been ruining our lives for years, and then he kidnapped us and held us hostage and tortured us and planted tracking devices in our skulls! You want me to feel sorry for him because he shares DNA with Alison? No. Neither do I feel sympathy for Melissa, Byron, literally anyone Spencer is related to, or my own father! Monsters are monsters, y'all!
Spencer: I think what Hanna means—
Hanna: Bitch, don't.
Hanna is correct, of course. Alison DiLaurentis looks like Alison DiLaurentis and talks like Alison DiLaurentis but she is dressed like her dead mom going to real estate school graduation and, in all other ways, acting very un-Alison-y. Perhaps a soul trade with Cece Drake happened off screen? Although, I'm pretty sure Cece Drake would kick Lorenzo in the nuts every time he opened his mouth, so maybe not.
Like what's the first thing we knew about Alison, besides that she was dead? That she was the sun, right, around which all four of these Liars orbited. They were drawn to her for different reasons, but the one reason they all had in common was that Alison knew stuff. Not just tawdry secrets, like that Byron was cheating on Ella with one of his students or that Jason was Spencer's half-brother. She had this innate ability to see inside everyone and know exactly what that person would see if they looked: a) in the Mirror of Erised and b) at a Boggart. And she also knew how the world worked. All of it. The exchange of social currency, the battle for control of female sexuality, the commodification of the female body, the pervasive effects of living in rape culture.
And so she took what she knew about the inside of each of the Liars and she tried to maneuver them around the traps the world was ready to spring on them because of how they're teenage girls. And she also used that knowledge to maneuver the Liars into a place where they would be most useful to her. She didn't trust her brother, her dad, her mom. She tested the Liars in horrible ways to see if she could trust them, and to her enormous surprise, she actually could. So when she faked her death and went on the run — because, again, she had no faith in the system or her family to protect her — she left behind a billion clues stuffed in snow globes and doll bodies and lunch boxes and storage lockers to help the Liars stay safe and continue to understand and claim their power.
Alison would never leave it to the police or to her father to protect her, or to solve the mystery of who's torturing her and her friends. She's known she can't trust those people since she was shopping at Baby Gap! She would never put the Liars in danger to try to protect someone just because that person is related to her. Seriously, Jason really did record half-naked videos of her and her friends when they were barely even teenagers. That's a thing that happened. And she knew about it. Remember that night she came to Spencer's when she and Emily were having a sleepover, freaked the full fuck out about something awful Jason did to her, and she ate that apple like the end of innocence and stared at her reflection in the window? Her sympathy did not extend to him! And why should it?
Alison DiLaurentis is the most Dumbledorian TV character I know, in the honorable ways and the dubious Machiavellian ways. But with the perspective of a 17-year-old, too. She's never sitting still waiting for awful shit to happen to her; she's using her knowledge of people's darkest fears and deepest wishes to find a way to keep herself and the Liars safe. She is not quick to forgive. She's not sentimental about the darkness she's fighting against.
"The rumors are terrible and cruel, but honey, most of them are true," is not a lesson anyone needs to teach Alison DiLaurentis. She's the professor in that classroom.
So yeah, Hanna's right. And Ali is … not herself.
The next morning, Hanna is all over Ashley again about that scholarship from the Carissimi Group and how she wants to cash the check and set $30,000 cash money on fire. Ashley tells her maybe she should chat with Mr. DiLaurentis about it, but his office is covered up with reporters wanting to know how he keeps fathering invincible children who die and come back to life. Hanna will have to hit him up for some answers some other day.
At the Brew, Clark asks Aria a hundred thousand details about Charles' birthday party, while Ezra skulks around behind them, glaring and furiously scribbling notes in his little reporter's notebook. When Clark leaves, Ezra swoops in and starts talking about how suspicious he is because Clark was asking so many questions about the Liars whack arcade trip. Suspicious like maybe Clark is an adult man who is going to seduce his underage student and then record every move she and her friends make for the next two years without ever intervening to help them not get constantly murdered by an invisible psychopath? Suspicious like that? He doesn't say; he does, however, offer to accompany Aria to this gallery opening tonight where she's a photography finalist. With a straight, sincere face he says this. Like an arsonist asking if you want him to put out your house fire. Like a pickpocket asking if he can place a twenty in your jacket. Like a serial killer asking if you want him to tuck you into bed. Ezra would like to be Aria's bodyguard.
She says no. She trusts the police more than she trusts Ezra to keep her safe. Sometimes when you're lost at sea, you gotta choose between accepting a ride from stingray or a tiger shark.
Lorenzo was nearly killed at Charles' birthday party; his arm is in a sling! Alison has brought him some soup and sympathy and some tears about how her dad and Tanner are teaming up to tell things she doesn't know about. Lorenzo flashes his cop badge and zillion-watt smile and says, "Don't you worry, little lady, I'll make a call." And then, because he is in such excruciating pain from being pelted with tennis balls that he needs to take a painkiller so strong it would knock a blue whale unconscious, Ali says she'll fold his laundry and clean his house while he naps. He says yes to season one Betty Draper, but actually he's getting — spoiler alert! — season four Betty Draper!
As soon as he's asleep, Ali swipes his RPD keycard. THAT'S MY GIRL!
Season Six's Dynamic Duo, Spencer and Hanna, concoct a plan to turn Hanna's scholarship check into EVIDENCE. (Didn't Ashley say she deposited this check already?) They click around on the Carissimi Group's website page and ultimately decide to call a guy named Rhys Matthews and ask him if they can come in and return a check to him, in person, and once they're inside, they're going to ransack the place and let all the raccoons go free, and also see what kind of clues they can find or flashbacks they can induce. You never know when a random location is going to trigger a crucial memory w/r/t the identity of A. Spencer is wearing a sleuthing beanie. That's how you know this is serious.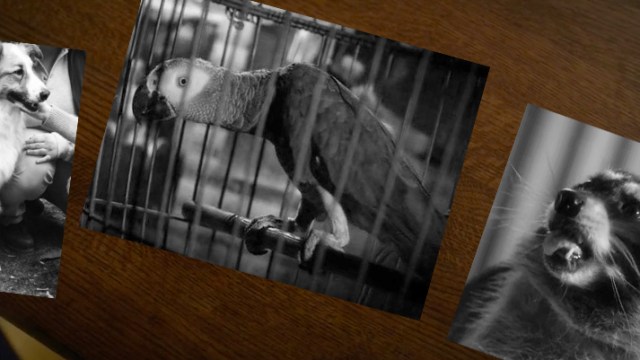 Aria has invited Tanner over for tea and cookies and a chance to convince Ella to let her go to the art show.
Tanner: Here's what I can promise you: Every qualified officer of the law in Rosewood will be at that gallery protecting Aria and her friends.
Ella: Qualified in what sense?
Tanner: All of our officers have to pass a BuzzFeed quiz saying they're cut out to be a cop, and then they have to successfully complete one Starbucks run and write an essay telling everything they know or have heard about Alison DiLaurentis.
Ella: Will any of them be tripping balls on gummy bears, just curious?
Tanner: No, but some of them only have the use of one leg or arm because they were ambushed by tennis balls, as you know. They are lucky to be alive.
Ella agrees to let Aria and the Liars go to her art show as long as Tanner keeps her promise and brings all the people with guns and badges to the museum to keep them safe.
Pages: 1 2See entire article on one page