Charles is watching a security feed of the museum when what to my wondering eyes should appear, but Red Coat! RED COAT! Sara? Bethany? Cece? Vivian? MONA? On the table is that clown bank where A deposited all those lasagna dollars she stole from Hanna's house. That was when A was Mona, and this episode was all about "follow the money," so is that a thing? IS ANYTHING A THING?
Okay, and guess who else is tag-teaming in this episode? Aria and Emily! My heart is alive with the sound of music! Liars being with Liars is the best part of this show! They're trying to decide what Aria should wear to the gallery opening. Emily says everyone dresses like Aria at SCAD so do it like she does it and enjoy the uniqueness while it lasts. Then, Emily finds Aria's prom dress in the back of her closet in a bag, which makes her sad for many reasons. The theme of Rosewood prom is Forbidden Forest or something like that, and so she knows what's in the bag is fully Maleficent with a couple of live crows probably, and also the Liars' moms got an email from the principal saying they can't come to prom because every time they show up at a school function — especially a dance — a hundred grown men descend on the place like a swarm of predators.
Aria: Do you have a prom date?
Emily: No, but my bloodlust always kicks in at dances, so that's probably for the best. I think you remember the Great Hay Stabbing of season four.
Aria: Would you like to go to prom with me? I'll buy you a corsage. I'll slow dance with you. I'll get you better than anyone you've dated ever has or ever could because I've been in it with you, all along.
Emily: I kind of want to go with Sara Harvey.
Aria: Are you fucking kidding me? You know if this had been Hanna asking you and you'd said no, the internet would be burned to the ground by now? It'd be fully District 12 in here.
Emily: Maybe you could ask Clark. He's one of the few guys who isn't yet complicit in getting us killed all the time.
Aria: Ezra doesn't trust Clark.
Emily: …
They flop down on the bed like Aria and Spencer did that time when Spencer told the story about shaving off her dad's sideburns for a couple of bucks from Nana. They talk about how Emily has leveled up way too high in the game of Lesbian Kissing to be falling in love with a girl just because their lips touched, like at this point she doesn't even get XP unless she's fully scissoring. And they talk about how Aria, who defined herself in relation to a man for the majority of her high school career, is cool going to prom by herself and infinitely more interesting when she's living her life her way and involved in the same show as the other Liars. They laugh, they know each other so well. LIARS WITH LIARS IS MY EVERYTHING.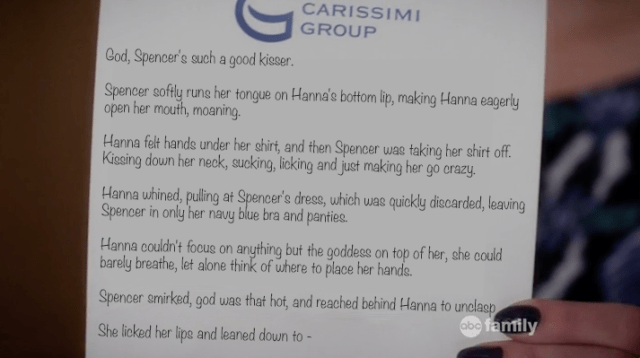 Hanna and Spencer are doing it! After three seconds of plotting, they have waltzed into the Carissimi Group to speak to Rhys Matthews and assess his character/resemblance to any DiLaurentis. Hanna thinks there's a secret passage behind every bookcase, a secret spy room behind every mirror. However, she doesn't want to pass up this opportunity to enjoy the fanciness of such a place, so she does order one bubbly water from an assistant. Spencer tells Hanna to cool it and Hanna tells Spencer to stop being rude, and then Rhys Matthews walks in the room legit looking like the perfect mash-up of Jason DiLaurentis' and Dr. Wren Kingston's DNA, dressed and talking like Christian fucking Grey. I honest to God thought he was CGI for nearly this whole scene. There is no possible way they found a guy who looks like Jason and Wren's baby. How? HOW! He has Jason's hair and chin but his Wren's eyes and mouth, and at one point he smiles like a puppet Wren is controlling. His cheeks even fold the same was as Jason's. It's crazy!
Rhys Matthews: My tastes are very singular.
Hanna: Uh, my tastes are the same as a raccoon's? I want to return this scholarship.
Rhys Matthews: I like to see your face. Gives me some clue what you might be thinking.
Spencer: We're thinking we would like to talk to your boss, or get his email address, or that you would say his name out loud to us.
Rhys Matthews: Your body tells me something different.
Hanna: Jesus Christ, every man in this goddamn town.
Rhys Matthews: It's important that you know you can leave at anytime.
Spencer: Yeah, good call. We gotta bounce.
Rhys Matthews: What is it about elevators?
Hanna: Wait, have you ever fallen down an elevator shaft and survived?
Spencer: Ignore her. We need to go.
On the way out, Hanna sneaky-takes a photo of Rhys and then comments on all the high security panels everywhere and kind of wishes they'd brought Mona along for some black ops.
Regatta Gala time! The Liars arrive and mingle with the seventy undercover police officers who are monitoring the place. Aria has completely reversed course and is suddenly panicked about not having a date to prom. Her first order of business is to march up to Ezra and ask him, but he's here with a date and it's Nicole from Habitat for Humanity. Aria can't see that they're both there because they're using each other — Nicole to stay in the same town as Emily, so she doesn't miss her chance to swoop in when her latest girlfriend dies; and Ezra to make the latest middle schooler he's dating jealous. Aria feels weird, so she dogpiles Clark, who has no friends or family in attendance like a regular old Sara Harvey.
A fierce, amazing bald lady talks about art for a minute and then opens the gallery curtain to reveal the finalists in the photo competition. Aria Montgomery's name is front and center, but instead of her 50 Shades of Porcelain Dolls photos, it's four photos of the Liars on gurneys, covered in sheets like dead people, from when they were in the dollhouse. All four of them have hardcore horrific flashbacks.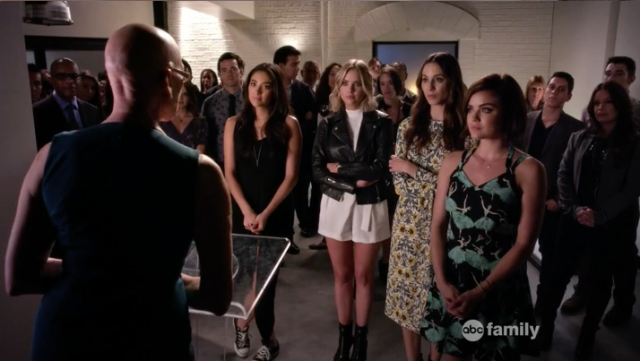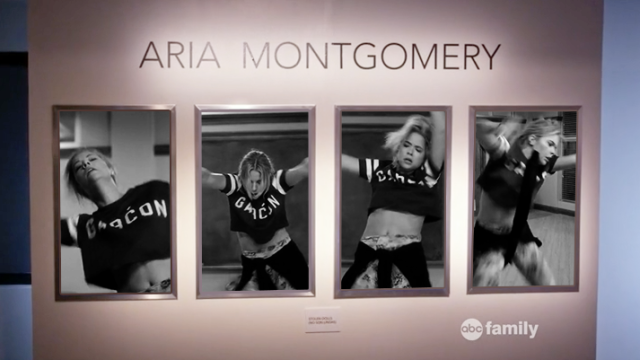 Tanner: Dang! Foiled again!
Ella: I am going to murder you right now, and you know what? I won't go to jail for it! Because these police officers won't be able to build a case against me, even though they watched me strangle you with my bare hands, because you guys are the LITERAL WORST at doing your job! That guy who steered the Titanic straight into an iceberg and sank an unsinkable ship? Still better at his job than you!
Tanner: If that's true, how come these photos are labeled "No Son Lindas" which means "They Are Not Pretty" which I know because A left this note for me because of my Latina heritage, which clues I am stitching together right before your eyes to determine that: this is somehow Alison's fault.
Aria: I'm starting to think you're A.
Tanner: WELL TUMBLR THINKS YOU'RE A.
Ella: Enough of this fuckery! Aria, we're going home! If there are bees in my air conditioner, I will come back in here and stab you to death, Detective!
The other Liars spy Rhys outside the gallery, chatting merrily on his phone. Emily knows it's Rhys because Spencer and Hanna showed her the photo on Hanna's phone and then spent fifteen minutes explaining the ways it wasn't Jason. The lesbian having straight white male face blindness: realest thing to ever happen in Rosewood. Anyway, once Rhys zooms off into the night, the Liars hop into the car and drive after him.
While all of this is going on, Alison uses Lorenzo's keycard to sneak into RPD and root around in the evidence room to see what they've got on Charles. She's looking at a whiteboard full of words that could very easily have described her back when she was dead and a boss ass bitch. Also, there are lots of old family keepsakes RPD recovered from the dollhouse and shit Vernon handed over after he returned from his mini-vacay at the Holiday Inn in Out of Town. While she's creeping, the lights come on and Detective Tanner steps in and goes, "You've crossed a line this time, young lady!"
Like, faking your own death, that was annoying. But now you've broken into the police station to look around! You have crossed a line!
Alison mainly wants to know if Tanner & Co. are going to shoot her brother on sight when they find him, and Tanner says yes, which is the best joke I have ever heard. These clowns couldn't find some bananas in a banana store. Also, what are they going to do? Just start shooting every person they see wearing a mask? The whole town will be dead by Tuesday. That guy in the woods with the faces makes more money than Wal-Mart. Alison is heartbroken, though. Her heart is the only thing that works on her these days. Her brain is tragically out of order.
Outside the gallery, Aria explains her PTSD to Ezra, about how cold she is all the time, and he tells her to stop being so glum; he's not really dating Nicole. Aria's still got a few more weeks left of high school. They can get back together until she reaches full adulthood.
The Liars follow Rhys to some abandoned building and then watch as Clark shows up and goes inside. Still reeling from their dollhouse flashbacks at the gallery, they decide not to follow him to their deaths, for once in their lives. But they do realize they have to go tell Aria. It makes Spencer want to throw up, even thinking about it.
Lorenzo's apartment.
Lorenzo: I thought you were here to do my housework and kiss me! But that was a lie!
Alison: Yep, that's what I do.
Lorenzo: The pain I feel at being betrayed by you, and also the excruciating bruise on my bicep from a tennis ball, is so much more relevant and real than the pain you must be feeling from being hunted down like prey for your entire life! I cannot understand why you would want to see the evidence we have on Charles! We're doing such a good job keeping you all safe from him!
Alison: True, and obviously I can trust you to use your power for good, as demonstrated by the other policemen I've personally dealt with, including Detective Wilden, Detective Holbrook, and Office Garrett, who molested me and my friends and at least one of our moms; and Detective Tanner, who keeps throwing me in jail for crimes I didn't commit.
Lorenzo: You are the monster in this situation.
Alison: Yes, that makes perfect sense. I'll go now.
Lorenzo: THROW YOURSELF INTO THE SEA!
Ella goes to Ashley's to drink wine and talk about how maybe the police aren't very good at keeping their daughters safe. It's a conversation they should have had in the pilot episode, but better late than never, I guess. They might enjoy it even more if they make out a little bit afterwards. Just an idea I had.
The Liars descend upon Aria's house to break the bad news about Clark. On the downside, he sneaked into a derelict building in the middle of the night to meet up with Jason and Wren's giant human baby. On the upside, if he's been keeping notes on Aria, it's only a couple of weeks worth, and nothing like the entire warehouse full of records Ezra has on her. Hey, and if he really liked her — like really, really liked her — that's what counts in the end.
The Risen Mitten packs his Forbidden Forest prom gear into the back of a limo and hops inside. Red Coat reaches back to give him his ticket to the big event, and drives away into the night. Wolves howl. Coyotes wail. A bobcat screams like a teenage lesbian getting murdered. Or is it a real teenage lesbian getting murdered? No, it's a bobcat.
Actually, it's probably both.
Thank you as always and forever to Nicole (@PLLBigA) for the screencaps. Follow her, end up like her.
Pages: 1 2See entire article on one page