Meanwhile, Emily follows one of Alison's new minions into a whole other winter nook. The minion unmasks herself and is Sydney. Also, Jenna. Emily goes, "Well, you I already blinded, Jenna, and Sydney, I think I made it perfectly clear that I will be drowning you when swim season starts back, so what do you want?" They explain that they are working as double agents, getting in good with Ali while also being pretty sure that Ali murdered Mona. Emily says they're sleeping with the enemy, which is ridiculous, because clearly they are sleeping with each other (despite Sydney bullshitting that she's not gay). It seems like Sydney and Jenna want to form an alliance with the Liars, but Emily hates their beautiful guts so blorpin' much. It's not going to happen.
When Ali and Cece try to maneuver their way out of the building, Lucas and Paige give chase from one side and Emily and Aria give chase from the other. What they find is that Ali has dressed Mindy and Cindy in Ali masks and they are her robots now.
Things are going equally effectively over at Ali's, which is to say: impotently. Hanna and Spencer crawl around in the dark whispering for a while, while Toby looks on from the window of Spencer's bedroom with his telephoto lens. They find one of Ali's many passports, this one for a lady named Holly Varjak, like if Holly married Paul in Breakfast at Tiffany's*, and in the basement, Hanna hits the jackpot: There's an archery certificate that proves Ali has been training for The Hunger Games, a Mad Hatter jack-in-the-box that leads to a stack of box hats that contain a bunch of mad letters from Bethany Young. Just: "Hey, Al! Can't wait to break out of the asylum and hang out this Labor Day weekend trying on yellow tank tops and hanging around in your backyard!"
But Hanna's time runs out because A is in the house, brandishing a kitchen knife, lurking all around. Spencer gets so freaked out that she breaks a picture of Mrs. D and crafts herself a quicky shiv. Also, Hanna left her phone upstairs so it's not like Spencer can text to tell her to make a break for it. And so Toby wheels around in circles in his chair in Spencer's bedroom and cries and makes the most terrified faces and flashes his camera flash to try to get Hanna's attention. But nothing works. A bonks Hanna on the head, flies out the window into the night like Toby's mom on top of a Radley roof, and you want to know the worst part? That goddamn burlap baby zombie is watching from the corner. That thing gives me the heebie jeebies like no other.
*Spencer says Ali chose "Holly Varjak" as an alias because of a Breakfast at Tiffany's (movie) fantasy she's playing out in her head about her and Ezra, but I don't believe that for a nanosecond. I don't think Ali believes in happy endings or thinks she deserves a happy ending and I think if she identifies with anything about Holly Golightly it's the inability to commit or even name things she loves. So, I don't reckon that passport is Alison's, no siree.
The Liars and their girlfriends/boyfriends meet up at Spencer's house to talk about how if Ali knew Bethany, probably that means Spencer won't go to jail for murder, based on whatever waggle saggle Rosewood law. They are all sad for a little while that a blizzard has arrived and they will be away from their parents for the first Christmas ever, but then they remember that they don't have parents and everything is okay. But like super okay. Super duper okay to the max. Because the Liars' partners put on a little sexy fashion show for them, and guess who also gets herself some Santa boxers? Paige McCullers.
When this picture started making the rounds on Monday, everyone was just losing their minds in a pants-flaming way, but let me tell you what I did. I looked at it and I burst into tears. I could tell you right now, off the top of my head, a full list of every queer female TV character in history, what show she was on, what she did with her life, what her appearance meant in the broader scheme of lesbian/bi visibility, what the social impact was of her character, how that character birthed whatever new crop of characters. That's my job and that's my brain and I've been doing it since forever. Never, ever did I ever think we'd get to a place in my lifetime where a lesbian TV character would be treated with so much affection and dignity and respect that her girlfriend would fit in as seamlessly as all the boyfriends on the show. It's sweet, yes. But it's sexy, too. And it's no big deal in Rosewood, and that's a big fucking deal in the real world.
So's this next part, this montage of "Have Yourself a Merry Little Christmas," when the Liars come together with their found family and bake a feast and say grace and hold hands and laugh and smile and cuddle and toast and all the things all the best Christmas movies do, and Paige and Emily are there doing it to, and it's not a Thing? It just Is? Damn, y'all. What a Christmas miracle.
You know how when you're gay, you don't think about being gay. It's not like you wake up and gay-kiss your girlfriend and gay-hold her hand on the train and gay-hug her when she gets home from work and gay-play with her hair while you gay-cuddle and watch Netflix? It's just what you do because it's what people do? It's hard to watch TV like that as a queer woman because we have been so underrepresented and fucked over in so many ways from so many directions for so long that you just want to cast protection spells around these queer characters the whole time an episode is on, to keep them safe from other characters, from writers, from showrunners and networks and stupid fans. Pretty Little Liars is the only show I have ever watched that doesn't make me feel like I am gay-watching TV. It doesn't even make me feel like I'm watching TV. It makes me feel like when TV was just a magic box that pulled me in like the force of a TARDIS and transported me to a whole different world.
So yeah, dudes. I cried about that picture. I cried during this whole montage. I cried when Paige said her parents are making her leave school early to move to California where teenage girls have more than a four percent chance of not being buried in Veronica Hastings' garden. I can't even deal with that part right now.
The Ghost of Christmas Cataclysm visits Ali one last time. I think it's the last time. I honestly wouldn't mind if Mona shows up like this in every episode. This scene is straight out of The Christmas Carol, even though Ali is very much not Scrooge at all and actually has a lot more in common with Miss Havisham in terms of Dickensian buddies. But whatever. Another thousand words for another time. Anyway, so Mona teleports them to the church and Ali sees herself dead in a casket, with no legs. Then it gets EVEN WORSE because Mrs. D shows up, tells her "they're" coming for her, and also that she is going to hell. ("We were all going direct to Heaven, we were all going direct the other way.")
Then poor Ali wakes up and goes to Spencer's and peeks in the window at the Merry Little Christmas of all her friends. It's so sad! Probably she was happier chewing on those trash can chicken bones!
The Liars holiday reverie is interrupted by someone they think is Santa, but actually is someone else in a red coat, who has trimmed a tree for them and left them a holiday greeting.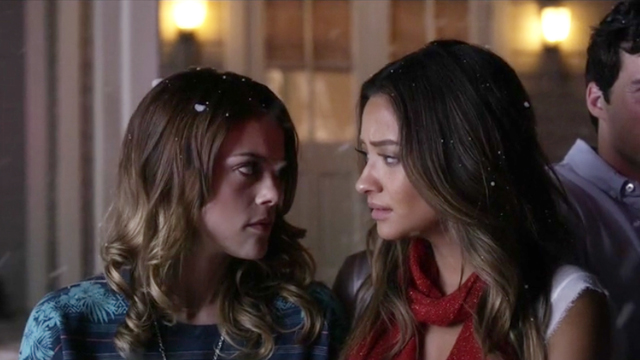 A super huge enormous mega holiday-sized thank you to Nicole (@PLLBigA) for the screencaps. She's got the goods on season 5B, if you follow her on the Twitter machine!
Pages: 1 2 3 4See entire article on one page