This week on Pretty Little Liars, the four liars were seen not only with their hair falling in silky shampoo-commercial-quality waves upon their slender shoulders, but also with their hair shocked upwards, outwards, and really just-about-any-way-wards by three cans of hairspray and a truck of mousse. It was amazing.
+
Relevant to absolutely no one's interests, everybody's parents are falling back in love or missing each other cross-country or otherwise pining/smiling/blushing around one another while being spied on by their psychotic offspring. Except Spencer's parents 'cause Lesley Ferargitay wasn't on payroll this week and her Dad spent most of his screentime fighting on the phone with Mrs D-is-for-Drunk Laurentis about absolutely nothing at all that anybody should be concerned about. No really Spencer it's nothing I promise. Seriously it's nothing. Really.
Apparently these romances/phone calls have kept all the parents busy enough to forget about not letting their daughters see each other, per the therapist's orders. So now they can return to playing Clue until 3am when they should be doing calculus or policing their deadbeat/high-strung now-neglected siblings.
Hanna remains in denial that her and Caleb are back on the wagon of love until the end when shit hits the fan and he's still there ready for tonsil hockey, which means now Mona's the one in denial as her ever-burning love for Hanna's mystically perfectly symmetrical face and impeccable eye makeup surely will never fade. Sidenote, Mona's super cute and Alpha this episode, walking around like Miranda Preistly and Andrea Zuckerman's adopted daughter with her Clipboard and her Important Duties.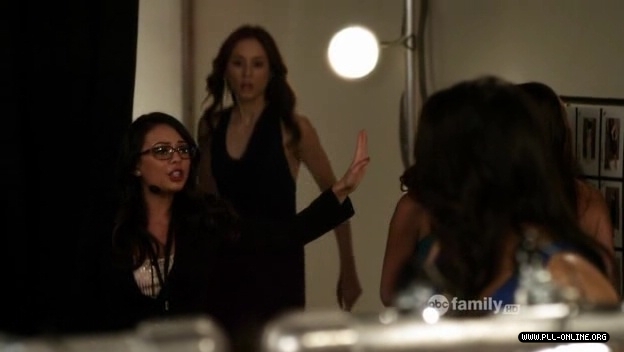 Ian Harding was probably in Nevis with Lesley Ferargitay this week, which I believe marks the first Ezra-free episode of the season/show. This gave Aria extra time to develop sexual tension with Jason DiLaurentis, interrogate/offend him and then sort of reuinte with him, albeit silently and sexual-tensiony. Fun fact: Ian Harding (Ezra) and Drew Van Ackers (Jason) and the guy who plays Caleb are all 25 IRL.
Spencer and Toby's romance continues to blossom 'cause he knows how to handle her shit, even if he does talk like a werewolf.
NOW FOR THE LESBIAN PARTS!

We open on somebody's bed, where the pretty little maniacs are sitting around talking about murder and A because last week A went all multi-media on their asses with this screen-projection deal at the graveyard. If you missed the episode, you can catch "Allison DiLaurentis Didn't Die" at the 2012 Whitney Biennial.
Anyhow, the takeaway from that bit of macabre performance art is: the video of Allison's last moments (spent, unfortunately for everyone, with IAN) didn't end where their cut of it ended. In the Director's Cut of this suspenseful Blair Witchy film, Allison doesn't get killed. She gets up and walks away.
So back to the bedroom where they're folding pamphlets for one of those Fashion Show events schools always throw on television but never ever in real life.
There was this person I once dated for a significant amount of time who used to say, "I feel mushy," when she felt like she had a lot of feelings and wanted to cuddle and feel romantic without irony. This episode Spencer is in full-on mushy-mode 'cause of her sweet burning manhulk love. It's cute.
Does that mean Emily's officially dating Samara now?

Next lesbian scene takes place in Emily's room where Mom's lurking in the hallway talking to her husband about how much she misses his big man body in her bed. Emily needs to ask him something about a paper, apparently, and as Emily chats with Dad, Pam stares at Emily's bed like there's a suspicious email or a dead baby there.
Pam: "I just miss him."
Emily: "You were just in Texas three days ago."
Pam: "I know."
Emily: "What if you stayed a little longer next time?"
Emily points out that she can pack her own lunch and has a lot of homework so it wouldn't really matter if Pam just skipped town altogether.
Emily: "I could stay with a friend and then join you and Dad in June."
Pam: "I'll think about it."
This plan has serious potential.

Emily's next scene takes place at The Restaurant, where Mrs. D-is-for-DrunkLaurentis has invited the girls out to lunch to avoid drinking alone. Oh also she has presents for them. From Allison! It's dresses Ally made for them! How totally weird!
We flash back to Allison's Dirty Boudoir — apparently Allison got really excited at Jo-Ann Fabrics and made brand new gowns for everyone at some point in the past. I love how every flashback scene now involves a traditional "Straight Best Friend Who Knows You're In Love With Her and Wants to Keep Your Attention For Her Own Ego" Allison/Emily moment.
Like this one:
Hanna's like, "we can't just march around in her clothes, it's freaky and weird." You know what else is weird? How Paige disappeared.  You know what makes perfect sense? Emily's affinity for baseball shirts:
Allison's Mom wants the girls to wear the dresses in the fashion show as a tribute to Allison. There will also be photographs projected on walls, which we all know is A's bag and therefore problematic.
Also, Spencer, always summing up every feeling I've ever had in my life with one pouty mouth:

Next up we've got Samara in Emily's room watching her dress and undress. Apparently Samara's like a tailor now.
At first I panicked that Samara's wearing a vest, a scoop-necked tank top, ANOTHER TANK TOP with unnecessary buttons and a gratuitous pocket and a TIE, but was relieved to see that giant abyss around her neck is a necklace, not a tie.
Samara eyes Emily as she undresses and is overall flirty in an encouraging way. Still though, there's no real spark there, and I wish this show gave more screen time to Emily's feelings because really, I have no idea how she feels, ever, maybe because she's spent her whole life covering shit up. I do know that Emily really wants to be loved and have a pretty girl who wants to hold her hand in the hallway, and maybe that girl was Maya, and maybe Maya went to Casa by the Sea and never came back.
Emily wants Samara to go to the fashion show but Samara has "plans" with someone else. Sounds like date-y plans, but Emily says, "Bring your friend, I have an extra ticket."
I was 75% convinced that Samara's friend was gonna be Paige. It's not. Just so you know.

Pages: 1 2See entire article on one page