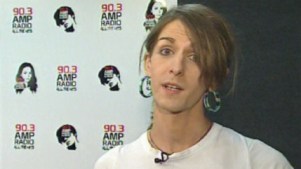 + 90.3 AMP Radio in Canada held a contest this summer called "Breast Summer Ever," which seems inherently problematic in a few ways but also it's radio and maybe it's just kinda silly and fun. The radio station received hundreds of applicants vying for the prize ($10,000 in breast augmentation surgery) and narrowed it down to ten finalists, who posted videos on the radio's website, where over 30,000 listeners cast a vote for who they thought deserved the prize.
The finalists included a burn victim and a woman with a disease that once paralyzed her from the waist down, required a complicated blood cell cleaning process and prevented her from developing breasts at all. Of the remaining finalists, five had just lost a lot of weight and were unhappy with their breasts now, one felt her right breast was way bigger than her left and one just wanted bigger breasts 'cause she thought they'd look good and make her confident.
Then there's the winner! Avery is a trans woman who can't afford the surgery she needs to complete her transition, which she points out is not covered under health insurance in Canada. Avery won by a landslide with 76% of the votes and she'll be getting $10,000 worth of breast augmentation surgery. You should watch her video. Here's the winner being announced, followed by a brief interview, it made me tear up a little:
+ The Tea Party is very much OK with Marcus Bachmann calling gays "barbarians" because conservatives "have been called much worse and usually in much more obscene terms, for being a conservative."
+ A straight but allegedly "effeminate" man was rejected from giving blood because he seemed gay.
+ A symbolic Jewish wedding ceremony celebrated New York's brand new marriage equality. Mazal tov!
+ Ms. magazine on #actlikealady – "But what Rep. West was likely getting at was that Rep. Wasserman Schultz should be acting more "lady-like,wp_postsi.e. following the standards of behavior for fine and proper high-class women of the 19th century. According to West, unless she "shuts the heck up,wp_postsas many ladies of old undoubtedly had to, a modern woman does not deserve a man's respect."
+ Researchers discovered that Google is making you forget things because you don't have to remember anything if you can just search for it later.
+ Dorothy Snarker interviews the creator of Rizzoli & Isles at AfterEllen.
+ Alaska refused to allow a trans* woman to change her driver's license listing to "female" unless she provided proof of a sex change operation. The American Civil Liberties Union is calling bullshit by suing the state.
+ Queer South African photographer is more interested in capturing genuine emotion than plastic smiles for the camera. "Some people think that to be beautiful you have to smile. I always try to explain that these are not party photos. These are historical documents. They are taken at a rough period in our lives. Lesbians are being killed here. There's no reason to smile."
+ Even in San Francisco, it takes time to establish an LGBT youth center.
+ Most horrifying headline of the week: "Gay man dumped half-naked after lay-by robbery near Coventry"
+ London Pride is a small but glorious thing.
+ The Impossibility of Saying "No":"I live in a world where I can not say no for no more reason than the genes I was born with. I'm not even sure men are aware that often they ask women to do things without considering that no is a possible answer. It seems to me, women are expected to say yes. All the time."
+ The Dutch version of "Sesame Street," which is called "Sesamstraat," is entering its 35th season. The cast includes a purple rendition of Big Bird. It's kind of awesome.