Okay so my co-workers have spent the last three days explaining the concept of the show Marriage or Mortgage to me AND I CANNOT BELIEVE IT! I actually thought Shelli was making it up when she first mentioned the gay couple on it, like some kind of flash fiction about how dramatic lesbians are — but no! It's a real show where people choose to have a wedding or a literal HOUSE. Do y'all know about it? I'm going to make the entire team write about it as soon as the fundraiser is over, so stand by for that. In the meantime, here's a Monday Pop Culture Fix for you!
---
+ The full trailer for In The Heights is here, and both Carmen and Drew want you to all caps know that Daphne Rubin-Vega and Stephanie Beatriz are confirmed girlfriends. 
+ Also the intrepid sleuthing of our TV Team never fails to delight me.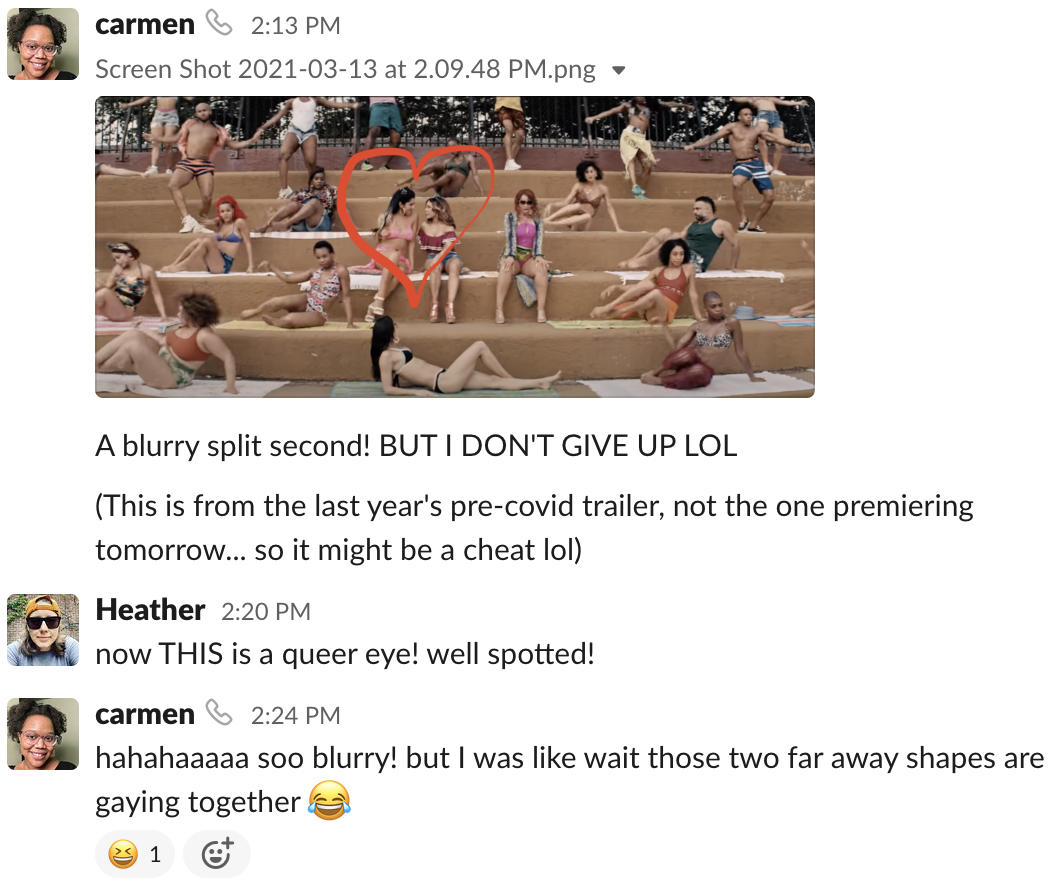 + Stephanie Beatriz on introducing queer elements to In The Heights with two fan-favorite characters.
+ The 63rd Annual Grammy Awards turned out to be the queerest in years!
+ Beyonce became the most awarded woman ever at the Grammys.
+ Here's your full list of 2021 Oscar nominations.
+ Lilly Wachowski teams with OTV Studio to amplify marginalized voices.
+ The Wilds' Mia Healey calls on Hollywood to make more LGBTQ+ inclusive projects.
+ Get yourself a boa like Harry Styles at the Grammys.
+ Russian Doll is coming back for season two, now with 100% more Annie Murphy.
+ Cynthia Erivo did a mini-concert at the Genius: Aretha drive-in premiere.
---
Support Independent Queer Media
We're raising funds to make it through the end of July. 99% of the people who read this site don't support. Will you be one of the ones who do? Joining A+ is one of the best ways to support Autostraddle — plus you get access to bonus content while keeping the site 99% free for everyone. Will you join today?