Hello! Welcome to your pop culture fix, a stirring mix of pressing news from the annals of arts and entertainment, gathered for you by me and a bunch of ewoks.
---
New things for your eyes to see!
+ It's a new extended trailer for The 100! It looks like Clarke and Lexa will share some intense eye contract and knifeplay, and all the heterosexual couples will definitely kiss for sure.
https://youtu.be/PKUuukxrbrU
According to TV Line, the "much-anticipated" Clarke and Lexa reunion "happens under unexpected circumstances, and Clarke isn't so happy to see Lexa following last season's betrayal." According to TV Guide, however, there's a new woman in Clarke's life:
After three months living in isolation and in disguise, Clarke will seek solace in the arms of a compassionate, observant – and yeah, pretty sexy – trading post worker. But their dalliance is cut short when members of the Ice Nation arrive hunting down Clarke, who has become a near-mythic figure after the Mount Weather genocide.
But don't give up, 'shippers! Clarke will be spending a lot of quality time with Lexa (Alycia Debham-Carey) this season. But as the trailer makes clear, it won't exactly all be friendly, let alone romantic.
Luckily, a dedicated fan has carefully analyzed the trailer and determined that they are 100% sure the lady Clarke hooks up with will be Niylah, a new grounder character played by Jessica Harmon.
+ New promotional pictures for the return of Pretty Little Liars, which we really hope will not be as offensive as the Big A Reveal!
+ A new photo from the all-female reboot of Ghostbusters!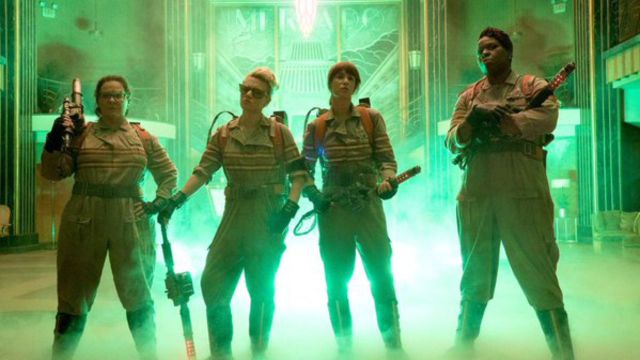 + Speaking of Kate McKinnon, she apparently appears in the new Tina Fey / Amy Poehler project Sisters as "as one-half of a lesbian couple who provides the party with thudding EDM music."
---
Transparent
+ Our very own Mey Rude spent a day on the set of Transparent and wrote about it for you! Don't miss it.
+ Amy Ray of The Indigo Girls (MY FAVORITE BAND!) talks to Slate about being on Transparent, and her discourse with creators about how best to represent the Michfest-like festival on screen.
+ The siblings of Transparent talk chemistry and peeing underwater
+ Kathryn Hahn, the woman you thought was Ana Gasteyer, talks to Vulture about her role as Josh's Rabbi girlfriend.
+ "She is looking around and she is wondering who she is—that investigation into herself is that that is both intellectual and also emotional, and psychological, but also psycho-analytical." Gabby Hoffman talks to NYLON Magazine about Season Two.
+ Transparent's 1930s Berlin flashbacks, explained
+ Flavorwire asks Who's more dysfunctional, the Pfeffermans or the Fishers (of Six Feet Under)? I vote Pfeffermans, have I mentioned yet today that Six Feet Under is the best show ever?
+ How Transparent explores sexual taboos.
---
Also Relevant to Your Interests
+ The first trans black model had her face on the bottle of Clairol (we also wrote about this woman in our 100+ LGBTQ Black Women you should know post)
+ Congratulations to Jenny's Wedding for scoring a spot on The AV Club's Worst Films of 2015!
+ Todd VanDerWeff on "You're The Worst," a show that finally understands what it's like to be in a relationship with someone who has depression. (Even more fun? Relationships with two depressives!)
+ 10 Things You Might Not Know About Samira Wiley: I actually knew all of these things already, I'm not sure what that says about me.
+ 15 Transgender actresses casting directions should consider instead of cis men
+ Goldie Hawn, Bette Midler and Diane Keaton reunite for Netflix feature film "Divanation"
+ Ruby Rose and Sophie Dahl broke up, sorry!
+ The TV writers of Autostraddle knocked our heads into each other's heads, took some Aleve, and wrote up The Best LGBT TV Characters of 2015 for you.
+ Mey looks at the Top 11 Times Pop Culture Reminded Us That Kids Are Queer and Trans Too
+ Seven Sisters Music Festival is picking up where Michfest left off by banning trans women who haven't had gender reassignment surgery from attending the festival. WHAT THE HELL.
---