You know the ones: the actresses you keep seeing in everything and you don't know their names but you swear you've seen her in something else! Firstly, I hope you know Jane Lynch's name, if not, it's probably Jane Lynch. Or is it Lili Taylor? Lorraine Toussaint? Double-check, I can wait.
Okay. So: they aren't ever the lead character, they're not getting interviewed on talk shows or put on the cover of magazines. They're not winning huge awards or starting fashion lines or having their relationships invaded on TMZ.
But they keep showing up on our shows!!!
They're not always playing the queer character — 'cause if they were, we'd know their name — but these actresses all have a knack for showing up on shows that have some kind of queer content or are otherwise on our radar.
---
1. Aasha Davis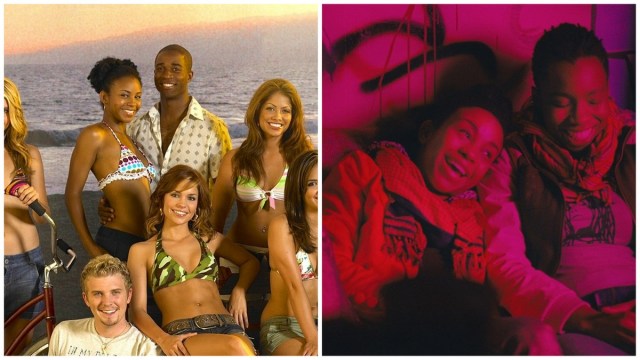 Remember when she was: Chelsea on South of Nowhere
And then you saw her in: Pariah
Wherever you are, she is too: breaking Alike's heart in Pariah, getting preggers in South of Nowhere, trying to keep Smash in line in Friday Night Lights. You've spotted her in Criminal Minds, Chasing Life, House, ER, Gilmore Girls and Grey's Anatomy. She's also starred in two queer webseries, Nick & Nora and Cowgirl Up; and one not-queer but super-awesome webseries "The Unwritten Ruleswp_postsabout "the comedic realities of a Black Co-Worker in a predominantly white workplace."
---
2. Kim Dickens
You know her from: She was Saracen's Mom on Friday Night Lights
Wait is that Saracen's Mom in: Gone Girl
She's remarkably versatile but still has such a memorable face. You may know her from her recurring roles on House of Cards, Sons of Anarchy and Treme. I first noticed she was one of those women I saw everywhere when the woman who long-conned Sawyer on Lost showed up on Saracen's doorstep. Then there she was, not having aged a wink, playing a cop on Gone Girl! She's also dropped in on White Collar, FlashForward, 12 Miles of Bad Road, Numb3rs and Spin City.
ETA: And apparently she played a lesbian in Deadwood!
---
3. Adina Porter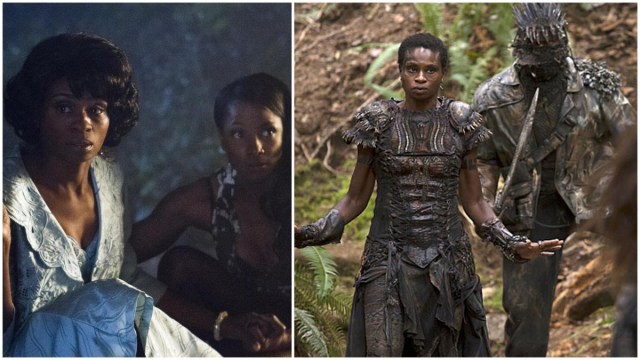 You know her from: Tara's Mom on True Blood
You were pretty sure that was Tara's Mom you saw in: The Newsroom, The 100
She played Tara's mom, Lettie Mae Thornton, on True Blood, and Grounder warrior Indra on The 100, but she's also shown up in queer favorites like Grey's Anatomy, Glee, American Horror Story and lesbian classic Gia, in which she played "the girl at group therapy."
Aside from her gigs on True Blood, The 100, The Newsroom and the 2002-2003 series American Dreams, she's rarely a series regular. That's given her plenty of time to appear in one or two episodes of every other show in the world: NYPD Blue, Crossing Jordan, ER, CSI:NY, Prison Break, Without a Trace, House M.D., Law and Order SVU, Cold Case, CSI, Saving Grace, Hawthorne, Criminal Minds: Suspect Behavior, Private Practice, Ringer, Prime Suspect and The Vampire Diaries.
---
4. Anne Ramsay
You know her as: The first woman who dared to date a post-Marina Jenny on The L Word
But you might also remember her from: A League of Their Own
I'm so consistently surprised when people don't know who Anne Ramsay is. She has been in EVERYTHING, y'all! She was Jenny's girlfriend in The L Word. She was an out lesbian Mom on Secret Life Of the American Teenager. She played ball in your favorite not-gay gay movie, A League of Their Own. She was even in my favorite show of all time, Six Feet Under! But if you're of a certain generation you might know her best from Mad About You. Regardless, it's impossible to have missed her boat entirely, as she's played recurring roles on Hart of Dixie, Hawthorne, Dexter, Related, Dharma & Greg, Star Trek: The Next Generation and, most memorably, on Mad About You.
---
5. Annabeth Gish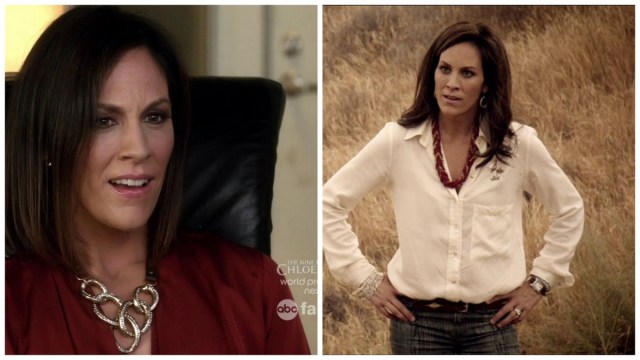 You know her as: The therapist on Pretty Little Liars
Or maybe: The X-Files, The Bridge
This is a generational situation — if you're young, you probably saw her for the first time in Pretty Little Liars. If you're my age or older, though, you probably have been aware of her for a long time. I mean, she was nominated for a young actress award for Mystic Pizza! Remember Mystic Pizza? The first time I looked her up was when she showed up on The Bridge, and I was like, WHERE DO I KNOW HER FROM. Mhm. Dr. Sullivan, y'all. Also The West Wing, obvs. But you've also seen her in The X-Files, Once Upon a Time, Parenthood, Parks & Rec or Sons of Anarchy and movies like Beautiful Girls and SLC Punk!
---
6. CCH Pounder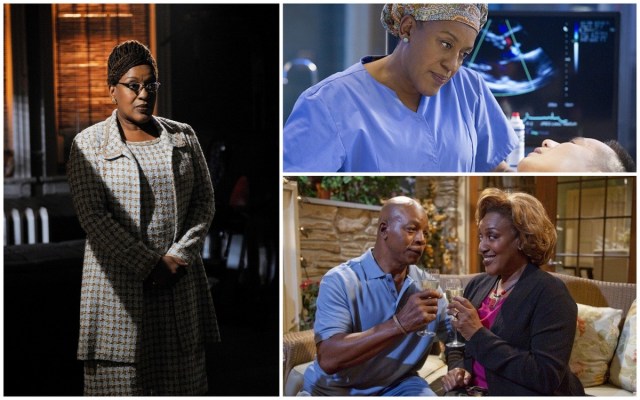 Recently crossed my radar as: Mrs. Frederic on Warehouse 13
If you already knew this woman's name than you are a wiser and better human than I am, because she's one of the most accomplished working actresses of all time and yet I didn't know her name until today. She's scored regular roles on NCIS: New Orleans, Sons of Anarchy, Law & Order SVU, The Shield, ER, Women in Prison,  and Brothers. She was featured in Avatar, Face/Off and Orphan and has lent her talent to shows ranging from Cagney & Lacey, The Cosby Show and Hill Street Blues to The Practice, Girlfriends and Revenge.
---
7. Senta Moses
She danced the night away with Rickie on My So-Called Life and I forgot about her entirely 'til she reappeared as Principal Penelope on Faking It. But she was also Kevin McAllister's cousin in Home Alone! Or maybe you saw her in Rizzoli & Isles, Castle, Greek, Girl Meets World, NCIS, Beckman's World or Sister, Sister? Her hair has been perfectly curly for ages.
---
8. Rekha Sharma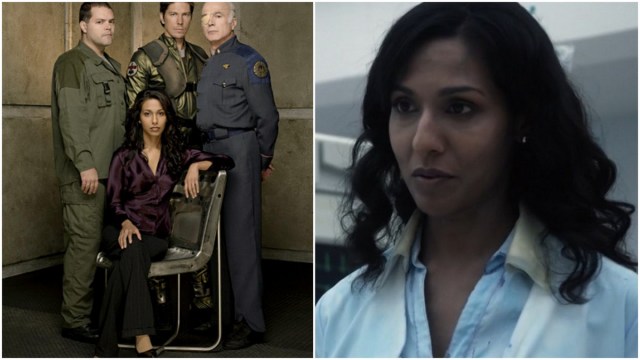 This woman who is long overdue for a magazine cover: Canadian actress Rekha Sharma has navigated the murky ethical codes of the post-apocalyptic human race in featured roles in The 100 and Battlestar Galactica as well as popping up on Arrow, Supernatural, Once Upon a Time In Wonderland, V, Dark Angel and Smallville. She also allegedly appeared as "Lori" in the first two episodes of The L Word but I can't find her in it for the life of me.
---
9. Michelle Hurst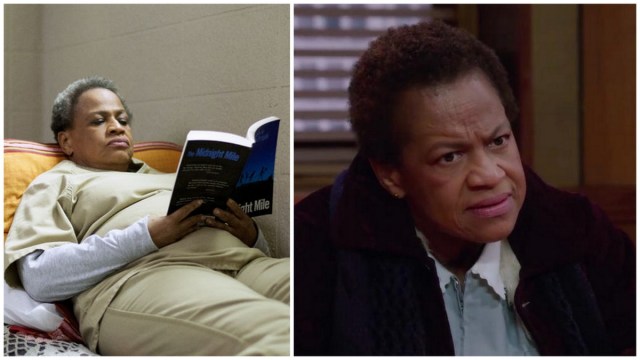 You know her from: Orange is the New Black
You saw her again in: Law and Order
and again in: Law and Order
and also one more time in Law and Order
As Stef noted in her epic And Now Every Character From "Orange is the New Black" As They Appear In "Law and Order", Michelle Hurst has played nine different characters in various shows in the Law & Order franchise. She's also shown up on queer-friendly shows like Broad City, Last Tango in Halifax, The Good Wife and Sex & The City. 
---
10. Kathryn Hahn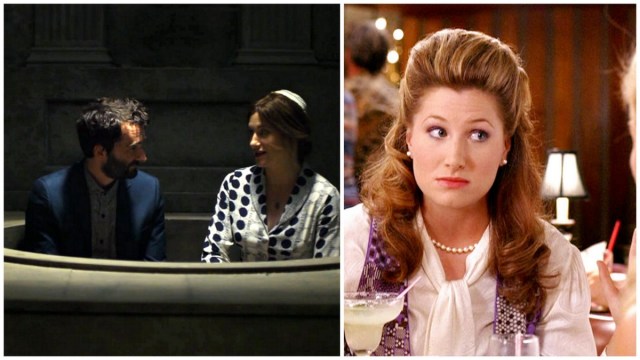 You know her from: You've been thinking that she's Ana Gasteyer this whole time
She was that rabbi who made the mistake of falling for Josh in Transparent, but she's also been in Girls, Hung, The Newsroom, Parks & Recreation, Kroll Show and 115 episodes of Crossing Jordan. She looked the most like Ana Gasteyer in We're the Millers. That picture of her is from Anchorman.
---
11. Beth Grant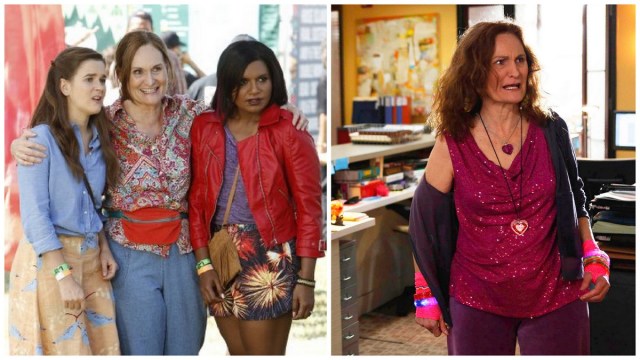 Beth Grant has 182 IMDB credits! She's been in over 70 feature films, appeared in over thirty plays, guested on every television show to ever exist… AND YET. She's Beverly on The Mindy Project, but you've also seen her in Criminal Minds, Friends, Six Feet Under, Sabrina the Teenage Witch, CSI, Everwood, The Secret Life of the American Teenager, The Office, Grey's Anatomy, Modern Family, Pushing Daisies and Bones.
ETA: LITTLE MISS SUNSHINE
---
12. Amy Hill
You might recognize this Japanese-Finnish-American performance artist and actress' voice moreso than her face, but you probably recognize her face, too, 'cause this woman has been working. I think I first saw her when, at the age of 41, she played Margaret Cho's 65-year-old grandmother in All-American Girl. In addition to doing voices for Lilo & Stich, Kung Fu Panda: Legends of Awesomeness, American Dad!, The Legend of Korra, King of The Hill, Kim Possible and The Life and Times of Juniper Lee, she played Judy Harvey in Enlightened, Dr. Laura Brown in General Hospital, Mrs. DePaulo in That's So Raven and did guest spots on Grey's Anatomy, Ghost Whisperer, Glee, Law & Order, Arrested Development, The League, Curb Your Enthusiasm, Frasier, Six Feet Under, Without a Trace, Friends, Third Rock From The Sun, The Hughleys, The Closer and Desperate Housewives. Her film work includes 50 First Dates, Cat in the Hat and Next Friday.
---
13. Justina Machado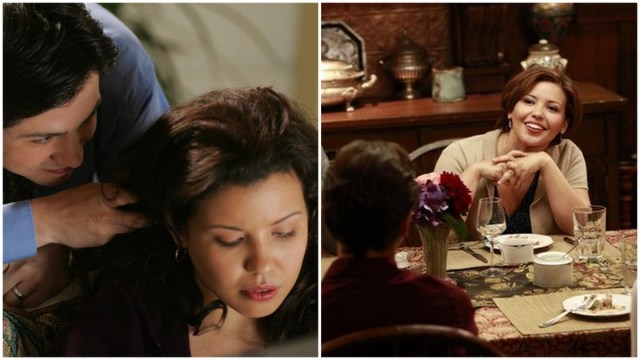 She was definitely Rico's better half on Six Feet Under and also has played recurring roles on ER, Goode Behavior, Private Practice, Three Rivers and Welcome to the Family. She also turned up in Season One of The Fosters and has guested on shows including Ugly Betty, Switched at Birth, Desperate Housewives and Kath & Kim.
---
14. Melora Hardin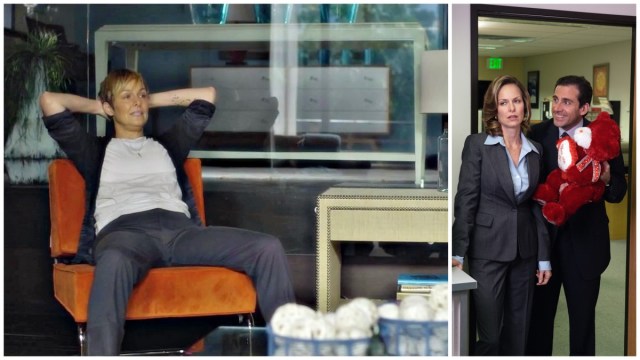 You know her from: She played Jan on The Office
And weren't sure where you recognized her from when she showed up as: a lesbian on Transparent
Melora Hardin has 103 credits on IMDB, and is known primarily for The Office and The Hot Chick — but she's actually been working consistently since she was nine years old. So in addition to popping up on classics like Lois & Clark, Murder She Wrote, Friends, Matlock, Little House on the Prairie, Diff'rent Strokes, The Love Boat, Quantum Leap and starring in the failed 1988 Dirty Dancing TV series, she's also been busy these days with stuff like Scandal, Wedding Band, Outlaw, Monk, Gilmore Girls and Cover Me. Also she had lesbian sex in Transparent, so.
---
15. Tina Majorino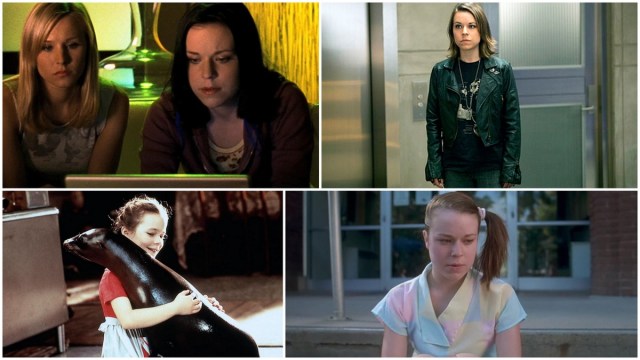 One of the most notable aspects of this actress' career is that you've maybe accidentally seen everything she's ever been in, and she hasn't been in a ton of stuff. Just, you know, stuff like Napoleon Dynamite, Big Love, Grey's Anatomy, Veronica Mars, True Blood and Bones. She was a child star when I was an aspiring child star, too, turning up in all my favorite films like Andre, Waterworld and Corrina, Corrina. Yet so many people still get her mixed up with Jenna Malone! I feel like she's one TV show away from the cover of BUST Magazine. Am I the only human on earth who didn't already know her name, though. Be honest with me.
---
So, how many of these actresses did you already know?