Somewhere in the early-to-mid-90s my parents' reign of oppressive television censorship ended and I was at last allowed to actually watch the television shows I read about in the Sunday Times and Entertainment Weekly. (Rarely do I watch a show without reading about it first.) Furthermore, due to a series of tragically unfortunate personal life events between '93 and '95, I spent a lot of time during those years lying on the couch wishing I was somebody else.
And there was the television set, right in front of me! I have never, before or since, cared about as many TV shows as I did then.
Every Wednesday, in USA Today's "Life" section (which was, oddly enough, not ever about life, but about on-screen adaptations of life), the Nielsen ratings were published, which is why I begged my Mom to get us a subscription to the not-so-revered daily paper and she eventually agreed. The Nielsen ratings were incredibly important to me because — and I'm sure this'll shock your socks right off your feet — the shows I liked were always at risk of cancellation and the shows I hated seemed like they'd never end! I learned early that everything good gets cancelled and The Real L Word will never end.
Lots of popular shows ended their runs in '94 and '95, but today we will focus on those that NEVER EVEN GOT STARTED! Shows that were never given a chance to shine! Let me share my abandonment issues with you in hopes you remember at least one of these shows so their spirit LIVES ON. Honestly if just one of you remembers Thea, I'll probably do a celebration dance of some kind in my room.
Top Ten TV Shows Prematurely Cancelled in the Mid-'90s
[in no particular order]
10. Thea
(ABC, 1993 -1994, 19 episodes)
Thea was the first sitcom named after an African-American female comedian (Thea Turrell) and was the first show to feature Brandy Norwood, who went on to become a big bright shining star. My primary memory of this show  is that Thea yelled at her kids a lot but it was way funnier than when Moms yelled at their kids in real life.
+
9. The Cosby Mysteries
(NBC, 1994-1995, 20 episodes)
Bill Cosby starred as a New York City criminalist who won the lottery and quit the force, but keeps getting roped in to solve additional crimes with his old partner. Also starring Mos Def and Rita Moreno. That's a formula for a hit if I ever heard one but apparently America disagreed.
+
8. All-American Girl
(ABC, 1994-1995, 19 episodes)
Margaret Cho became the lead of the first sitcom ever about an Asian-American family. Anyone who has heard Cho's stand-up knows now that the producers made her basically starve to death in order to be "TV-ready." The Grandma, who I'm sure fits into a damaging stereotype of some kind, was my favorite. BD Wong was my second favorite.
+
7. Christy
(CBS, 1994-1995, 21 episodes)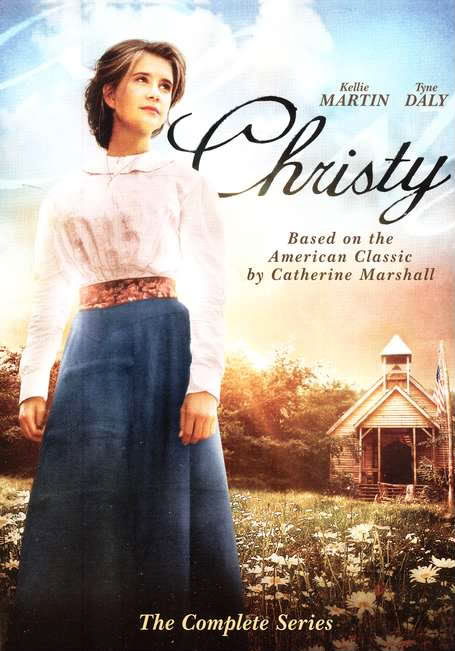 This show combined many of my favorite things: the prairie, Kellie Martin, and Women Making it For Themselves. Apparently it had some religious undertones but I think I had a crush on Kellie Martin and didn't care.
+
6. The Critic
(ABC, 1994, 13 episodes) (Fox, 1995, 10 episodes)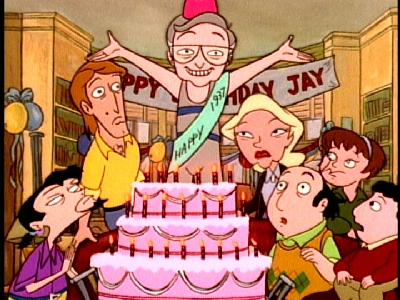 This show became a bit of a cult hit via syndication long after its initial run. I remember a joke we repeated a lot about silverware being on the ceiling.  The movie review parts were boring, but it made me LOL about 300x more than Futurama ever did.
+
5. Me and the Boys
(ABC, 1994-1995, 19 episodes)

Before Steve Harvey became the problematic pusher of the idea that smart, successful black women need to lower their standards or else die miserably alone, he had a sitcom called Me and the Boys which nobody I knew liked except ME. Usually Steve Harvey was disciplining his rascally offspring, which as aforementioned is one of my favorite tropes.
+
4. Dinosaurs
(ABC, 4 seasons/65 episodes, 1991 – 1994)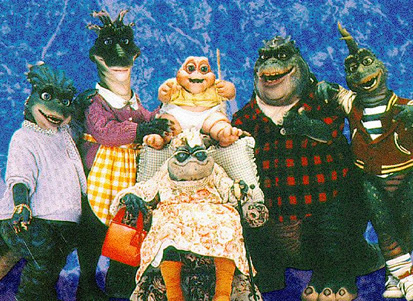 Dinosaurs was the first sitcom my brother and I were allowed to watch, because it starred muppets, I believe, was created by Jim Henson just before he died, and was also actually a really smart show with lots of secret social commentary. It was cancelled for mysterious reasons and then all the dinosaurs went extinct.
Even though this apparently lasted for four seasons, I seem to remember it being cancelled out of the blue in a way that really hit me over the head with a frying pan!
+
3. South Central
(Fox, 1994, 10 episodes)
Going into the Spring 1994 television season, South Central was exceedingly revered as the year's best new show. Focused on an African-American single Mom and her three children living in South Central Los Angeles, the show starred Larenz Tate (who I had a crush on) and tackled issues like drugs, gang violence, welfare, divorce, absentee fathers, unemployment, teen sex, etc. Due to low ratings on Tuesday nights, Fox went ahead and cancelled its entire Tuesday night lineup, which included Roc, The Sinbad Show (which I also liked) and In Living Color (which I wasn't allowed to watch). Then Jesse Jackson wanted everyone to boycott Fox for institutional racism and Fox was like NUH-UH. Ralph Farquhar, the show's creator, went on to "make it" with his next sitcom, Moesha. It was less "gritty." "Throughout my entire career I've only had one goal, one motivation," he told The New York Times. "To bring an honest portrayal to the life I live to the screen: to the small screen."
+
2. Thunder Alley
(ABC, 1994-1995, 27 episodes)
Before Haley Joel Osment saw dead people and Tao Lin, he saw Ed Asner. I was a sucker for anything with an adorable sassy child in it, such as Full House, Boy Meets World, The Cosby Show, Hangin' With Mr.Cooper and Thunder Alley.
1. My So-Called Life
(ABC, 1994-1995, 19 episodes)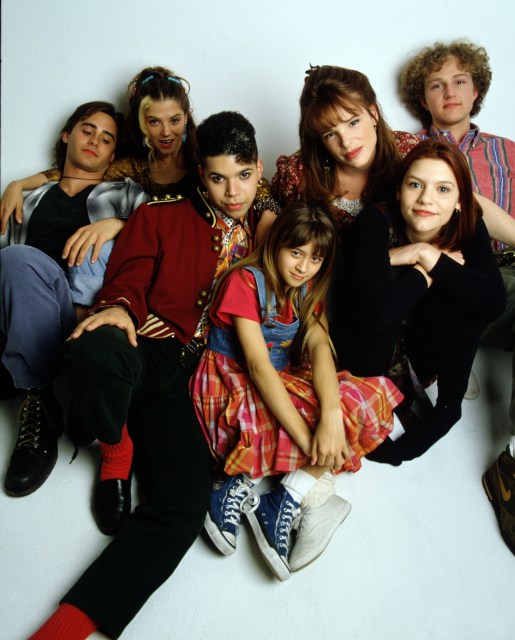 Do I even have to say it. What this show means to us!?!