Hello and welcome to your weekly Pop Culture Fix! There's a lot of gay TV news in here this week! 
---
Amy and Jake are getting married on the May 20th episode of Brooklyn Nine-Nine and also one other thing is happening in that episode which is that GINA RODRIGUEZ IS SHOWING UP. Here are the pics EW published last night and let me posit a theory: What if — based on Rosa's posture when she sees Gina pull up in her cop(?) car — Gina is playing her ex-girlfriend? Either way I am so hyped I might not sleep until May 20th.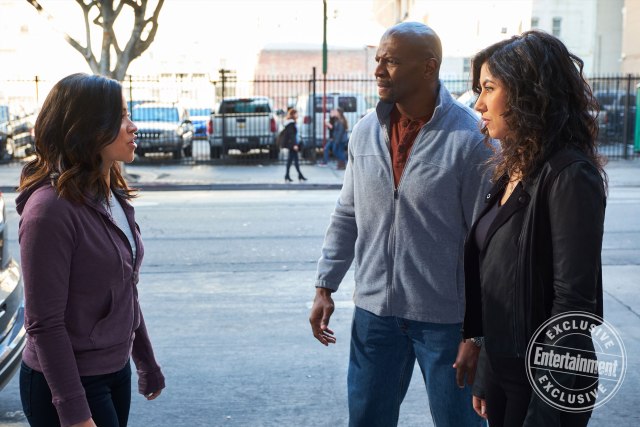 Here's some lesbian SEO for you from The Hollywood Reporter: Ellen Page is joining Laura Linney and Olympia Dukakis for a ten-episode Netflix reboot of Armistead Maupin's Tales of the City, which Lauren Morelli will be writing for and showrunning! The original aired in 1993 on UK's Channel 4 and has been lauded for decades as one of the first TV shows to treat its LGBTQ characters as fully formed human beings.
After it was announced that Lee Daniels had come on board to executive produce the lesbian indie drama Pimp, a new trailer finally dropped for it!
Here's Kayla's Disobedience review.
Here's a primer for you to get ready for Pose.
Tonight at 10:30 so proud of the docu-series i got to produce for @VICELAND about the Vogue Ballroom scene called "My House" 🙌🏽 @nytimes said it will Vogue it's way into your heart. ❤️ #MYhousevl pic.twitter.com/fZfeOEjAeg

— NNEKA (@NiKEs_Nae) April 25, 2018
And here's Ava DuVerday getting you excited for her next project.
More about the wonderful documentary on a LGBTQ trailblazer: JEWEL's CATCH ONE! Now playing nationwide and debuting on Netflix May 1 from your comrades at @ARRAYNow! https://t.co/gszI6Kwn0R

— Ava DuVernay (@ava) April 24, 2018
The Sense8 finale is coming to Netflix on June 8th.
You absolutely have to read this interview with Ivonne Coll. She talks about her entire acting career, especially playing Alba Villanueva on Jane the Virgin, and touches on her time playing Santana's abuela on Glee. She also talks about her sister being openly gay in real life in Puerto Rico and how she's the one who introduced Ivonne to One Day at a Time. Really, read it.
Here's Riese's review of season two of The Handmaid's Tale, which lands today on Hulu.
The Bold Type's season two trailer is here and also this little tidbit from E!: "Plus, it seems Kat is taking her relationship with Adena El-Amin (Nikohl Boosheri, upped to series regular for the new season) to the next level: She's introducing her girlfriend to her parents!" June 12th!
Thanks to eagle-eyed Twitterer @harleivy and sapphic Twitter power user Kayla Kumari Upadhyaya, a Fox Searchlight film called The Favourite is now on our radar thanks to what is apparently a historically accurate lesbian love triangle played by Rachel Weisz, Emma Stone, and Olivia Colman. It's coming 'round on November 23rd, so it'll be a minute, but we'll be on the lookout for any new info as it becomes available!
And finally, please enjoy this deleted Choni scene from the Riverdale musical episode.