Feliç Diada de Sant Jordi! If I could be anywhere in the world today, I'd definitely pick Barcelona. Today the city's shutting down to make time for everyone to buy books and roses for the people they love.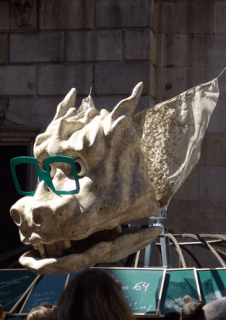 The rose half of the tradition goes back hundreds of years and commemorates St. Jordi, a Catholic saint who slew a dragon, saved a princess and was killed by the Romans. If that's all a little too Disney for you, wait until you hear what happened next. In 1616, two guys who knew how to write stories that hadn't already been played out — Cervantes and Shakespeare–died on the same day: April 23rd. Fast-forward three hundred years to 1926: the first year Book Day took place in Catalunya. After holding the festival in October for three years, someone suggested that they move it to April 23rd to celebrate the deaths of two great authors. Since the 23rd also happens to be St. Jordi's day, the two holidays merged to create something much bigger than the two ever were on their own.
Today over 800,000 books and 4 million roses will be sold and exchanged in Catalunya. Remember how excited you got for book fair in elementary school? It's like that, only bigger and with love and dragons.
We can't all be lucky enough to be in Catalunya today, but don't let where you are stop you from celebrating! Give — or better yet, read — a book to someone you love. That person can be your best friend, your dad or even yourself. I've been eyeing Making It
 ever since Laneia told me about it a month ago and I'm feeling like today just might be the day I pop over to the library to check it out. But enough about me, what about you? What's on your reading list?