Crystal and I are hosting an A-Camp listening party! It'll involve herding a bunch of bright-eyed campers into the Deer Lodge and subjecting them to our favorite songs and maybe even some stories of what they mean to us, which is pretty much a dream gig, we were born to do this.
This party's gonna rock the Lodge for two whole hours and so what we have here is just a small sample of the songs we'll play.
Carmen's Songs
Tongue Tied – Grouplove
I love this song so much that I used 3G for three hours once to listen to it on repeat via YouTube on my phone. I first heard it in my friend Cody's car and I remember him and Libby knew it but not me and they were just screaming "I LOVED YOU THEN AND I LOVE YOU NOWWWW" and it was then that I knew it was perfect. The windows were down.
Super Rich Kids – Frank Ocean
This song is perfect. I think I need to pour myself more vodka now.
Always Like This – Bombay Bicycle Club
My friend Josh sent me a link to a YouTube video and I was on a bus and very sad and really, whenever you send me a link to a video I never watch it, I just pretend I do to make you feel better, but I love Josh and he loves me so I clicked it. When I got back home I downloaded the entire BBC discography because I couldn't get enough. They carried me through the rest of the semester. They made me feel a whole lot better. Now I really am. And it started with this song.
The Glory – Kanye West
I would feel bad if I left Kanye out because he's very important to me spiritually. This still stands as one of his best tracks in my heart.
The Motto – Drake
Um, fucking duh.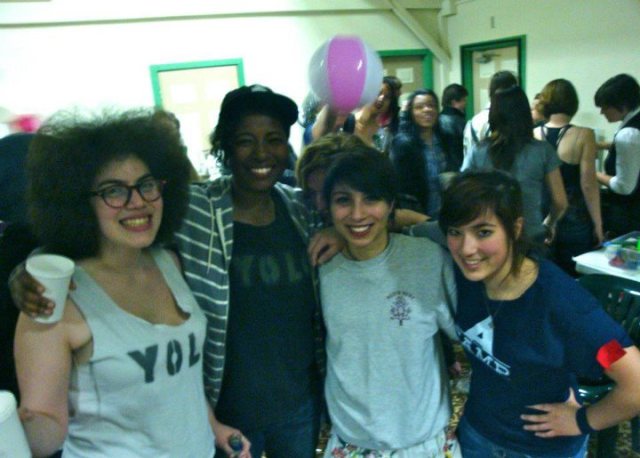 Burial – Miike Snow
I owe my love of Miike Snow to Pandora, home of two of my incidentally perfect stations. This is my favorite song off of my favorite album of his. It is also perfect.
At your own burial, don't forget to cry.
Crystal's Songs
Phenomena – Yeah Yeah Yeahs
"Phenomena" features on about 80 per cent of my personal playlists 'cause it always seems to be the perfect soundtrack for whatever mood I'm in, so I'm quietly confident that this'll go down a treat.
No Sleep 'Til Brooklyn – The Beastie Boys
There was this moment recently when I returned from a hectic overseas trip and realised that I only had one week to get my shit together for A-Camp. A record-breaking freak-out ensued and "No Sleep 'Til A-Camp" became the soundtrack that pulled me through. Obviously I need to play it. RIP MCA.
I Wanna Be Your Joey Ramone – Sleater-Kinney
If some queer girls had a listening party in the forest and no one played a Sleater-Kinney song, did it really happen?
In Spite Of Me – Holly Miranda (Morphine Cover)
This has been one of my favorite songs since the nineties so when Holly Miranda decided to cover it my mind and heart were blown to a million little pieces. I suspect that during this party I will make everyone listen to Holly Miranda songs until they confiscate my iPod or kick me out of the lodge.
Mercy Killer – Bertie Blackman
Bertie Blackman is my favorite Australian female artist. When I was in high school I was friends with her brother and felt really cool by association, and I'm not even embarrassed to tell you that 'cause to this day I love her music so hard. "Mercy Killer" is Bertie's new single and so it makes sense to play that one but I'll also try to slip in some of her older, more rock and raw stuff as well.
Last Of The American Girls / She's A Rebel – American Idiot: The Musical (Cast Recording)
In the summer of 2010 Riese, Laneia, Alex and Sarah accompanied me to see Green Day's American Idiot musical on Broadway because they really love me and want me to be happy. This song is a constant reminder of that and also my favorite performance of the night.
Endless Summer – The Jezabels
So this is just one of the many amazing songs I will share because of my patriotic obligation to expose as many non-Australian fold people to as many Australian artists as possible.
Cigarettes and Coffee – Otis Redding
This is just such a perfect track, it's my go-to for whenever I want to sit back and ride my own melt. Really the only way it could be a better song is if Holly Miranda covered it. JK. Kinda.