Welcome to Queer IRLQueer IRL, an Autostraddle community photo series that gathers little moments of lesbian, bisexual, queer and otherwise-identified women, trans and non-binary folks, just living our lives in 2020.
We promised you a Queer IRL revival gallery if you could get us to $25k in our fundraiser, and boy howdy did you EVER. This gallery series first began in 2017, when it felt like we all really needed to see each other, see that we weren't alone, weren't as singular. (It also served as inspiration for bookshelf organization, bedroom decor, kitchen looks, vacation ideas and new pet names.) Truly can't think of a better time to bring it back around than during a worldwide quarantine!
You're a vast and varied group, but one thing you have in common, besides reading Autostraddle, is that you're fucking BEAUTIFUL. I love all of you and your supportive cats, your newly adopted dogs, your newly minted U-hauls, your kitchen thirst traps, your unborn babies (!!), your exhaustion, your drive, your Zooms, your WHOLE DAMN DEALS. It was an absolute joy to put this gallery together — so much so, in fact, that I'll be doing another one this summer! Thank you to everyone who participated, donated, joined A+, and shared the good word. We've said it once and we'll say ten thousand time: we could not be doing this work without your support! xoxox
And now please enjoy Queer Right Here in Quarantine!
---
Chloe, Dexter, Kaya / she ᛫ they / 25.75 / Parent's House, Alabama

"Thankful to have more fresh air and green than usually in NYC. Grateful we are safe and healthy and that my med school is online for now."
---
Emma and Puck / she ᛫ they, he / 30,5 / Office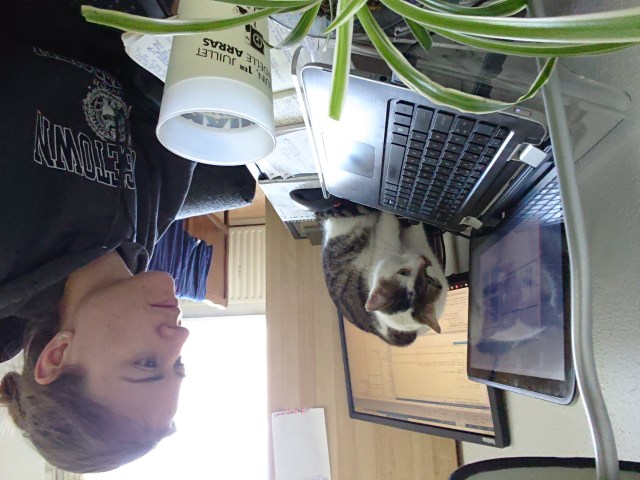 "I will write a PhD thesis (!) and Puck will check it's good."
---
Jay / they / 25 / Portland, OR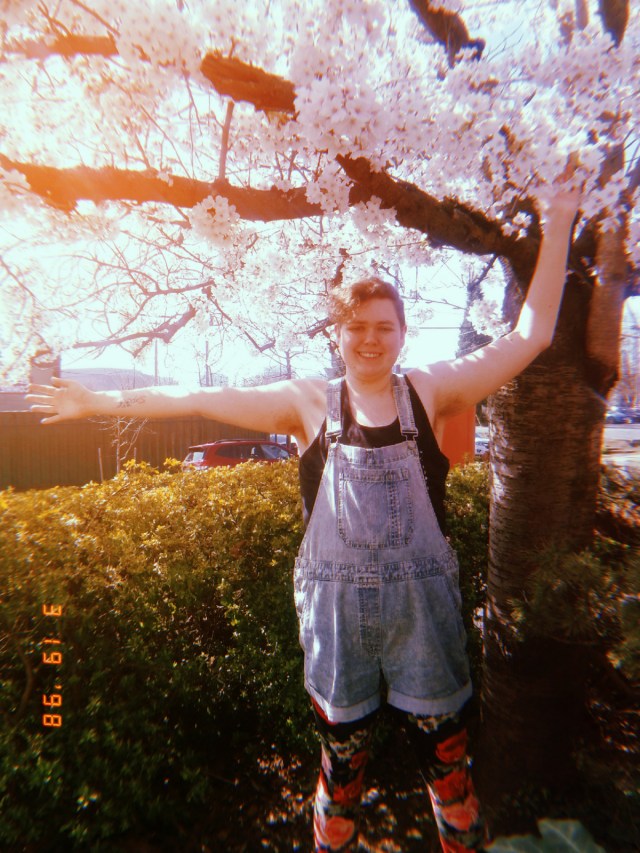 "I took this on the Spring Equinox; a day I celebrated the flowers around my neighborhood and walked around feeling comforted by the presence of growth. I took a few more walks, but 5 days later, I began to feel COVID-19 symptoms. I'm recovering now but not enough to be able to go outside yet. I miss the flowers, the trees, the view of the Willamette River from where the geese gather, and the oregano plant I dug into an isolated patch of grass but haven't been able to check on since. I cannot wait to go back outside. I am still in bed but a part of my heart is still right there by that tree."
---
Virginia and Inès / she, she / 138, 23 / London, England and Voiron, France


"All it took for this to happen was a few days of isolation with my copy of The Complete Works of Virginia Woolf and my poor mental health. By the way, the previous sentence contains a zeugma, which is a pretty cool figure of speech if you ask me."
---
Nell / they / 27 / New York

"This was taken on a hike with two very dear and queer friends, Charlotte and Caleb! They introduced me to a queer youth camp that I started volunteering at in August 2018, and that's where I've found my best community. (Also RIP to the flip flops I'm wearing here, they were 10 years old and fell apart at the end of the trail.)"
---
K. Renatus (K. R.) / they / 24 / Chicago, IL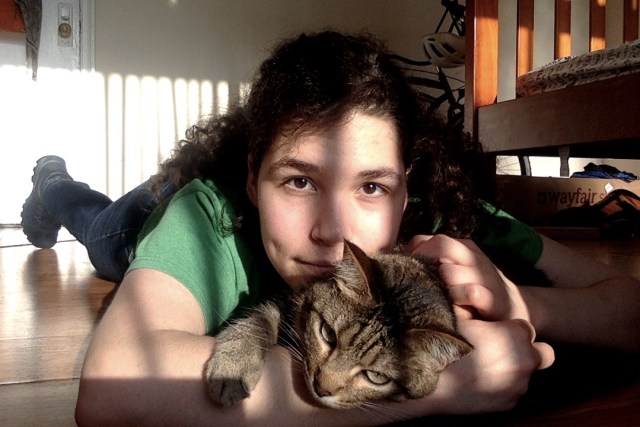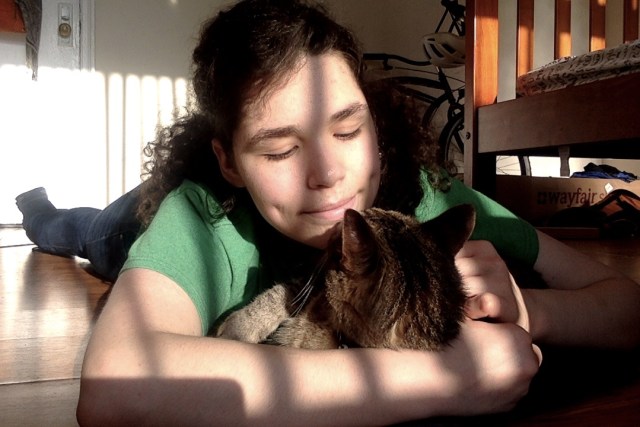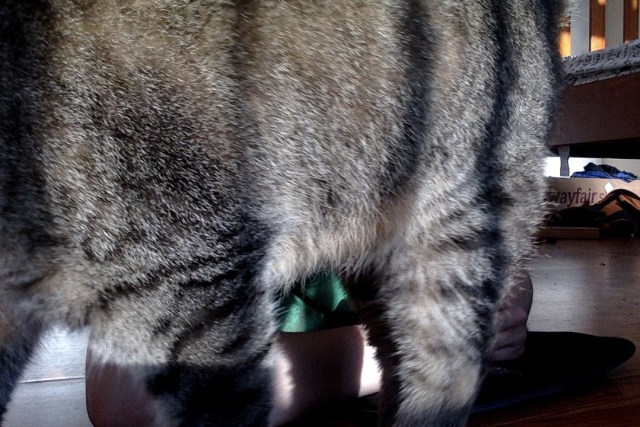 "My fur-son was down to cuddle for purr-cisely the time it took for the first two photos to be taken- by the third, he was over it."
---
Ar / 22 / North BC, Canada

"Pictured in my natural habitat – a pile of garbage and poison. Luckily I cut steel in the middle of nowhere for a living so I'm still allowed to work, but I sure miss places that aren't my house or this abandoned mill!""
---
Miriam / she / 18 / Cambridge, Ontario, Canada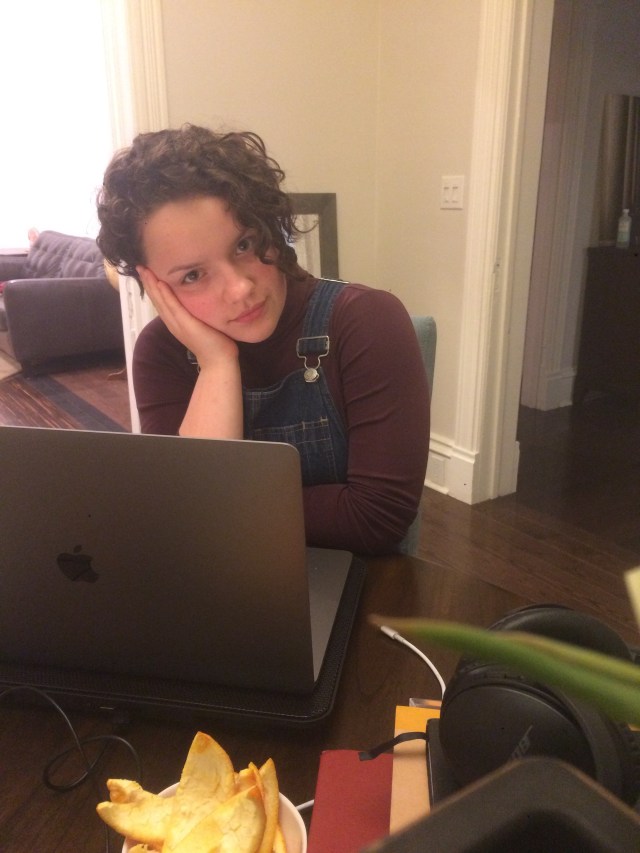 "Pictured at my dining room table turned desk, minutes after submitting my final project for my first year of architecture school, featuring the remains of the orange that kept me going in the final hours. I'll be leaving for home (Toronto) in two days, a very unexpected and abrupt ending. No beautiful lighting or photogenic outfit but a very very real reality."
---
Amelia / 31 / she · they / 31 / Louisville, KY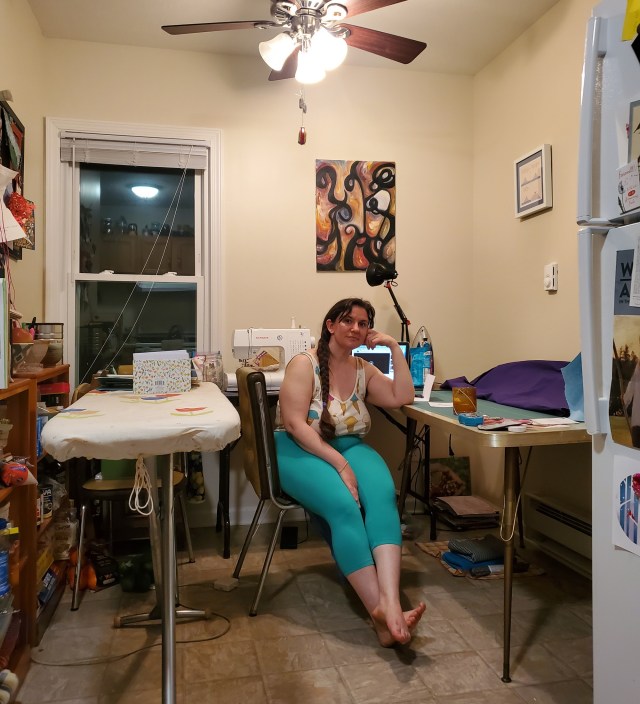 "I made my kitchen into a mask factory-I put my phone on my oven to take this picture. I'm trying to catch up on penpal letters, too. I had a happy hour earlier with my queer virtual co-working space friends and then went for a walk to look at the full moon. Tomorrow I'll try to call the unemployment office again. It's been mind-bending to feel so connected and so lonely at the same time."
---
Ellie / she / 35 / Paris, France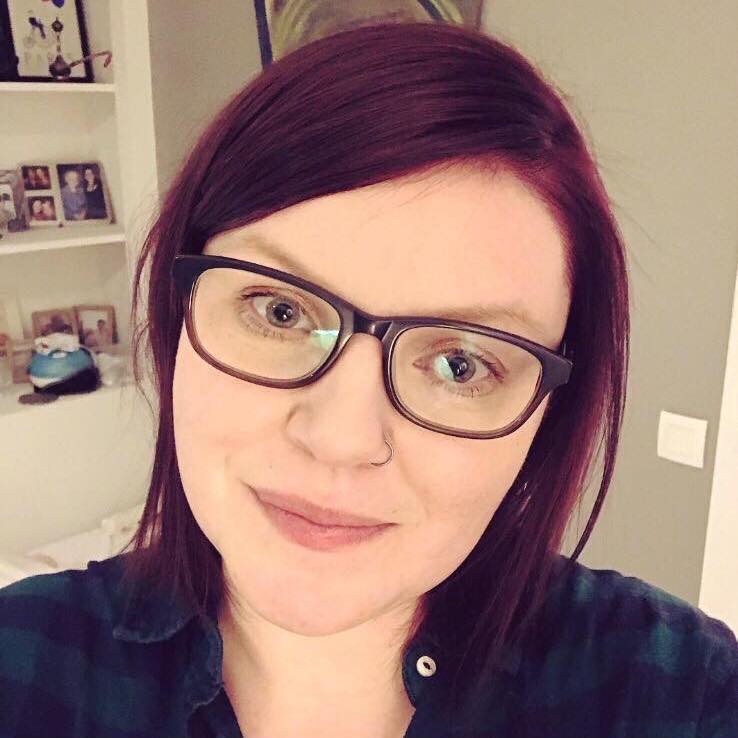 Sean Kelleen / she / 39 / Garage, San Francisco, CA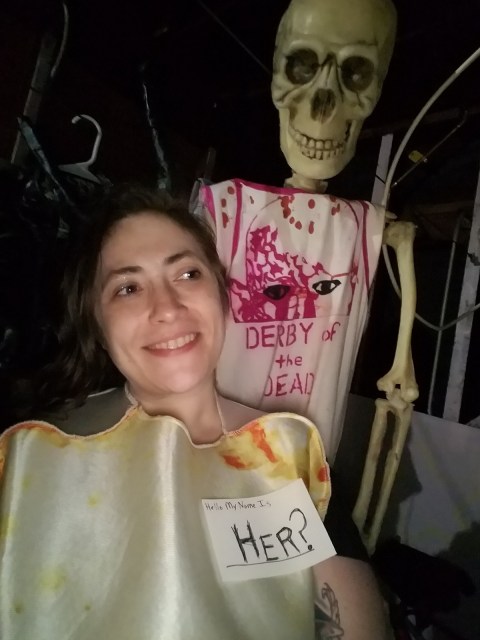 "Both this skeleton and I are wearing a couple of my costumes. They're in my zombie roller derby jersey. And I am Ann Veal from Arrested Development."
---
Lee / they / 33 / Ontario, Canada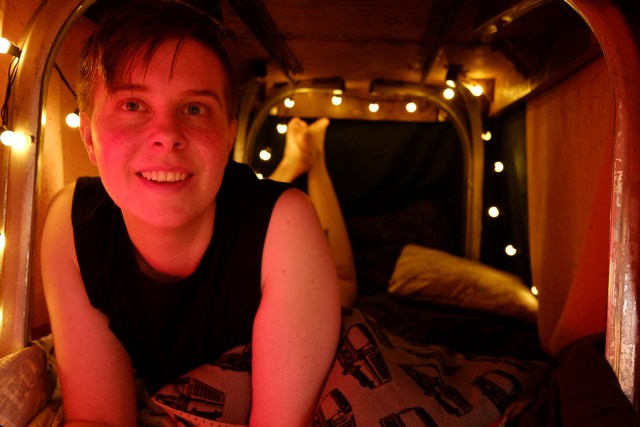 "I took this photo after Autostraddle instructed us to build blanket forts, but couldn't figure out how to get it to post in the comments, so I am sharing it here instead!"
---
Elena Gross / she · they / 29 / Bedroom Floor turned Exxxclusive Home Gym

"A (low key thirst trap) post-workout photo I took to 1. celebrate myself for actually completing a workout, 2. motivate myself to keep doing this as often as I can and feel capable and 3. to capitalize on the aforementioned thirst-trap potential."
---
Kate / she / 41 / Midlands, England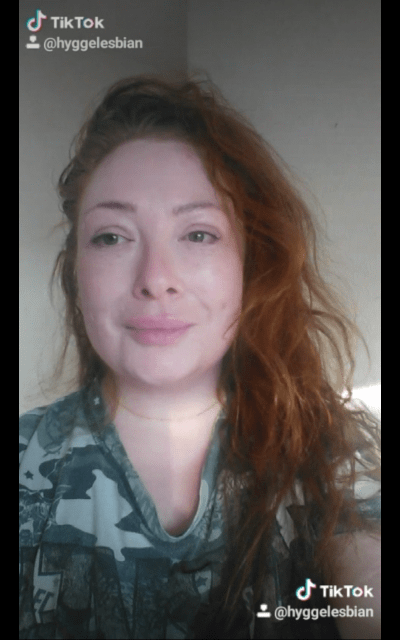 "I've been spending some time making Tiktoks hoping to meet some fine dykes :)"
---
Quin Aw / she / 50 / Akron, OH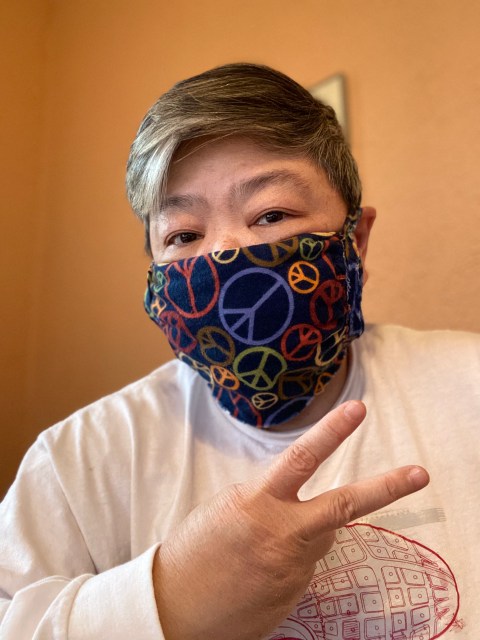 "Masking in Peace."
---
Kirsten / 29 / Münster, Germany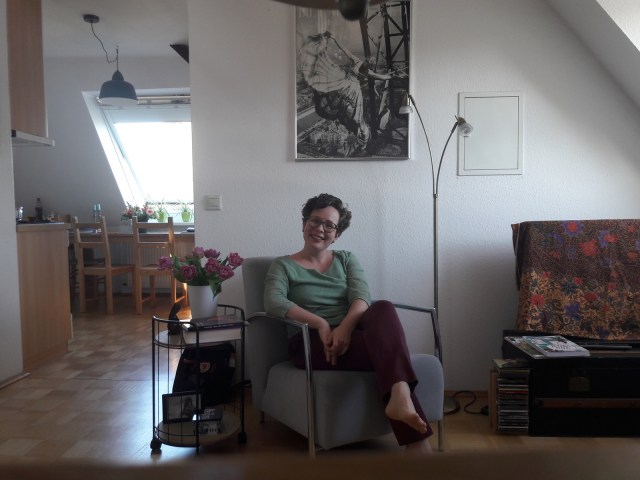 "Originally from the Netherlands, I have just found a new job in Germany after four years in Italy. My (Greek!) girlfriend still lives there and we're making it work at a 'social distance' of 1000 km by doing yoga, dance challenges and quizzes… we also read stories to each other in our native languages. Counting the days until we're allowed to travel again."
---
North Louisiana / she / 37 / North Louisiana

"I call this lewk Finally Had To Leave My House realness."
---
María Teresa / she / 24 / Havana, Cuba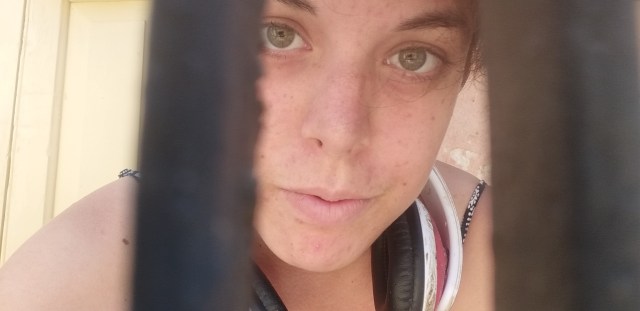 "It's my third week of quarantine, and I felt so sad, so I went out to my balcony. The photo is an attempt to record the "behind bars" feeling. Doing it helped me feel better."
---
Gilbert / they / 27 / Glasgow, Scotland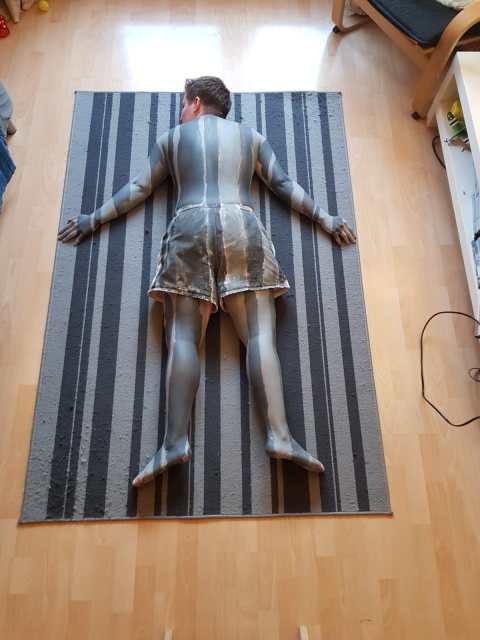 "Day fourteen of total isolation at home went just about as well as expected."
---
Harriett Logan and Otis / she / 53 / Cleveland, OH

"What?"
Claire, Nora, Ethan, and (in utero) Jude / she, she, he, and TBD / 33, 34, 8, and 0 / Montclair, NJ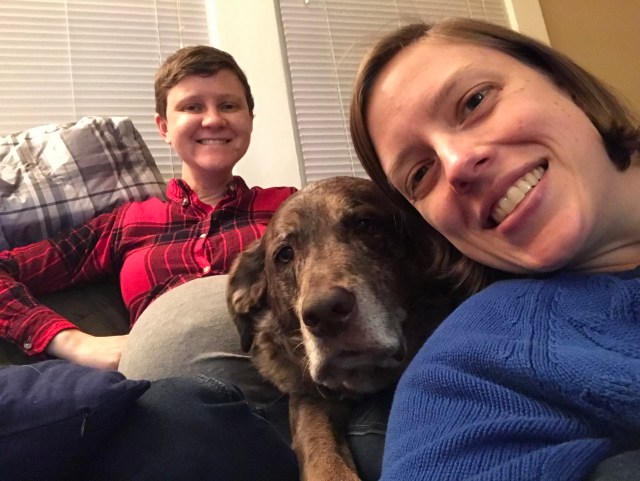 "Just a family quarantine couch snuggle with our first-born during the last few weeks that he'll be an only child."
---
Talena / she / 36 / Sebastopol, CA

"Learning all the ways light moves through my apartment throughout the day/wearing unnecessarily sparkly outfits."
---
Laura / she / 29 / Nottingham, UK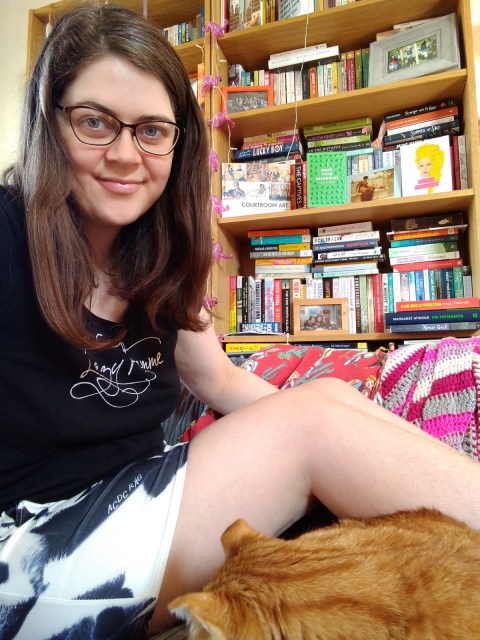 "Sheltering in place with my favourite ginger, Jean-Ralphio. In no danger of running out of reading material."
---
Erica / she / 29 / Sacramento, CA,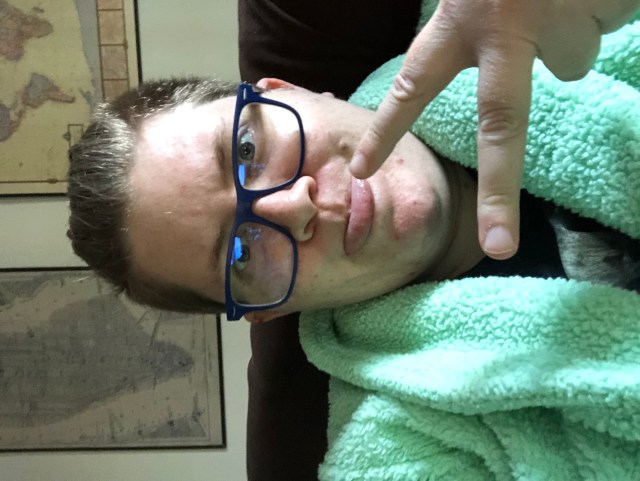 "I sent this picture to my Mom in a text thanking her for this fuzzy mint green bathrobe she gave to me at Christmas many years ago. I now Live In It. Pretty sure Animal Crossing: New Horizons is reflected in my glasses. Behind me is a world map and a map of mid-lower Manhattan that I got from Ikea. The map doesn't have the year on it which is annoying. I like maps."
---
Ocean Capewell / she / 38 / Arcata, CA

"After 30-ish years of hand-sewing, my long-suffering Taurus partner patiently taught me how to use a sewing machine and I've been making masks! It's surprisingly hard. But it's never been a better time to be a fabric hoarder. Overnight we've gone from being freaky weirdos to extremely useful helpers!"
---
L.K. Freed & Nell Carpenter / they, they / 27, 23 / Burlington, VT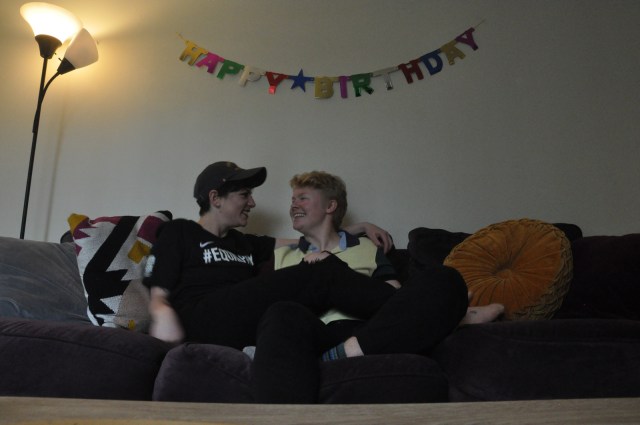 "Taken on Nell's birthday, celebrated in quarantine."
---
Deijah / she / 23 / Mom's Apartment, Bronx, NY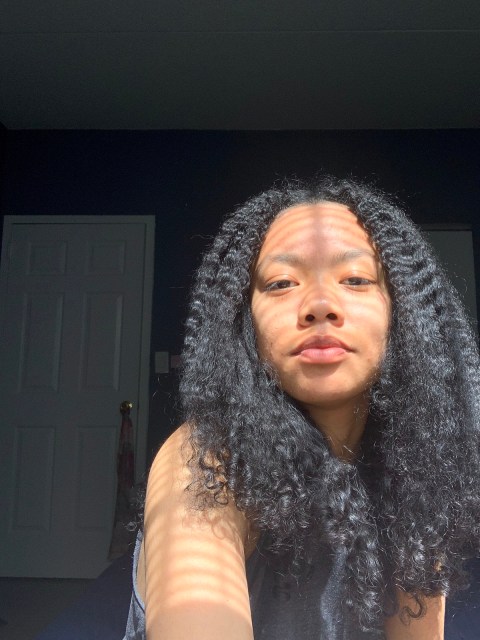 "Right here. In waiting. In solidarity. With the window cracked and the sun coming in. Impatiently.
Writing, reading, drawing, remembering.
Twisting and untwisting my hair. Braiding and unbraiding.
Learning and unlearning and waiting."
---
Ann / she / 22 / Childhood Bedroom, CA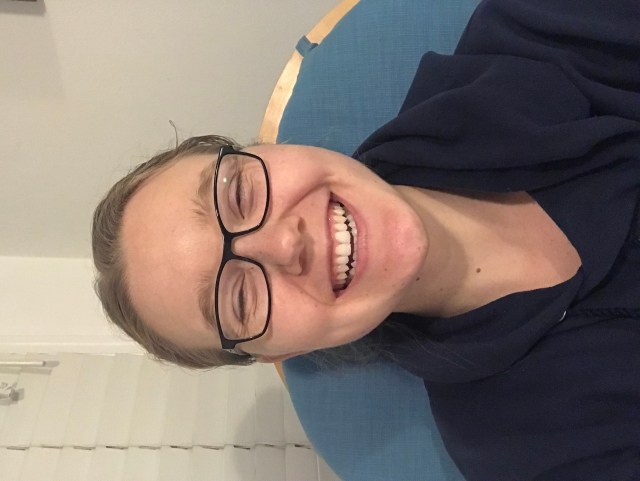 "This is a picture of me, back home from college, in the rocking chair where my mom nursed me when I was a baby. It's not what I had wanted for my senior year, but at the same time I am so glad to be here on this earth, any part of it at all, when so many other people don't get to be."
---
Isabel / she / 29 / Los Angeles, CA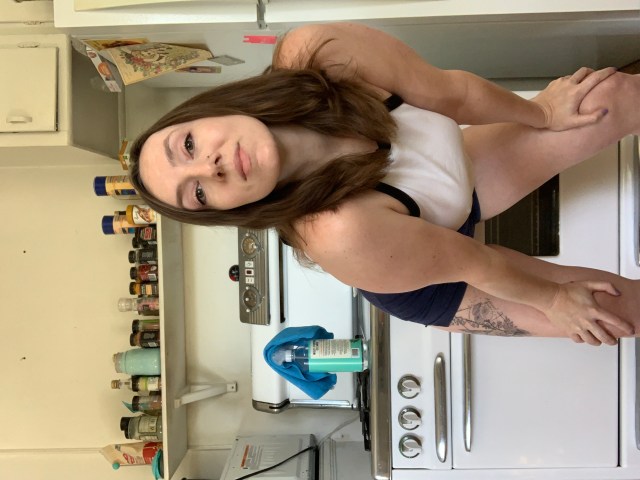 "Taken in my kitchen, in front of the behemoth 80-year-old oven that is my true love and my greatest nemesis. I feel like all I'm doing in quarantine is cooking and cleaning, but I've never been great at either so this has been a crash course in domesticity (and treating mild burns). Hoping to come out of it with a few dishes I can make for other people if we're ever allowed to date again. Also I quit smoking after a bad break-up, and so to celebrate 10 months free from cigarettes I just rewarded myself with an Autostraddle subscription. Feeling zesty about it!"
---
Zoey / they / 25 / Oklahoma City, OK

"After over two weeks of quarantining inside, I had to soak up some sun."
Rosie / she / 21 / Madison, WI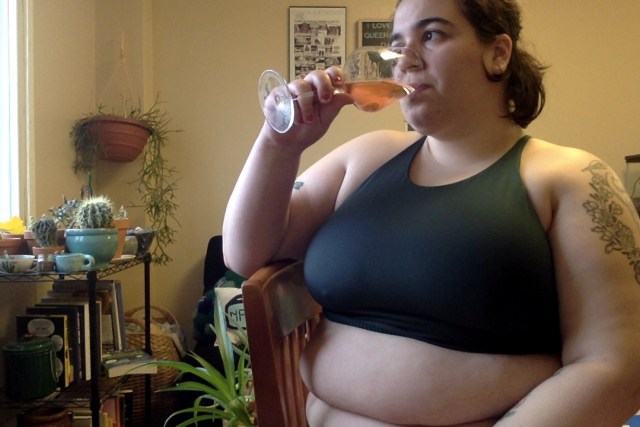 "View From My Desk 99% of Nights"
---
Ish / she · they / 30 / Brussels, Belgium

"The sun shines right into our living room and I'm thankful for my lifelines – plants and plantlets, music and bread, and this wonderful book about birds. My hair will not collaborate and I worry all the time, but I also feel so lucky."
---
Rah / they / 30 / Washington, DC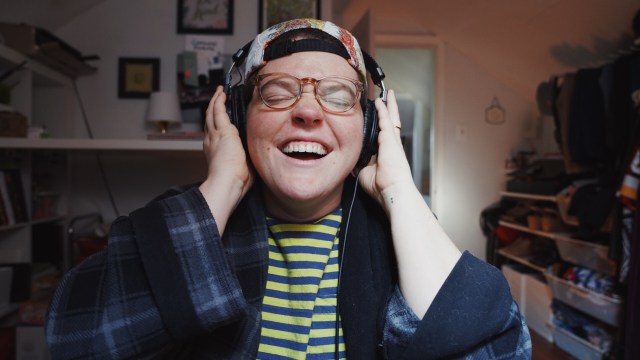 "Sitting on the floor of my office between Zoom calls."
---
Elise Ammondson / they / 25 / Jamestown, NC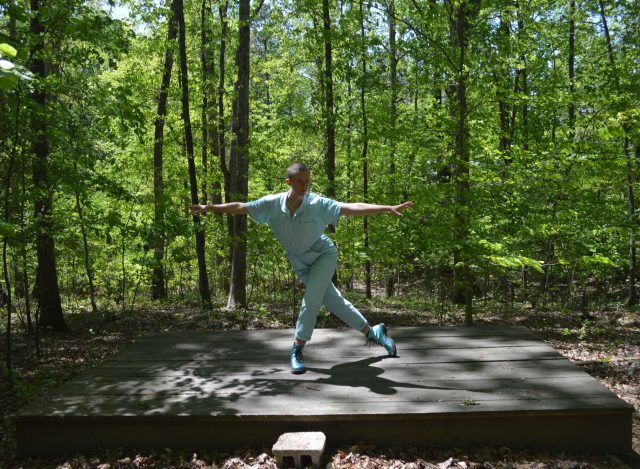 "I am currently sheltering in place at my parent's house in North Carolina, so I have had to adapt in creating spaces that are my own. I am incredibly grateful to be in a place with access to sunshine and the woods. I am a performing artist who is deeply inspired by nature. I found this sweet little stage (there are benches arranged in stadium seating on the other side of the photo) in the middle of the woods that no one else seems to know about. I have now claimed the space as "my office" where I go nearly everyday to create. I dance, I juggle, I choreograph, I monologue, and I feel so lucky to have such a beautiful, forgiving audience–the trees!"
---
Maria / she / 22 / Chicago, IL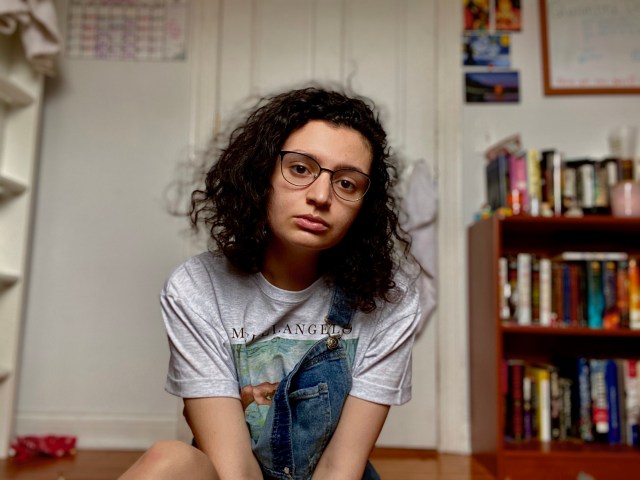 "In the bedroom of my apartment, where I've never spent this much time in in my life."
---
Sarah Faxel / they · she / 27 / Birmingham, AL

"I'm a student at the University of Alabama at Birmingham. I'm standing with a flow cytometer, an awesome machine that allows us to count and identify different cells."
---
Cecilia & Friday, Los Angeles, CA / Gilbert & Rose, Glasgow, UK / Queer Girl & Cyrus, Chico, CA / Gaelle, Vancouver, BC / B., Slovakia / Caitlin, Chandra & Conner, Vernon, BC / Gillian & Sally, Winchester, UK / Jane, Kira & Coral, Columbus, OH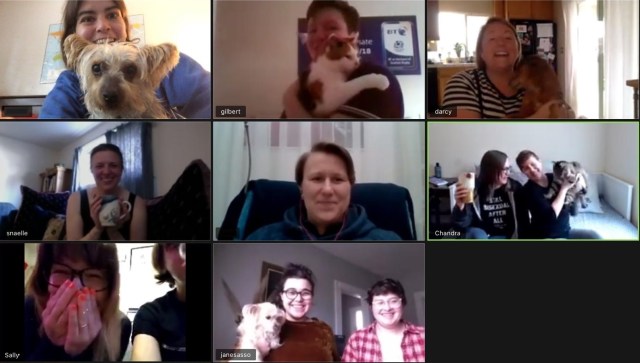 "Group chat video call! We met in the comments section right here on AS, and made a WhatsApp group in August 2017 to watch movies together. Over the last 2.5 years we've had a wedding, an inter-chat dog adoption, meetups at A-Camp and on holiday, many surprise gifts and cards and cheese baskets, and now we're keeping each other company through the quarantine. The best chosen family anyone could ask for ❤"
[Ed's note: I'M NOT CRYING YOU'RE CRYING STOP CRYING STOP I AM NOT CRYING.]
---
Eddy and Brandi / they, she / 25, 24 / San Francisco, CA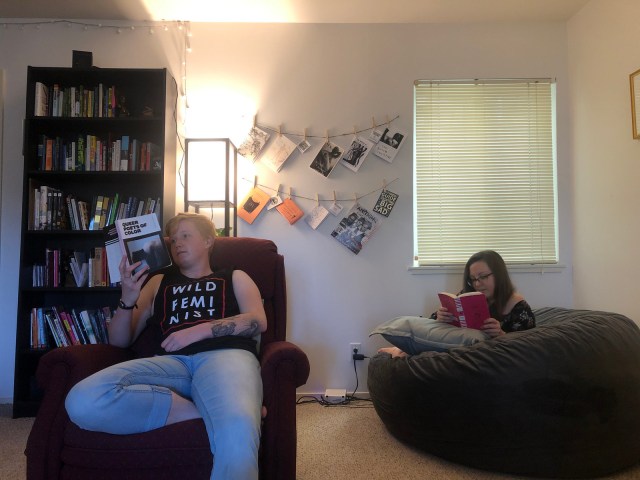 "Top 3 Books We've Read Since Quarantine Began:
Bad Feminist by Roxane Gay
Homie by Danez Smith
Save Yourself by Cameron Esposito"
---
Liz and Cam / Melbourne, Australia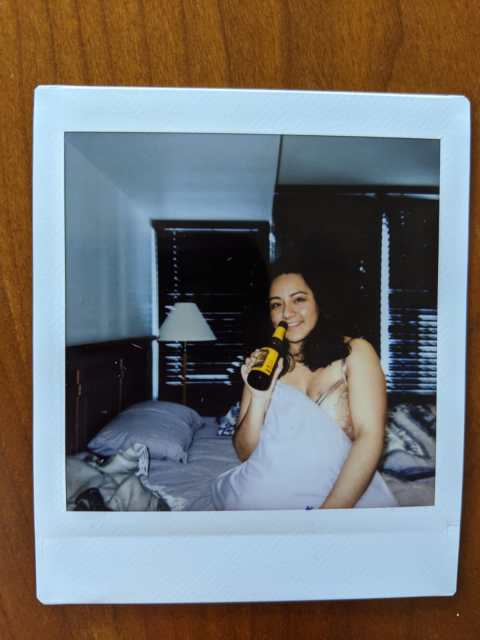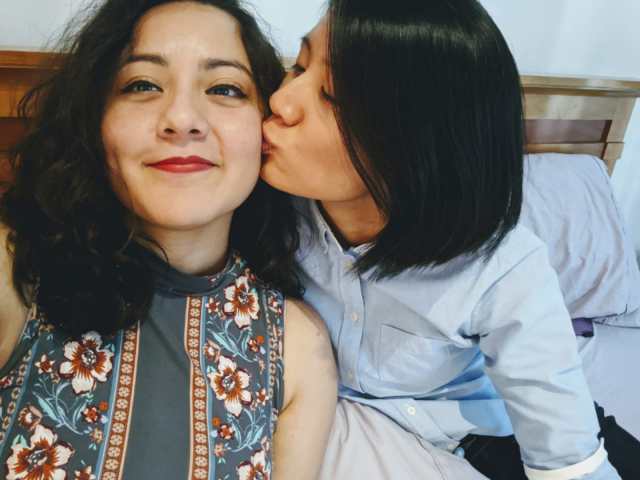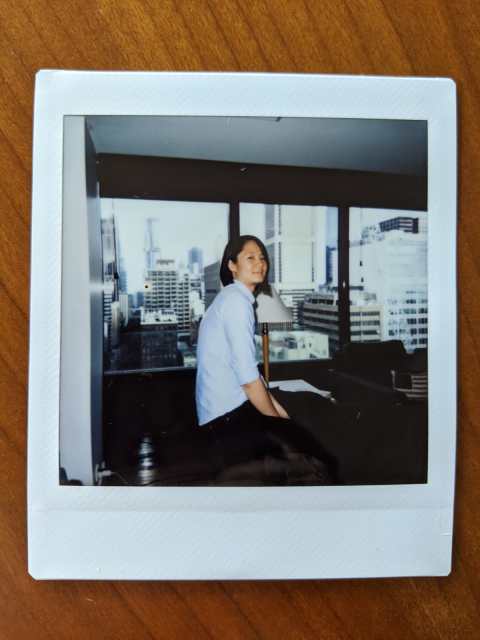 "I'm Mexican-American. She's Chinese-Malaysian. We've been living in Melbourne for less than a year. Since the coronavirus restrictions were put in place, each of us has been the only person the other is allowed to visit. We're making the most out of that exemption."
---
Dani Hagan Beckett / she / 34 / London, UK

"Being my best bisexual bombshell self #highfemmefromhome"
Lauren / she / 22 / St. John's, Newfoundland, Canada

"I'm finally attempting to use my social distancing time to make headway on my Masters thesis instead of binging Celine Sciamma content (I've watched Water Lilies four times in two days and it's making me overanalyze my awkward baby gay days, please send help)."
---
Kate and Quoll / she, they / 32, 33 / US and Australia

"A-Camp sweethearts pictured in our natural habitat, the LDR video call. We were together in March before the international PLEASE GO HOME NOW summons; not sure when we'll next be allowed in the same country? Cool cool cool cool cool."
---
Lex / The Bathroom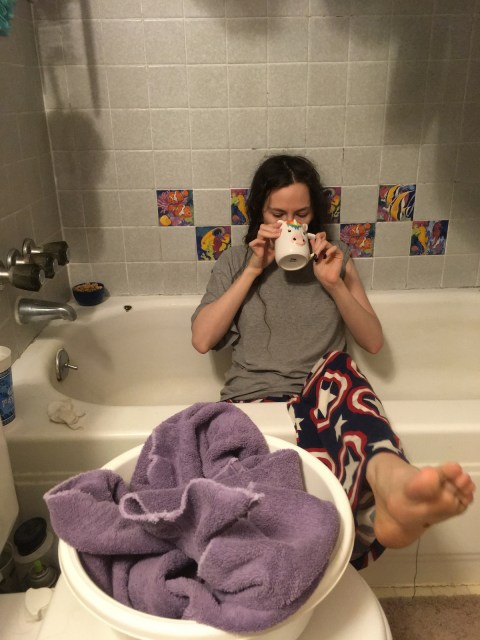 "Rewarding myself for hanging the laundry by having a drink with my pal Charlie."
---
Sidra and Audrey / she, she / 27, 28 / San Mateo, CA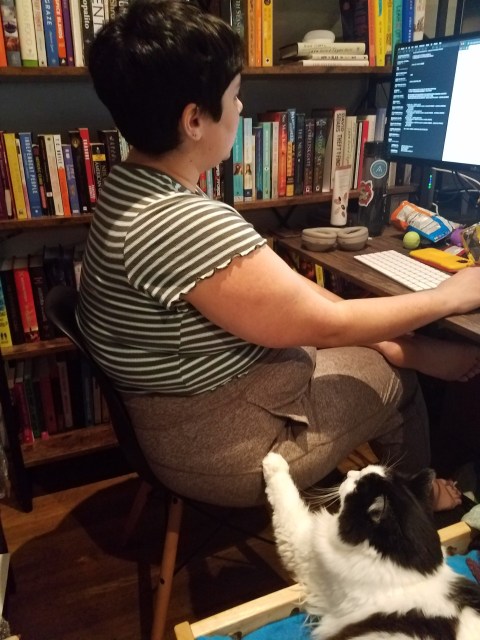 "We are two software engineers both working from home from a 1 bedroom apartment. Good thing we are very gay so personal space is not an issue! We're baking a lot and hanging out with our cats and playing video games (Sidra pictured playing Stardew Valley!). Audrey is working ridiculous hours because the company she works for is developing coronavirus tests. Zoe the cat is also working very hard providing emotional support."
---
Abbie / she · they / 26 / South Korea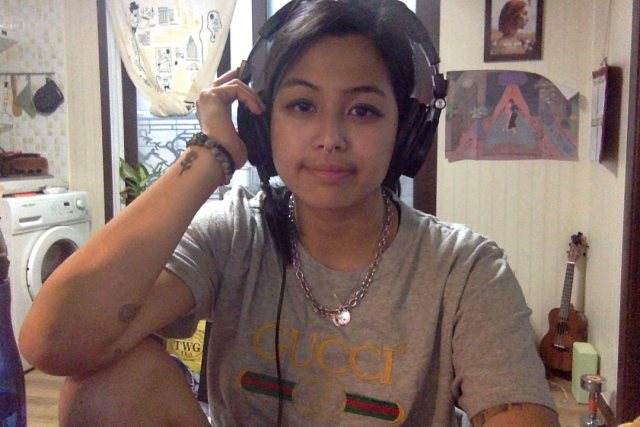 "In my kitchen office combo producing 24/7 lo-fi hip hop beats to cry to."
---
Emma and Beky / she, she / 23, 24 / Ottawa, Canada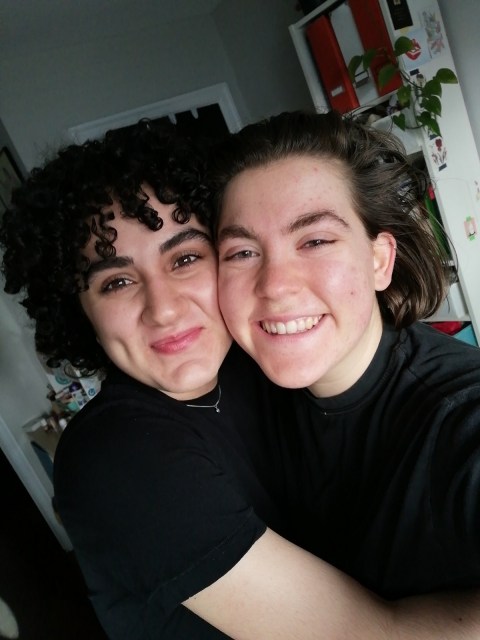 "Here we are, cute! Our main hobbies during quarantine have been Angst™, putting Lysol on our vegetables, and consuming queer tv."
---
Sarah / she / 32 / Canton, NY

"I'm a professor, so I'm fortunate enough to still be able to work from home. This is a photo of me in my home office (where I spend most of my days connecting with my students and co-workers over Zoom) with my newly promoted teaching assistants, Sheldon and Sadie."
---
Kate and Maria / she · they x 2 / 32, 34 / Vancouver, Canada

"We took a series of four silly photos doing pretend outdoor activities at our place and our faces in this one are just perfect."
---
Anna / she / 31 / Seattle, WA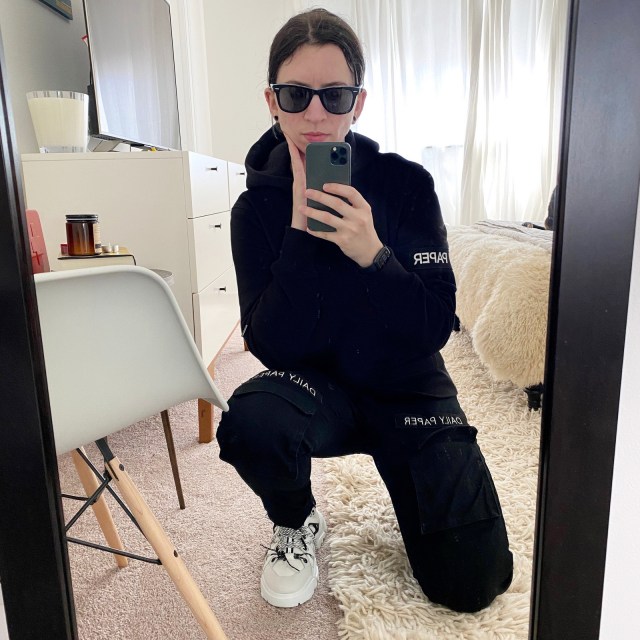 "This is my "it's not sweatpants" comfy outfit. About to go on a short walk before diving back into Animal Crossing: New Horizons and finish watching Batwoman."
---
Chelsea Amato and Christina Manzella / she, she / 30, 36 / Durham, NC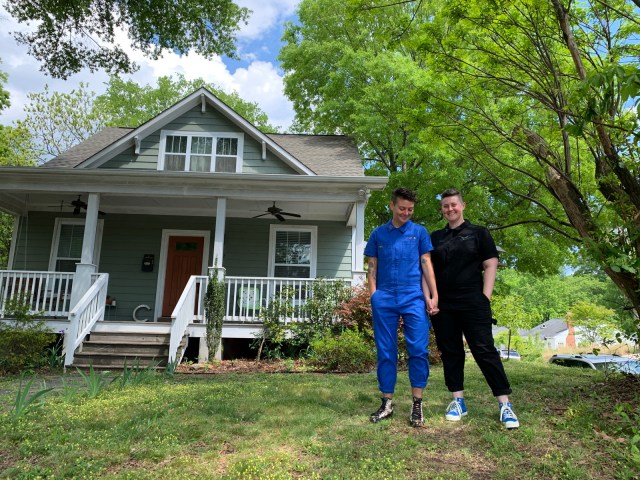 "We had plans to get married at the courthouse on April 22, our anniversary, and also Earth Day! This is us trying on our wedding outfits the day before our wedding date. Isolation gave us time to embroider daisies and olive plants on our jumpsuits."
Andy and Jess / they, she / 28 / Minneapolis, MN

"Jess originally wanted to submit something more serious or "artsy," but Andy "accidentally" took this photo while telling her to chill. It's not what we originally intended, but in its own way, it's perfect. Today is our 2-year anniversary in a long-distance relationship, and we're very lucky to be able to weather this quarantine together."
---
Izzy / she / 26 / Boston, MA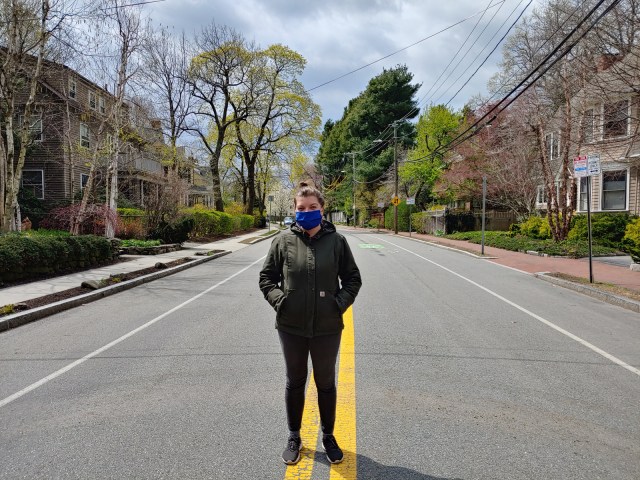 "I'm queer right here, well, everywhere, really. I am resourceful and helpless. Protected and vulnerable. I'm in the middle of everything.
P.S. I'd hoped the picture I submitted would be with my neighborhood turkey that I've enjoyed searching for on my daily walk…"
---
Erin and Jess / they, she / 28, 30 / Pittsburgh, PA

"Coronavirus made us Uhaul — and adopt a dog. His name is Spoon."
---
Emmett / they / 25 / Boston, MA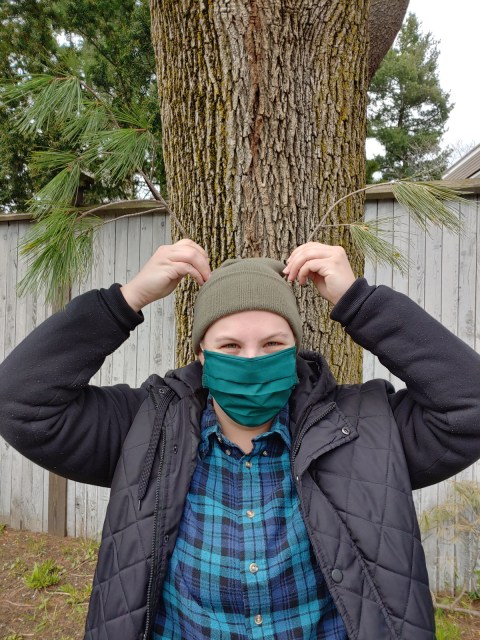 "My partner and I have been going on walks every day to stay sane. We've been making up goofy workouts and silly games to keep things interesting! "
---
Hayden / they / 30 / Seoul, South Korea
---
Liz / she · they / 32 / San Francisco, CA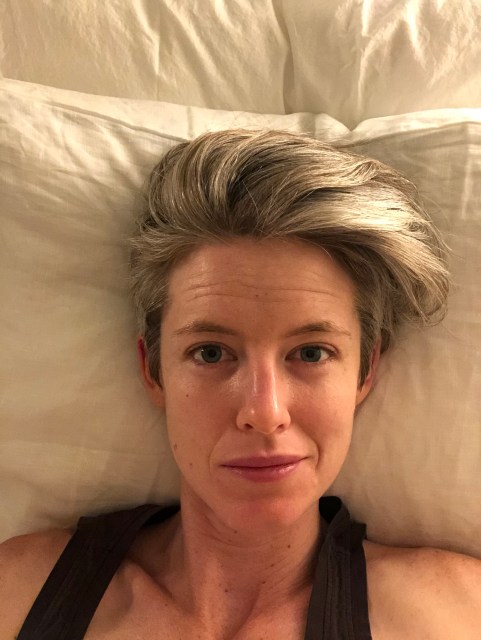 "In addition to the global crisis, I'm going through many personal transitions. I'm terrible at resting but am learning to practice and celebrate it. So here I am, hanging out in my bed!"
---
Laura / she / 30 / Budapest, Hungary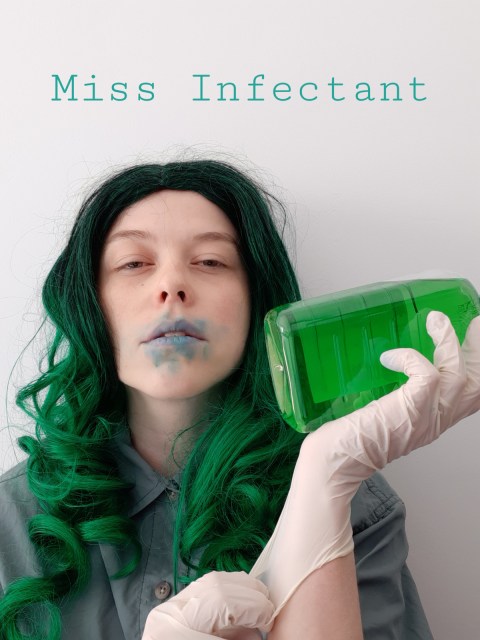 "I took some photos in pandemic drag, to deal with the situation: from eating bread all day and growing increasingly hairier, to feeling like I'm fading away due to lack of human contact. Everything sucks but I still love stupid word jokes."
---
Stephanie Fox Knappe / she / St. Joseph, MO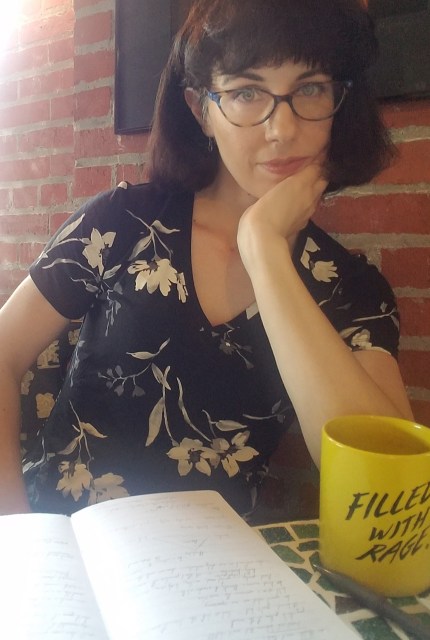 "After a long day of Zoom meetings from home."
---
Neko, Beluga, Irina / she · they, she, they / 35, 8 months, 25 / Ridgewood, Queens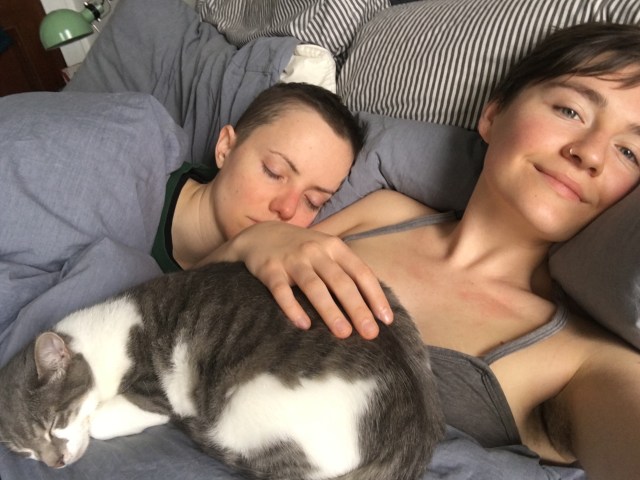 "Living through the pandemic has sucked the energy out of us trying to constantly stay positive, motivated, and productive. Mid-day naps have definitely been a moment to take a break and re-connect with our bodies, minds, ourselves, and as a little family."
---
Kaitlin and Abbey / she, she / 33, 31 / Brooklyn, NY

"QUEER RIGHT HERE on our couch in Brooklyn, NY. Following the gay at home orders, as queerly as we can, from the epicenter."
Pages: 1 2 3 4 5 6See entire article on one page