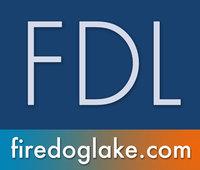 After Pam Spaulding told her readers that she was super-tired and might have to shut down Pam's House Blend on account of said burnout, she was approached by blogger Teddy Partridge about moving PHB to Firedoglake, a progressive group blog for whom he writes about LGBT issues. After confirming that she'd get to keep editorial control, keep her contributors and retain the archives, she signed on.
From The Advocate:
Spaulding said that due to time constraints and growth of the blog, moving the operations to FireDogLake will make it easier for her and her team to cover more news, including the upcoming 2012 election cycle. She also said that the move will encourage more voices in discussions over LGBT topics.
"The opportunity to bring new readership to the Blend (more non-LGBT progressive voices) into the debate on equality is also a big positive for the Blend, so I thank Jane for the chance to expand PHB readership," she wrote.
Jane Hamsher, founder of FireDogLake, says:
"[It] gives me great pleasure to announce that Pam's House Blend will be joining the FireDogLake family of blogs. I think it's a perfect union — as the task of hosting a blog and performing the tech, legal and security work to keep it up and running becomes more and more complex and expensive, it will free Pam and her fellow bloggers to spend their time doing what they do best, which is blog. It also allows us to feature the work of a really amazing group of writers on FDL, and be tremendously enriched by the PHB community."
Hamsher's a pretty well-known progressive voice — she's written for The Huffington Post and The Daily Beast, appeared on CNN, MSNBC, The Rachel Maddow Show, PBS, Al Jazeera and BBC and also produced films including "Natural Born Killers" and "Permanent Midnight."
Firedoglake describes itself as:
Firedoglake is an online news site featuring original reporting and commentary including the FDL News Desk, FDL Action, Emptywheel, TBogg, MyFDL and La Figa. The FDL Book Salon also features online discussion with book authors every Saturday and Sunday at 5pm ET.
This is an interesting move — although queer blogs have often become part of larger gay-focused corporations (AfterEllen + AfterElton –> Logo, Queerty –> GayCities, Curve –> Avalon Media), as far as I know this is the first time a gay blog has become part of a not-gay blog.
It's clearly a move which means that gay rights are very important to political progressives and everyone overall loves gay people. Especially lesbians like Pam Spaulding who are actual lesbians and not men.