feature image via Shutterstock
---
We have a lot of feelings about parents and a lot of feelings about clothes. Both are intimately connected to our sense of who we are and who we want to become, and both can be a struggle, especially when we're negotiating queer identities. It can be particularly significant, then, to wear the clothes our parents wore — to see who we become. Does it bring us closer? Is it an act of silent rebellion? Whether we're trying to send a fuck you to a homophobic dad or an I love you to a mom who can't hear the words any more, it means something to share threads with a person who spawned you. Inspired by Mom Genes, today we're talking about our t-shirts, sweaters, jackets, earrings that our parents wore first, and we want to hear about yours, too.
---
My dad has a long history of giving me things I haven't asked for. His denim jacket from the 80's was one of them, and at first I didn't want it. He's 6'2″, and I was pretty sure no amount of trying to shrink it would ever make it wearable. This is still mostly true — it fits me sort of like a superhero cape — but I wear it a lot now. My dad and I don't get along well, and I'm not even out to him; he's not a big fan of queer people. Somehow wearing his jacket and feeling strong and brave and dykey in it makes me feel closer to him, even if it's not something I'd ever be able to tell him.
---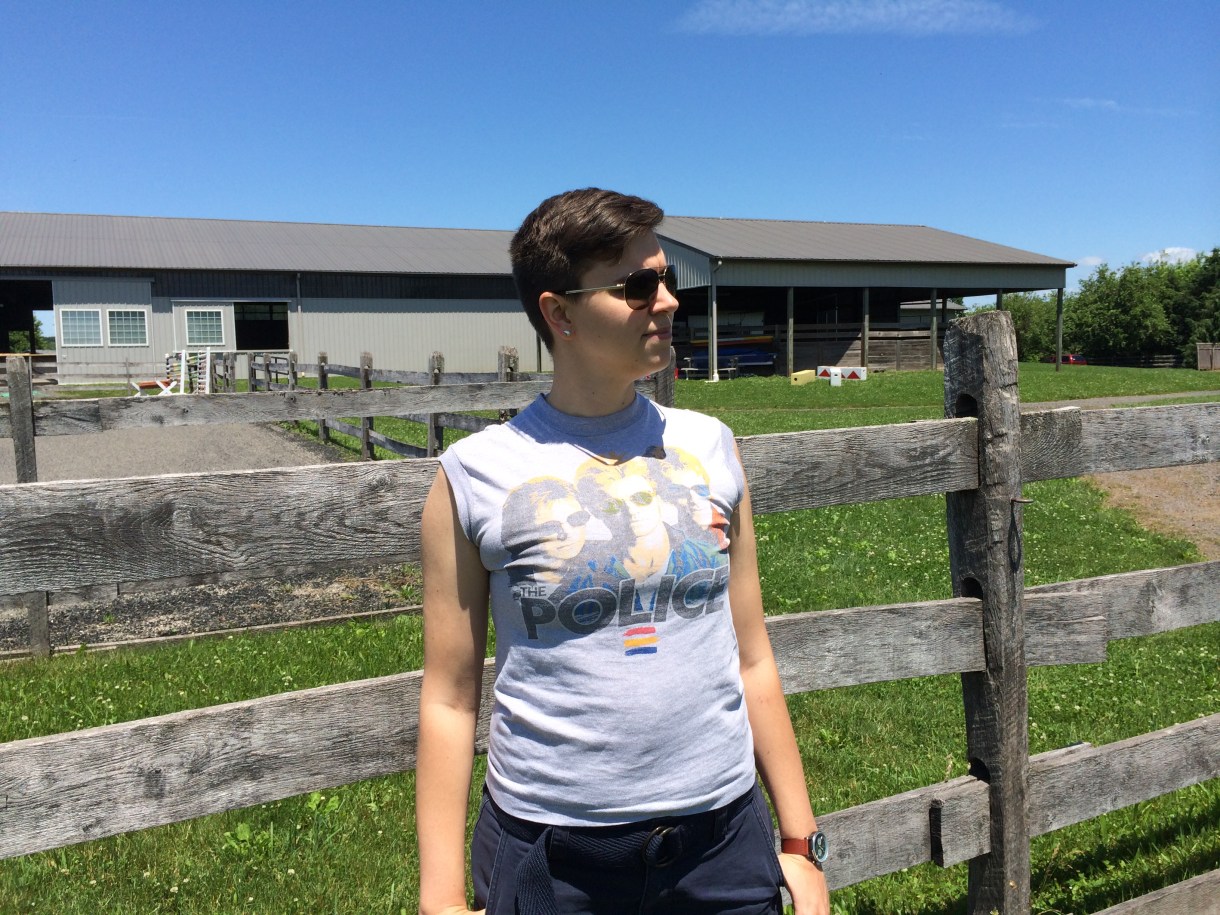 I have two of my mother's old concert tee shirts from when she was my age or a little bit younger. My mother is very short and very tiny, so it's a wonderful thing I can fit in them at all. One is from a Police tour, another is David Bowie. The Police is the one I chose to take a picture of, because the David Bowie one may as well be a crop top/boobie showcaser (it's so damn tight). Yet it's still there, sitting in my drawer because I can't get rid of it. I don't want to.
The truth is, I don't really have any feelings about The Police — the only Police song I truly love is Roxanne. And my only feelings about David Bowie come from a childhood obsession with The Labyrinth. I'm sure I could make up something about gender and Bowie, but the truth is I have so few feelings about my slightly creative gender identity. Like legit, almost none at all — that's why I don't really write about it that often. I also don't even particularly like either of the shirts — they both look TERRIBLE on me. But I do friggin' love my mother. My mother is awesome. I won the goddamn parent lottery. So it's not really about the shirts? Or the bands. It's just about surrounding myself with something of my mother's, even if in reality it's just a swath of worn fabric and some screen printing.
---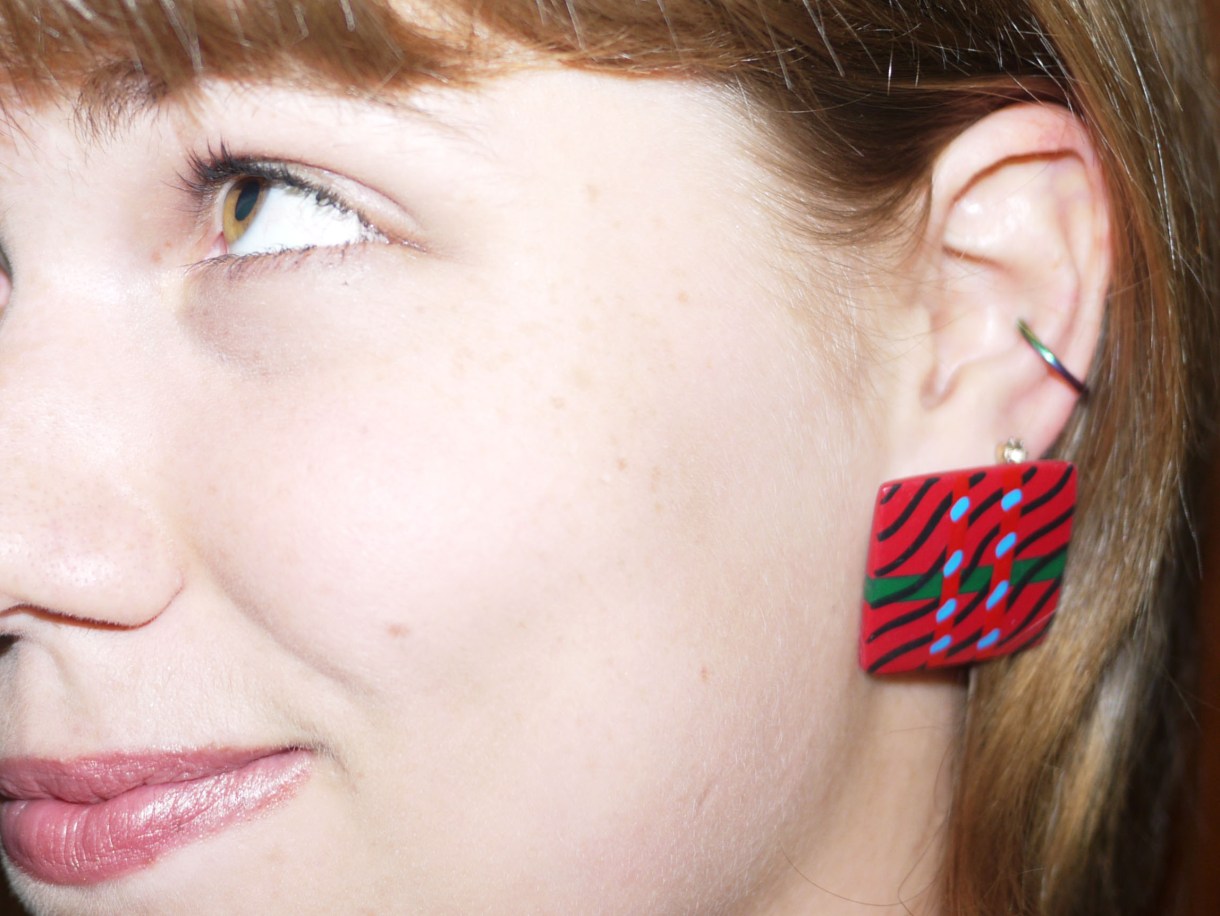 It is because of my mother that I consider the Gap to be the height of class and sophistication. She's also the source of my affinity for brightly colored wooden jewelry, like these kickass earrings from before I was born. I borrowed them once for a party, and well, we all know how it goes with borrowing things. I wear them when I want to channel our shared inner mod diva.
---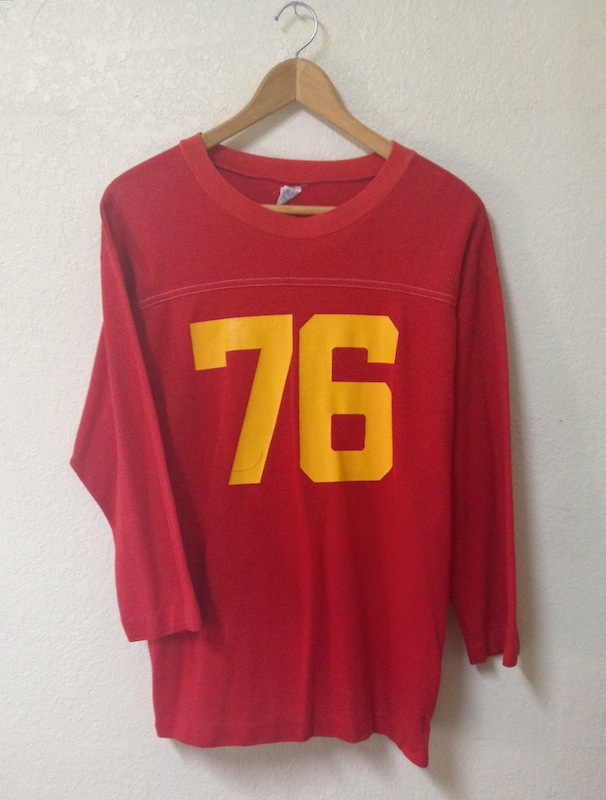 My mom bought this shirt in Indiana while she was a migrant farm worker in 1976, the year she graduated from high school. She said this was her favorite shirt as a teenager and has photos of her wearing it while posing in front of a Corvette and her childhood best friend's motorcycle. My dad, her high school sweetheart at the time, had one to match. She passed it on to me when I was in jr. high and I loved it so much, I wore it all the time during that awkward phase in my life. I wore it a few times in high school but once I moved away for college I left it behind because I thought it was too precious to take with me — I didn't want to ruin it in the wash or loose it. Time has passed on and the shirt is still in my bedroom closet back home. I think it's time for it to be part of my wardrobe again.
---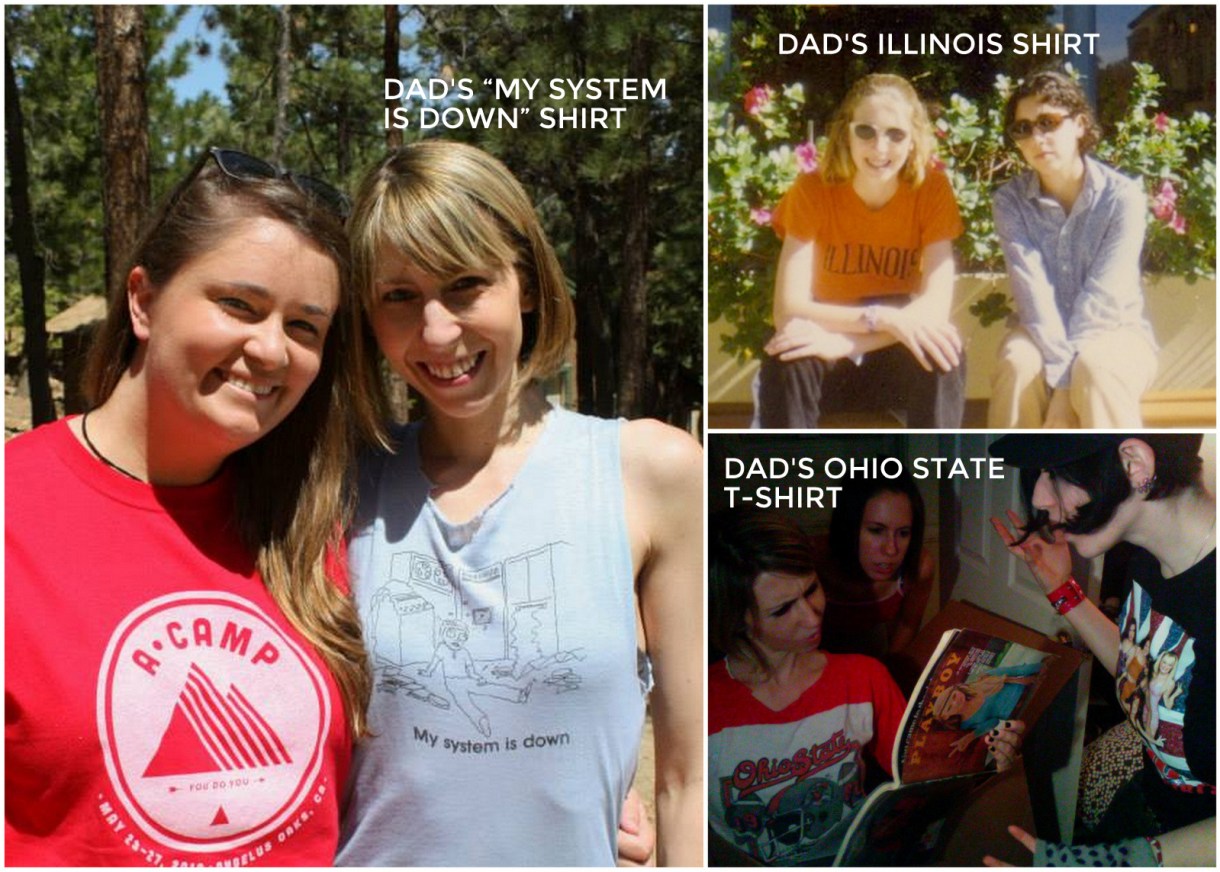 When my Dad died in 1995, my Mom filled a downstairs closet with boxes of his clothing, retrieved from the condo he shared with his then-girlfriend, and I started tearing into it fairly regularly. I guess wearing his clothing made me feel closer to him when I couldn't be, and I wore his beat-up Levis every day for what felt like a year.
In middle school I'd regularly borrowed his button-up shirts, which were enormous on me but it didn't matter because grunge. Styles had changed by the time we inherited all the boxes, but I was pleased to discover that, because tight t-shirts were cool for hippie dudes in the '70s and '80s (this trend has returned in the hipster-era, but in the '90s only gay guys wore tight tees), his shirts from college fit me perfectly.
Mom told me they had a t-shirt printing place in Champaign, where my parents met and went to school, and so they did a lot of custom shirts, like the Illinois shirts with "ASSET" on the back. My gay best friend borrowed that one from me in 2000 and never gave it back. I'm pretty sure the "my system is down" shirt is an actual drawing of my Dad sitting in front of a computer but even if it isn't, I like to think it is. It was my "hangover shirt" for years that I only wore at home 'cause of the holes in the armpits and overall decomposition of the fabric, but last year I cut the sleeves off and wear it in public 'cause I'm old now with less fucks to give.
The Ohio State shirt I still wear to bed when I'm traveling and have to wear a shirt to bed. There's a big hole in the armpit now. I'll wear it until it crumbles in my palms.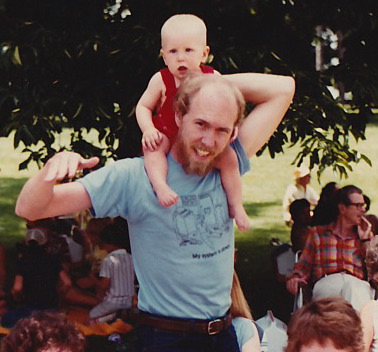 ---
Sometime in the 70's, my mom found a big scratchy L.L. Bean sweater, left behind in a dorm at the boarding school where my grandfather taught and my mom grew up. The name, "Bif Lalone," was sewn into the label.
When I was little, I lived for the stories my mom would tell about growing up, running around rural Pennsylvania with the other faculty kids. It sounded romantic and uncomplicated compared to whatever real or imagined turmoil was going on in my own young life. The story of the Sweater is and was family legend, and it even earned my mom a nickname: Bif.
When my mom died when I was sixteen, I didn't keep many of her clothes, but I demanded to hang on to the Bif Sweater. I didn't even wear it for several years. It was too big and too scratchy, but its presence in my closet comforted me. But when I went to college, it became cool to wear big old salvaged sweaters, and I started a new chapter of my own grief. Since then, the Bif Sweater has become my go-to in the cold months, wrapping around me for cozy evenings with friends or long days in the library. It feels as though we're sharing new stories — ones she never told me, and ones she'll never get to hear.