It's another Friday and once again you've made it!
We spent the week deep in the Flana-verse in celebration of Mike Flanagan's latest and final Netflix horror series The Fall of the House of Usher. Kayla wrote you a quiz, Which Queer Character From the Flana-verse Are You? And then we had your daily – yes, daily! — recaps of every episode of the series, brought to you by Kayla and Valerie as an incomparable spooky tag-team. Valerie also would like to know if knew that the superheroes on Doom Patrol are queer as hell?! Christina is here with your weekly recap of The Morning Show's Mommy Issues.
BIG NEWS around the Autostraddle TV way is Kristen Stewart's gay ghost hunter show
Living for the Dead, which has hot paranormal investigators and Big Gay Feelings. We're also still celebrating Horror Is So Gay 2 (we love a sequel), with Kayla and Drew's 30 Scariest Queer Horror Movie Moments and Drew's retrospective on Jennifer Reeder's Girlhoods of Stuff. The trailer for Chrishell Stause's Lifetime lesbian pregnancy thriller is here.
We had a WELCOME return to the Autostraddle TV Roundtable, and this conversation was a doozy — Were We Ever So Young? Couples We Used To Ship and Were Extremely Wrong About.
And here's what else you may have missed!
---
Our Flag Means Death Episode 206: "Calypso's Birthday" and Episode 207: "Man on Fire"
Written by Nic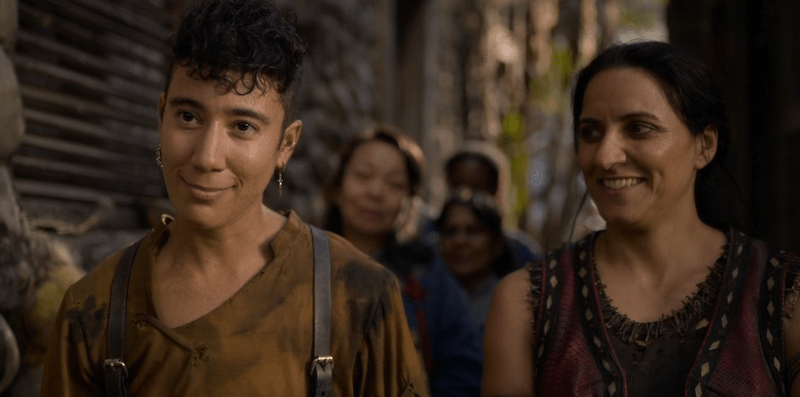 When we last left the crew of the Revenge, they had just forgiven Blackbeard and welcomed him back onto the ship, now a certified "safe space" for all of their big big pirate Feelings. Now that Blackbeard is turning over a new raid-less leaf, the crew has been a bit, well, bored. As Archie tells a rousing tale of one birthday where she allegedly fought her way out of a snake, the crew realizes they haven't had a proper romp in ages, so they make up a holiday, Calypso's birthday, as an excuse to get dressed up and celebrate. They dock somewhere to pick up party supplies and booze, and there's a Pride flag waving in the background, so you know this is about to be the queerest celebration on the high seas.
One of my favorite things about these latest two episodes has been getting to see Archie's personality and just how much Jim loves it. She is excitable and joyful and goes all the way in on everything she does while Jim watches in adoration. The two turn all the way up during the party, they laugh, they dance, at least until the whole crew is attacked by the pirate Ned Low, whose raid record Blackbeard broke a few episodes back. The attack doesn't last long though, because the other crew completely turns on their captain once they see how happy the crew of the Revenge is; it's possible to have an amicable relationship with one's captain, turns out. Stede ends up killing Ned Low by making him walk the plank; his first actual pirate kill.
The crew docks at the Republic of Pirates, shocked to find out that instead of being shunned thanks to how they left things with Spanish Jackie, they are lauded as heroes thanks to Stede killing Ned Low. While Stede reckons with his newfound fame, and Ed with his newfound soft life, our favorite queers take it upon themselves to play matchmaker. That's right, my girl Zheng is back and Jim and Archie are determined to get her and Olu back together! It's just so wholesome and sweet and I want every single good thing in the world for Olu.
After Olu and Zheng talk, he decides he's going to join her on her ship, and Jim and Archie want to know if there's room for them too! They'd even share a bunk if necessary since you know, that's what they're already doing. Stede is none too happy to hear that his crew wants to leave so he duels with Zheng about it. Before a winner can be declared though, coordinated bombs go off in every ship in Zheng's fleet, leaving her shell-shocked as a cannonball flies directly toward her.
---
Gen V Episode 106: "Jumanji"
To try to right her wrongs, Cate uses her powers to make her friends remember everything she made them forget, but this strain is too much on her brain and she ends up sucking Marie, Andre, and Jordan into her memoryscape.
The first memory they see is a few days after Cate's powers manifested, when she told her six year old brother to go away and never come back. Her mother is freaking out, and doesn't want to be near her own daughter, and locks her in her bedroom with gloves, Elsa-style, for nine years.
The dean comes in and offers her help learning how to control her power. She gives her pills to help her voices go away, and gives her the first hug she's had in almost a decade. It's no wonder she did whatever the dean asked of her.
They jump again to Cate meeting Luke, but that memory shifts when Luke addresses Andre directly, and says he knows he and Cate cheated. Jordan is pissed, but then they're all yoinked into Jordan's memory, and they watch Jordan help knock Luke out for Brink, and Brink rewarding them by making them his TA. Femme Jordan from the memory confronts the visiting Masc Jordan and says they could have done something to help Luke.
Suddenly they find themselves at the Woods, and see Luke and Sam hooked up to each other, Cate making Luke forget and telling him his brother is dead, for what seems like not the first time. Cate had tried to ask to stop, but they won't let her.
Then they end up in Marie's memory, the bloody bathroom where her parents died. The memory of her sister tells her she'll never forgive her, and Marie realizes this is Cate talking, so she calls up to Cate, says they're all victims of these adults who have been puppeteering their lives since they first were given Compound V.
They get Cate to wake up, and even though they don't know if they can trust her, Marie, at least, wants to let Cate try to earn that trust back. They decide the real problem is Dean Shetty, and that she might be the answer to their problems.
And they're not wrong. Because while all this was happening, Shetty was making her scientist make a deadly, contagious virus that only attacks people with Compound V in their system. She wants to wipe out the supes.
---
Doom Patrol Episode 409: "Immortimas Patrol"
I wish y'all could have seen the look of pure delight when I realized this week's episode is a MUSICAL EPISODE. Happy Immortimas to me!!!!
You see, when Isabel Feathers/Immortus had her temper tantrum, she yeeted the Doom Patrol into an alternate reality where every day is Immortimas Day, a day dedicated to worshipping Immortus. It reminds me of the Buffy episode where Jonathan made a reality where he was the titular "Superstar."
Dorothy and the sex ghosts kick off our opening number, singing about loving Immortimas Day. Casey sneaks into Jane's bedroom window so she can be the first to wish her Happy Immortimas Day, and they join the big group sing. Cliff and Larry look like their old selves, not their robot and mummy selves, and Vic is there, too; they're all singing lines like, "Nothing is weird, everything's fine, we're all okay on Immortimas Day."
Jane and Casey end up singing a lovely little duet. Casey sings about having butterflies, hoping Jane feels the same way. Jane is also singing about feeling conflicted, wondering if Casey is the key. They talk about being flung from the timestream, and their hands touch briefly, making Casey panic and awkwardly excuse herself.
Later, Casey finds Jane painting, and asks if they're okay. Jane doesn't answer, so Casey asks about her painting. She's painting the Underground, but doesn't remember what it is or why it's important. Casey likes it all the same.
Rouge calls a team meeting to explain that she regained her memory and became self-aware that she's involuntarily singing, one of my favorite musical tropes. She shows them clips of their interviews and one by one they remember the truth, too. Still, not all of them want to leave this candy-coated dreamscape. Everything here is… easier.
Jane finds Casey and says that now that she has her memories back, she's feeling a bit all over the place; she thinks Casey is great, but her body is not only hers, she has her alters to think about. Casey fakes a smile and says she understands, but Jane can tell she's hurt and she feels bad about it.
When Immortus arrives for dinner, they plan on playing it cool but Rouge goes rogue and tells Isabel they want to go home. And it's true of more people in the group now; Dorothy doesn't want to hide anymore, Casey isn't finding the adventure she thought she would.
Mr. 104 gives a speech about wanting to go back, and when he wonders how he can trust his own feelings when different people have been writing his backstory, the camera cuts to Casey, still learning how to live off the comic book pages. When he wonders how he can trust his feelings when he's not even sure who he is, the camera cuts to Jane, who has been struggling with what it means to be an alter.
Isabel hates that everyone has stopped worshipping her, so she puppets them into one last musical number about how they're all doomed, and then shunts them back to their real timeline, their real (aging) bodies.