Rudy name-checks all of the people closest to Sarah, so she jumps out of her chair and tries to snap his neck, but Delphine is watching the closed circuit footage and orders her out of there right this instant. On her way out of his cell, Rudy tells Sarah to count her sisters.
First up, Sarah calls Allison, who is coaching soccer and yelling at the referees and honestly doesn't have time for Sarah's interrogation right now. She's fine. The kids are fine. Everything is fine. So Sarah dials up Felix, who is hanging out with Kira and Cosima, and they're pretty good too. Cosima's not dying quite as fast as usual, at least. But Helena hasn't shown back up and her bag is missing. Felix and Sarah agree to meet up at Mrs. S's to make a plan to find Helena, which is like Inspector Gadget levels of dumb. Mrs. S's house is a perpetual ambush. They need to burn that place down to the ground.
Sarah is prepping to bolt when Delphine appears behind her in a cloud of Chanel wearing one of those "who run the world?" Bluetooth things in her ear.
Delphine: I forgot to mention that in addition to Rachel and the Castor clones and the Proletheans and the regular old Canadian police, there's another group of people after you.
Sarah: Don't care, gotta find Helena. And you need to call Cosima! Christ, Delphine. It's been like two days since she was resurrected and you haven't even texted her.
Delphine: It's Topside. They're sending a cleaner in tonight.
Sarah: And by "cleaner," you mean…
Delphine: Team of assassins. And if they find out about Rachel getting stabbed in the eyeball, they're going to kill all y'all for sure.
Sarah: Motherfucker.
Delphine: Grab your merlot and a blonde wig, stick a broom up your butt, and I'll see you at six o'clock.
Sarah: No. No. No. Helena first. Your bullshit second.
Out in the 'burbs, Allison is loading up the Soccer Starz shuttle with children when some new Aynsley wanders up to frenemy her, and be like, "And here's a button because I'm running for the school board and I know I can count on your vote, Miss Drinks-a-Lot!" Allison does not have time to whip out the shivs she is no doubt hiding in the sleeves of her turtleneck and poke this woman in the gizzard, because Donnie arrives with all of his office supplies in a box because he has quit his job and lost his company car and he needs a ride home on the school bus.
Mrs. S shows up at her place before Felix and Sarah and gets the shit beaten out of her, as expected. It's one of the Castor Clones. This one has a mustache. And he is glitching something fierce. I guess instead of problems with their lungs and their ovaries, the Castor clones have problems with their brains, and when they get stressed out, it's like flashes of light in there and flashes of bugs and flashes of atomic bombs. Like TV static from the old days but also nightmare blips. The Castor clones are looking for Ethan Duncan too, for his specific science to cure them, but Mrs. S breaks the news that he's dead.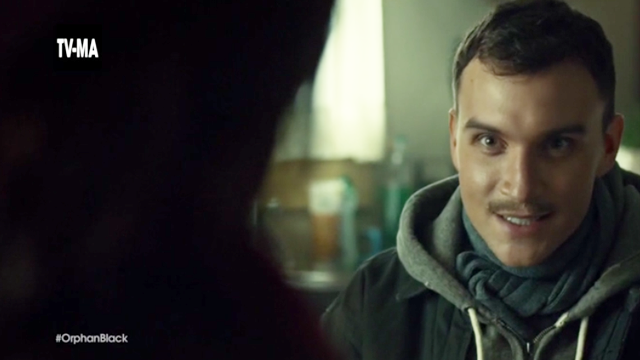 She actually knew about Castor but she's never seen one of the dude clones before. She's unimpressed. Which is fair. You see four Tatiana Maslany-shaped faces in a room at the same time, everything else for the rest of your life is bound to be a disappointment. Finally, Felix and Sarah show up.
Sarah: The heck happened to your face?
Mrs. S: It was pulverized, as all faces are pulverized when they come to this house. But don't feel too sorry for me, I have to tell you a thing that's going to piss you off.
Sarah: Jesus, you've got more secrets than a wizard's wand. What is it?
Mrs. S: I, um, traded Helena to Paul for some information to give to Marion.
Felix: Uh oh.
Sarah: YOU DID WHAT!?!??!!
Mrs. S: It was an in-combat decision, like enhanced interrogation techniques or setting a child on fire.
Sarah: To hell with your dumb face! I'm going to find Helena! You and your wartime morality can shove it up your tits!
Felix: …can I get you some tea?
Cosima is struggling to wrap her mind grapes around the power of Kira's unicorn blood. She tries to talk to her about how her heart and brain and lungs stopped working the other day, and about how she was sort of hovering over her own body in the form of a spirit, but then Kira started reading that book of Duncan's and she felt the magnetic pull of her physical body absorbing the pulsing energy of her soul, and then she woke up and now here she is. Kira's like, "Relax, dude. It was my stem cells. I'm not some kind of paladin druid cleric or something." And then she scampers off to do her coloring books.
At which time Delphine shows up looking for Sarah. I'm just going to go ahead and tell you right now it's like your soul getting punched in the teeth, watching this scene, so go ahead and wrap some armor around your heart and get ready to throw up.
But hang on because first I want to say a parenthetical thing. At the end of last season, when the reveal was Project Castor, my girlfriend and I sat glaring at the TV for about 15 minutes and then went out to dinner and got a little drunk and were like, "EXCUSE ME" the whole time. The reason why is that Orphan Black is legitimately brilliant. I'm not being hyperbolic. This is, truly, a once-in-a-lifetime (maybe once-in-five-lifetimes) kind of television show. A lot of it is there's no more Tatiana Maslanys. There's just this one and what she can do is like watching real magic.
Okay, but the other part of it is we're talking about a show that takes the patriarchy out of the ether and gives it a whole lot of one-dimensional straight white guy characters to walk around in, while shining a sci-fi-sized spotlight on these really big questions about female autonomy and the commodification of women's bodies and gender and sexuality. This show takes some of the best and grossest things about Pretty Little Liars and cranks them up to eleven, because this is 10pm on BBC America and sex doesn't have to be a metaphor. With the exception of Felix, the guys on this show might as well have been manufactured at a Man Factory. All of these vanilla buffoons. This is what it would be like if Wonder Woman brought TVs to Paradise Island.
Nearly every other TV show in history, Paul is the hero. Paul is the main character. Paul is running around sticking his dick everywhere he wants like James Bond and crashing through windows to save the day and condescending to Sarah or Rachel while solving their problems and fucking them. Right, and Donnie is whatever Kevin James character. And the female clones die so the men can learn lessons, and the female clones are exposition vessels, and the female clones are there to listen and be pretty. But no! This show is the opposite of that; it flips everything upside down, and instead of these male clones taking over, it is Delphine who has kicked it up to a completely new gear with new hair and new motivations that are twisty and complicated and loving and nefarious and queer. You could've knocked me over by blowing air through a straw in my general direction from five miles away during this episode because of Delphine. I love Cosima and Delphine, yes I do, but I also love that she's leveled up in all areas, including the less puppy-like ones.
So. Delphine shows up and is looking for Sarah, but Cosima thinks she is there for her, and she's so glad to see her, she gets the actual color back in her face for a second. But there's a reason Delphine has been avoiding Cosima, and it's not because she doesn't love her. It's because she loves her too much. She knows she's got to call this whole thing off. See, because Cosima made her promise to love all her sisters equally, to make top level decisions to save them all, and Delphine knows that when she's looking at Cosima looking at her, she's only ever going to make the best decision for the woman she loves, even if it means she has to firebomb the rest of the universe.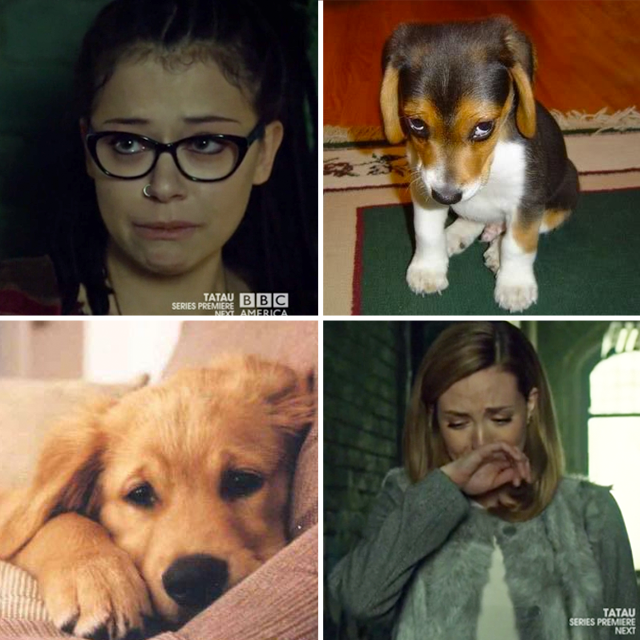 Cosima tries to play it cool, like yeah, it's all good, and she sees how it is, and Delphine's minute is up so she'd better get going, and the scientific method and whatever. Like the hard ass she was before Delphine scampered into her life. But she's gooey now, in her heart! So she also sobs, "I love you" and limps back inside.
Delphine loses it in the hallway, falling against the wall and crying her beautiful, French eyeballs out.
That's good. That's good stuff. Only Batman ever gets to do that stuff. Hardly ever the sidekick, and certainly never the lady one. The hero you need vs. the hero you want. It's a great story.
Pages: 1 2 3See entire article on one page