Hey Cloniacs! Welcome to the recap of the third episode of Orphan Black!
We open in the woods, where Sarah, Felix and Kira have spent the night in their stolen truck. While Sarah seems extremely comfortable roughing it up and peeing in the woods, Felix equates camping with being homeless in the country. Obviously he's never been to A-Camp/Jewish camping.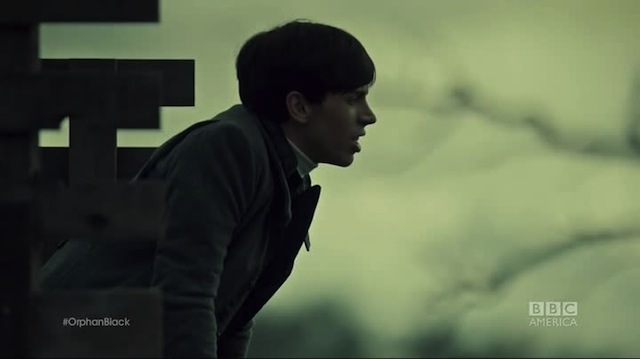 Felix and Sarah talk about Mrs. S, and how weird it was that she went from kindly mum figure to rifle-toting badass. And then Felix steps in poop, whomp whomp, the wilderness sucks.
Daniel shows up at the bird watcher's nest looking for Sarah, but only finds the dead bodies of the bird watchers. He also spies Hank and Belt Buckle, who douse the nest with gasoline and burn it down.
Sarah and Felix head into a small town, looking for some breakfast. They run an adorable little scam where Kira distracts a shop owner with fake shoplifting to divert from Felix's real shoplifting. Who knew children were so handy?
Meanwhile, Angie shows up at Art's place and tells him that Helena has been taken by some yokel with a huge belt buckle. When Art tells her to drop it, she tells him that he's letting down two partners, her and Beth. Ouch Angie, way to kick a cop while he's down. Also, she refers to Helena as "Shakira-haired" which is pretty on point.
Sarah, Felix, and Kira are enjoying a woodsy picnic of stolen noms. Sarah tries to make this a teachable moment for Kira, telling her that they only steal if they have to.
She plans to find an abandoned cabin in the woods where they can all hole up/sleep in real beds/maybe make some s'mores.
Meanwhile, over in Preppyville, Alison watches Donnie sleep on the couch with the hatred of a million suns sizzling out of her eye balls. She starts passive-aggressively vacuuming right by his face, because nothing says "I don't trust you" quite like a Dyson up in your grill.
Donnie then tries to interest Alison in some morning delight, and she's like, gross, take your 10AM boner elsewhere.
Sarah and Felix find a nice homey cabin and break in. Fingers crossed they've got marshmallows and graham crackers!
Over at the Dyad Institute, Cosima is chasing Delphine into Leekie's office and calling her doctor (aka the opening line of a thousand fanfics). Since Leekie is out of town, Cosima wants to mess with his hobby experiments/Xerox her butt on the copy machine/finger blast on his desk.
She also does a pretty great Leekie impression, which is adorable.
Delphine shows her the video diary of yet another clone, Jennifer Fitsimmons. Jennifer had polyps on her lungs and sought treatment with Leekie and Dyad. She also died three days ago, so RIP Jenn.
Sarah and Kira stake out a bed in the attic, where Kira asks when they are going to see Mrs. S again. Kira says that Mrs. S protected them, but Sarah assures her she'll be protecting them now. She tells Kira that nothing bad is going to happen, which we all know is a dead giveaway that something bad will definitely be happening soon.
Cue a cop finding their stolen truck.
Back at the Prolethian Farm, Gracie and Belt Buckle spy on Helena. Belt Buckle seems in awe, but Gracie still doesn't see her as a person.
When she brings Helena lunch, Helena wants to know why she's in the farm house. Gracie tells her that she's here to join their family, and Helena tells her that she already has one, specifically a seestra.
Gracie tells Helena that Tomas is dead, and Helena says good riddance to misogynist rubbish. She also spits out some grape seeds, but she is in a barn, so I guess it's okay? She also offers Gracie a drumstick which Gracie rejects because she's too dumb to know that you never turn down free chicken.
While Sarah and Felix are holed up in the cabin, Felix hears someone coming in. Before they can sneak out, they are busted by Cal aka Daario Naharis from Game of Thrones. I was really hoping it would be Principal Simpson from Degrassi.
Turns out that Cal knows Sarah because she swindled him out of ten grand and a car. Cal tries to kick them out, but Kira wakes up and immediately asks if Cal is her dad. Damn, that kid is intuitive. Cal is, in fact, Kira's father. Cal wants to know if this is another grift, but Sarah assures him that Kira is his. Cal tells them they can stay one more night and they better not steal anything.
Back in Preppyville, Alison is singing about blood in the bathroom… well, not so much singing as sing-screaming. The director wants her to take it down a notch, but Alison is all stressed up and nowhere to go.
After rehearsal, she walks outside where she is approached by Angie, who is pretending to be another soccer mom. Angie tries to chat her up, but Alison is in full paranoia mode and blows her off.
Sarah tells Kira that she's sorry she never told her about her father. She says she wanted Kira all to herself, but Kira calls her out on her bullshit by immediately asking why she was gone all the time.
Instead of telling Kira the truth (that crime is SO time consuming) she tells her that growing up without parents made her angry and confused. She didn't want that for Kira, which is why she brought her to Cal's cabin. Kira is into it, as Cal has a pretty cool beard, which is all you need in a dad, really.
Felix is snooping around in the barn and wants to know more about Cal. Cal tells him that he created mini-drone pollinators to help dying bee populations. His partners forced him out and sold his tech to the military, who now use his creations to kill people.
Felix comments that his rich do-gooder nature makes him the perfect mark. I might be spitballing here, but there's no way his work has nothing to do with Sarah getting pregnant, right? I'm not saying that Kira is some sort of clone-bee hybrid, but I'm not NOT saying it, ya know?
Back at the Dyad Institute, Cosima is binge watching Jenn's video diaries like they're the new season of Orange is the New Black. She watches as Jenn gets sicker and sicker, despite medical help from Dyad. Delphine wants Cosima to stop watching, but Cosima refuses. She watches Jenn's boyfriend dote on her, and tells Delphine that sometime she forgets she's her monitor.
Delphine assures Cosima that they did their best to help Jenn, but they couldn't save her. She assures Cosima that she has all the information, and it's okay if she can't handle it. Cosima assures her she's up to the task, but what task?
Back in Cal's cabin (which sounds like a failed Disney Channel project), Felix confronts Sarah. Not only has she lied to Kira, but she's lied to Felix this entire time about the identity of Kira's dad. That kind of betrayal doesn't sit right with him, and Felix calls her out for being a wrecking ball and a life ruiner.
Sarah tries to convince Felix that they are doing the right thing, but Felix wants no part of her bullshit. He tells her that he has his own life to worry about, Alison needs him, and there's no place for him here. It's a heartbreaking moment for Felix, who cries and leaves to go back home.
Back at Dyad, Cosima and Delphine are performing an autopsy on Jenn's body, which is gross.
Cosima expresses a wide range of emotions, from fear to concern to heartbreak, and Maslany is able to play these emotions BEHIND A SURGICAL MASK. She gets all of this across using only her eyes. Why this woman isn't covered with acting awards, I have no idea.
Together they rule out a variety of different diseases, and come to the conclusion that it's auto-immune. They also find a possible origin point of the disease in the uterus, which could also explain her infertility. Cosima's clone phone rings, and it's Alison, who is still in a post-Angie panic.
Alison is convinced that Angie is another monitor, but Cosima is elbow deep in clone guts and so not in the mood for a pep talk. Alison tells Cosima that she can't trust her girlfriend, which is a big mistake. Them's fighting words for a homo in a relationship.
Alison is worried that Delphine will put Cosima in a cage and experiment on her like an animal, but Cosima assures her that it only happens on Puppy Play Wednesdays.
We then cut to a sad deserted road, where a sad, deserted Felix is hitch-hiking his was back to civilization. Poor Fe!
Back in Preppyville, Angie takes another stab at befriending Alison. Alison tells her to fuck off, and Angie comes clean. She tells Alison she's a cop and she can help, but Alison tells her to GTFO. Alison is in NO MOOD, you guys. NO MOOD.
Back at Cal's cabin, Sarah and Cal are drinking beers and reminiscing about their relationship/con job. Sarah tells him that she could have taken every penny, but she didn't because feelings. She tells him she's not the same person, but she's in just as much trouble. As if on cue, a police car rolls up and the local cop questions Cal about a mom and daughter shoplifting duo.
We also learn that Cal has a small weed patch in his backyard, making him infinitely more interesting than Paul. Cal covers for Sarah, and the cop leaves. Sarah is freaked out and ready to run, but Cal tells her she's safe.
He tells her to stop running, and then proceeds to stop her from running via his face and penis. They start hooking up.
We zoom on over to backstage, where it's the opening night of Alison's Guilt: The Musical! The gross director gathers them for warm-ups and a dedication to dearly departed Aynsley.
Alison watches Donnie and Felix from the wings, and starts pounding pills and booze like a regular Jessica Lange.
The play starts, and Alison is pretty fucked up. She's scream-singing, losing her balance, and ends up walking right off the stage and into Donnie's lap. Here's a dramatic re-enactment of the scene, wherein Alison will be played by a boom box.
Someone screams "get a doctor!" while hopefully someone else is screaming for an understudy.
The next morning, Sarah wakes up next to Cal. It's actually kind of sweet. Meanwhile, Daniel is hot on their trail, questioning the shop owner they stole from.
Art drives out to the country and spies on the Prolethian Farm. He sees Hank and Gracie sitting on a picnic bench, talking. Gracie is scared of Helena (as well she should be) but Hank tells her that "fear is doubt's first cousin." He seems to be unaware that hokey platitudes are bullshit's nephew.
He tells her to close her eyes and listen to God. Gracie might be his first born, but Helena has a soul, a purpose, and she's part of the family now. Creepiest pep talk ever?
Kira plays cards with Cal and Sarah, then runs off to feed the chickens. It's idyllic and adorable so you know all hell is about to break loose.
Daniel grabs Kira and drags her away. Sarah hears Kira scream and rushes out to see Daniel pulling a gun on her. Daniel tells them to get in the car. He points his gun at Cal, and Sarah smacks his gun down.
Kira runs to Cal, and Sarah begs Cal to take her inside and keep her safe. The local cop shows up, and Daniel kills him. Cal comes back with a rifle, while Daniel holds Sarah at gunpoint. Daniel demands that Cal send out Kira, but he's like nope. Sarah begs him to just take her, which he does. Daniel also finds the Project LEDA photo on Sarah, and drags her to his car.
Meanwhile at the Prolethian Farm, the entire community is gathered in Helena's bedroom. They're all wearing matching white Amish attire, which is deeply upsetting. Hank grabs Helena, who is drugged up, and tells his followers that man's work is God's work as well. Why do we always hear that exact excuse from the worst people in the world?
Bonnie wraps Hank and Helena's hands in ribbon, and states that they are bound before God. So now Helena is saved and I guess married to Hank? Everyone applauds like they didn't just witness a creepy forced marriage. Then Hank carries Helena down a hallway, presumably to rape her. This is upsetting and generally the worst. Poor Helena.
Meanwhile, Sarah drives while Daniel is on the phone. She refuses to tell him shit, and threatens to kill him if he hurts Kira. Before he can respond, their car gets t-boned by a massive truck and everything cuts to black aka the Quinn Fabray ending.
Until next week, Clonesicles!