Yes, yes. The gif. I know. You need it, fine, okay, got it.
Watson's been freed from SHU and she's got a hankering for mashed potatoes. I get a hankering for mashed potatoes just from taking a shower or walking up a set of stairs. Man, now I'm gonna spend the rest of this recap wishing I was eating mashed potatoes. Mashed potatoes.
Alex and Nicky are best lesbros, a development I'm totally down with and fully support. Their version of hanging out is daring each other to eat a lot of saltine crackers in a short amount of time. Six saltines in 30 seconds? What is this, child's play? Put some cheese slices in there, add about twenty more crackers, and you got yourself a real challenge, bitches please. Alex says she can't resist a dare, eh? I feel like there's more than one Straddler with any number of dares in their pants…er, up their sleeves.
Watson stretches her arms out because she can't believe she's free.
But what's this I hear in the distance? Is it…could it be…it's FFFFLLLLAAASSSHHHHBBBAACCCKKKKK TIME! Baby Watson is playing on the playground when some boys come around and start trying to start races. I love Baby Watson for knowing she can beat them, choosing to beat them down verbally and then beat them down by outrunning them. But then she turns and there's that beautiful moment when she wonders what she's won, because the other girls are with the boys and she's not. I don't know why this registered as a baby queer moment to me, but oh god, I remember being that kid who wanted to beat the boys and never kiss them, and kept wondering why that was wrong. Shit, guys.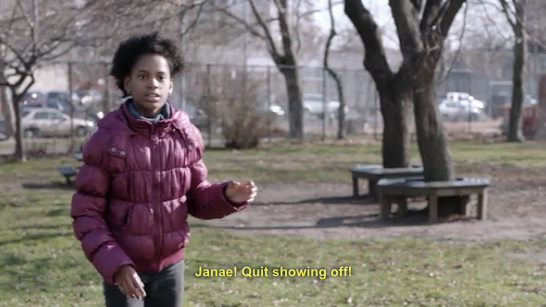 The WAC is holding its first meeting, and all anybody cares about is donuts. And who could blame them? You ever had a Dunkin Donut dozen munchkins first thing in the morning? How about those French crullers? This is a French cruller French tip lifestyle, right here. Anyway, okay, not donuts. Show. I'm recapping the show. In the meeting, they're throwing around ideas for improvements. Apparently Sriracha sauce is a major concern in the prison, CAN WE BLAME THEM, and double pillows are an issue.  Piper is confused as to why no one is taking up "serious" issues like fitness programs, legal counseling, and of course, that darn GED class.
Healy says that since the money is tight, they'll have to choose between prison changes or coffee and Dunkin Donuts. I believe it was America who said that it ran on fucking Dunkin, so yes, the donuts are the choice. Piper continues to be confused by this situation. Baby girl, things are corrupt and sometimes you just want breakfast pastries. Taystee reminds Piper that a) the whole WAC is a sham, and b) she wants a shorter sentences so it's best not to try and self-appoint yourself as head social worker.
Doggett is still not pleased with her loss in the elections, so she's asking around on who voted for who, specifically for Piper. Turns out nobody did, and that does not smell like the sweet balm of Jesus to Doggett. Speaking of Jesus, girl just got Judas-ed.
Piper is playing Snake on the toilet, which is better than Instagramming on the toilet, I guess? Surprise dick pic from Diablo, by the way. That's always fun.
Piper and Watson are crawling around in the ceiling trying to solve an electrical problem. Piper is being overly sweet and nice to Watson, who takes no time in realizing that Piper's being too nice because it was her fault that Watson got thrown in SHU. Looks like we've just gotten a new star batter for Team Hates Piper.
Morello is making a vision board of her life beyond prison. Norma, you are the dark horse of this show and I hope you emerge as the most powerful prisoner of all by the end of next season.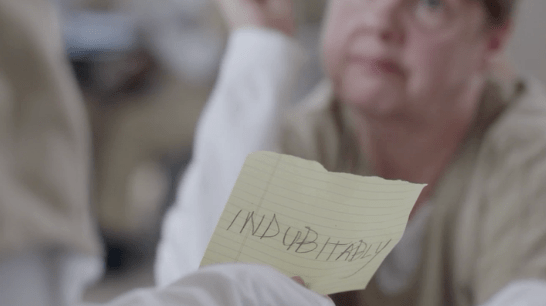 Butches and dogs! Dogs and butches! What can be better? Nothing, actually. Nothing is better than butches and dogs. Boo shows up with a dog because it's time for dog therapy. Boo has named her dog Little Boo. Everything is alright in the world.
Meanwhile, Piper is making me ashamed of my degree by using her skills of literary analysis for Debbie Downerisms. Taystee and Tricia are talking about shortening their sentences, and reference The Road Less Traveled. You know, where there's two roads in the woods and you take the one less traveled because you're different and special, blah blah, famous white guy poetry. Piper attempts to explain the origins of the poem and Taystee and Tricia could not roll their eyes harder.
Caputo and Fischer have a weird thing going on. That's all I gotta say about that.
Piper's dropping off her laundry late. Alex allows it, but there's not a lot of loving there. Piper says hey, remember that time we would stay in the Four Seasons and have crazy amazing lesbian sex and — yeah, Alex is not there for that. Let's continue to feel complicated thoughts about whether or not we think this is a healthy thing for them, but we still want them to have sex. Right? Right.
We're in Healy's kitchen, aka the epicenter of innocent anti-lesbian ignorance. His wife and mother-in-law are having a heated conversation in Ukrainian, which Healy clearly cannot understand. Poor dude, non-Anglocentric versions of reality are hard for Americans to swallow. Lordy knows we have to deep fry everything we don't understand in order to consume it.
Larry continues to lose what little respect any of us have for him. He feels lame that he has to hang out with couples by himself (whatever, bitch) and he's going to write that column after all! You know, the one he positively promised Piper he would not write? Yeah, that one. Classy fella.
Is that dorm sex I hear? Naw, I wish. And yet I don't wish? Anyway, the grunting and the panting is just Watson is working out in her dorm. Raise your hand if you were hoping Taystee and Poussey were finally exploring their relationship? Your hand is raised, isn't it?
Wait, wait. What's that rustling in the grass? A WILD FLASHBACK HAS APPEARED! Teen Watson is heading into the locker room after winning another track championship. Her coach is talking scholarships and scouts, but Watson's noticing that the other girl has a boy waiting for her, and they're getting touchy.
Back in the present, Watson's mad. She's really mad and she's looking for something to hate, and Yoga Jones has stepped into the ring. Unfortunately, even Yoga Jones has her tipping point, and when Watson asks her if she killed a kid, Yoga Jones slaps her in the face.
Piper stops by Healy's office to talk about re-opening the track. She talks about the merits of exercise and wow, is this her Debbie Downer episode or what? I'm falling asleep just thinking about what walking around a track does for my heart health. Healy says hey, wow, shut up nicely, and find me the cell phone and I'll open the track. Thaaaat's coincidental.
Bennett has to make up a girlfriend (and her sister) to satisfy Pornstache's weird curiosity about Bennett's sex life. Man, is there one of those guys at every workplace ever? There is, isn't there?
Taystee is studying for her early release hearing. Poussey makes a lot of great faces. So here's Poussey's great face.
Piper nabs the phone. For science. Actually, for the science of exercise.
Doggett runs into Piper and asks her what serving the powers that be is worth. For Doggett, it's worth a new set of teeth to replace her meth teeth. Doggett says the stakes are higher for her than they'll ever be for Piper, and damn it, it's true. I have a lot of feelings about Doggett.
Did Pornstache seriously just ask Red to make him a fucking sandwich? Sit down, sir! You don't ask Red anything. Since Pornstache is now having trouble getting his drug business into the prison, he needs Red's help. And by needing Red's help, I mean threatening her into it. Red's not easy to shake down. Pornstache says this means war. Bring it, bitch.
Piper hands the phone over, but surprise, everything but the noonie picture has been deleted and Piper's not telling him who it belonged to. Healy says the track is not opening until he knows who is responsible for the phone. Piper's still not going to give it up.
Taystee's look goal for the hearing is Rihanna circa 2009. I mean, that's like at least 25 different looks, but I don't think you can go wrong with Rih.
Piper and Fischer know each other because Fischer used to bag Piper's groceries in Red Hook. Oh, how the taaaaables have tuuuuuurned. Piper enlists Fischer's help. I like Fischer.
Doggett is shit-talking Piper and getting ready to smite her Old Testament-style when Alex has this to say:
Then she threatens her with Christian-corrupting lesbian sex. So.
Wait, wait? What's this I hear? Is that whispering of FFFFFLLLAASSSHHHBBBAACCCKKKTTTIIMMMEEEEE. Watson is at a party where she clearly feels out of place, but she's trying! The guy running the party, and assumed gangster who brings money to the neighborhood, tells Watson to get out of the party for her own sake, and if she ever needs shoes, to hit him up. Of course she runs into the troublemaker outside. Oh, honey, we know what's about to happen.
Larry is super pathetic at a bar. I can't even with this joker.
Watson and the guy from earlier (boyfriend? we don't know) are in the middle of a robbery. Of course, when the cops are on the chase and push comes to shove, Watson's the one who gets caught and thrown under the bus. Goodbye scholarships, future, all the things she was promised. The one time she tried to do what everyone else wanted her to do, the one time she tried to fit in, this happened.
Back in the present, the track is open and Watson is running. She's feeling freer than she's felt in a long time.