YOU GUYS. Tonight is a great night for television! At 9 p.m. we had the reboot of Cosmos with Neil deGrasse Tyson, and right this very minute we have the premiere of Lindsay Lohan's reality show, where we get to watch Oprah Winfrey life coach Lilo through her recovery! Based on the trailer, it looks like there's going to be a heavy dose of tough love.
I've felt a really strong bond with Lindsay since her Parent Trap days, and I bet you have a lot of feelings too. Chelsea will be getting her Lindsay recap on soon enough, but who can say what crazy emotional roller coaster the next hour of this show will bring, you know? Fear not! We've reserved a space for you to process as it happens! Whether you're watching Lindsay via live broadcast on the East Coast (like me), a couple hours later on the West Coast, illegally well after the fact, or what have you, this is a safe space for you to emotionally work through it.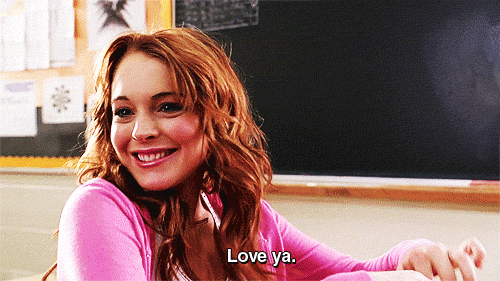 I'll be sticking around to share some of my thoughts and feelings, and I hope you'll join me too. Here goes!
---
First commercial break: We're off to a good start! Four days out of rehab, Lindsay and Oprah sit down to clarify their intentions. (Lindsay: "My intention is just to be an open me.") We get some super cute footage of super cute young Lilo. Look at that adorable fresh face! I feel so nostalgic.
Picking up on a heavy hint from Oprah, Lindsay decides not to go to Europe where she'll be tempted to party and drink. (Lindsay says that alcohol is her addiction.) Oprah: "I want you to win." Me too, Linds.
Next we catch up with Lindsay going in and out of her hotel, looking for a permanent apartment of her own. She's moving from LA to New York. The paparazzi catch up with her outside and Lindsay reacts with muted vexation; clearly, they're a consistent background annoyance in her life. Obnoxiously, one dude mugs for the camera, saying, "Lindsay paid for this watch." I like, just want to punch this bottom feeder. Ugh.
Oh wait, now Lindsay's in a different hotel! Is it because of the paparazzi, do you think? She hasn't mentioned any work going on, but I guess there are a lot of things going on that aren't included on screen. The general vibe of this show so far seems to be like that Britney documentary that came out several years ago, where the star seems really sad and stressed but is trying to generally paint herself as in demand and on top of things? Maybe it's too early to make that call.
Lindsay: "It's really stressful finding a place in New York." Girl, I totally feel that. Although landlords never worry about me holding loud parties or scheme about raising the rent just because I'm in the building.
Back at the hotel, Lindsay and her crew are trapped in the hotel. They've been there all day, hiding from the 40 paparazzi lying in wait just outside. A woman off screen asks, "Do you ever feel like you're a prisoner?" Lindsay answers, "Yes, all the time."
Okay, this really is like the Britney documentary. That's not a good omen, but at least Lindsay seems committed to making good choices! Including only seeing her mother Dina once since getting out of rehab (even though Lindsay tells the camera she's a "huge part" of her recovery). Lindsay also turns down an invitation from GQ to do an event in London because it won't be a safe environment for her. The director of the movie she's supposed to be promoting makes snarky comments to the press about being held hostage by her when she doesn't show up.
OMG lingerie shoot. Stop everything. The models all love Lindsay's movies. But there's trouble – they're asking Lindsay to be in filmed with the models walking in, and to speak some dialogue they've added. It isn't what they discussed previously. "I'm not an actress turned model," Lindsay vehemently tells the director. They argue; he condescends and she breaks down. They argue about her schedule (which doesn't make sense to me, because Lindsay has a personal assistant?). "I want to be in London right now at the awards," says Lindsay. She pulls out of the shoot.
I'm sensing a theme: Lindsay doesn't feel in control of her life. One of her personal assistants, Michael Cormier, says "She's trying to create security for herself in an environment that's not very secure." That seems pretty accurate.
Lindsay's at a fashion show now, looking like a queen, crown and all. Her sister Aliana is walking in the show, and the makers of this documentary are taking lots of pointed shots directed at the champagne and other alcoholic beverages being served. Lindsay doesn't take a drink, even when she gets some bad news about the apartment she wanted. We're approaching a month now, and Lindsay hasn't found a place that will have her. She's still bouncing around from hotel to hotel. This doesn't make her happy.
Annnnd, we're done! Very abruptly, they've begun replaying from the beginning. Well, that was a whirlwind. I'm feeling bad omens, I don't know. I hope I'm wrong. Sadly, I don't think I am. (Please tell me otherwise?)