Last year, when we asked our readers to vote for their favorite out queer women for the annual Hot 100, heaps of readers ignored the "out" part and voted in droves for Ellen Page… who came out last month. The other frontrunner in the "women you voted for even though you weren't supposed to" category? Zoie Palmer, who plays the dashing lesbian doctor Lauren in Lost Girl. And last night, at the 2014 Canadian Screen Awards, Palmer won the Fan's Choice Award and in her acceptance speech, pulled a Jodie Foster and thanked her "incredible partner" Alex Lalonde. And by partner, sources say, she meant, you know, partner. Zoie also thanked her son, Lucas, who is said to be Lalonde's son from a previous relationship. He's probably really cute.
Here's that speech, in which Palmer is wearing a dykey bracelet, looks super gay, and is up on stage with her co-star Anna Silk, who plays Lauren's on-again off-again lady-love, Bo, on Lost Girl:
Palmer was born in England but grew up in Newmarket, Ontario, getting involved in theater as a teenager. She's been working steadily in the US and Canada since 2002, grabbing parts in made-for-TV movies like The Reagans and recurring roles in shows like the CTV teen series Instant Star and Global TV series The Guard. She recently starred in Sex After Kids, a romantic comedy written and directed by Jeremy Lalonde, who I think we can safely say is related to Alex Lalonde. (UPDATE: Apparently not. There must be lots of Lalondes in Canada!) Her role as Lauren on Lost Girl, which began in 2010, is what vaulted her into the hearts and minds of queer women all over the galaxy. Bo and Lauren were named Top TV Couple by E! Online in 2013, Best Lesbian/Bi Character of 2013 on AfterEllen and a Top Queer TV Character of 2012 on Autostraddle.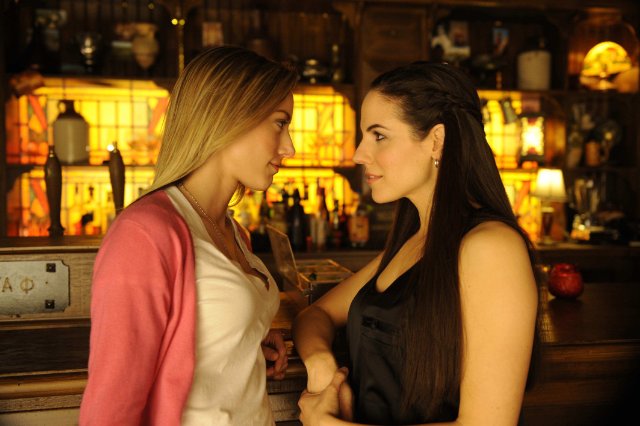 Zoie has been involved with TV Producer Alex Lalonde (who tweeted her excitement over Palmer's win) for an unspecified period of time. The two were involved in some of the same projects in the past. Anthropologists report an early sighting of the two women together on twitter in 2011, but it's impossible to know for sure. Undoubtedly, additional unverified information will continue trickling in.
For now, let's just bask in the glory of the goddess who is blessing us with so many hot smart ladies coming out this year. Who knows, the next one could be YOU.