It is the best of times and the worst of times, a season of sweet relief and a season of crushing blows, it is TV renewal season and it has been quite a day. (It's also May Sweeps, so really it's been quite a week. Charlie, the lesbian character on Supernatural, was murdered; and Nyssa, the lesbian character on Arrow, was married off to a man.) We spend a lot of time talking about how we're striding into this golden age of queer representation on television, and while it's true that we've made astronomical progress in the last ten years, it's important to remember that queer women are still wildly underrepresented on TV, and so every tiny scrap of representation matters. (See above, re: May Sweeps.)
Let's run down the good, the bad, the unknown, and the whatever of this renewal season.
---
The Good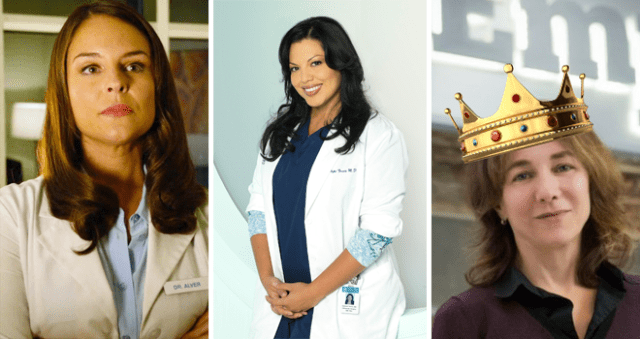 + Y'all, Ilene Chaiken inked a two-year seven-figure deal with 20th Century Fox. She will continue to showrun Empire and she'll also work to develop new projects. One boss over at 20th said, "Ilene is about as gifted a showrunner as there is in this business." She's always going to be the murderer of Dana Fairbanks and Other West Hollywood Horrors to me, but also there has never been a show like Empire, and I mean that in terms of race and sexuality and also, I mean, any person who is responsible for bringing more Cookie Lyon into my life is a kind of hero.
+ ORPHAN BLACK IS BACK FOR SEASON FOUR.
+ Black-ish, which featured Raven-Symone as a lesbian character last week — a thing we'll talk about in Boob(s On Your) Tube on Monday — has been picked up for a second season.
+ Fresh Off the Boat, another show centered around people of color that gave us a really stellar gay-themed episode this year, has also been renewed for season two.
+ You know Grey's Anatomy is back for a 12th season, nbd. ABC has renewed it through infinity.
+ The 100 is coming back for season three, so Clarke and Lexa can figure out what the heck is going on between them.
+ Jane the Virgin will for absolutely sure return for a second season, which is super amazing news, and not just because it features Luisa, a lesbian woman of color whose new girlfriend is a professional wrestler named Juicy Jordan. It's also a show full of kickass feminism and so many women interacting with each other about so many amazing things all the time. It's my absolute favorite show of 2015.
+ No one knows if this summer's Rookie Blue is season 6 or season 5B, but whichever one it is, it's back! Gail and Holly, hurrah! (Same for Under the Dome; it'll be back this summer with its widowed lesbian mama.)
+ These awesome female-led shows that don't feature queer female characters (yet) have also been renewed: How to Get Away With Murder, Agent Carter, Madame Secretary, and Scandal. (Thank you for being a friend, ABC.)
---
The Bad
+ NBC pulled the plug on One Big Happy after a shaky, but promising six-episode first season. Here's hoping the Peacock understands that it wasn't the lesbian lead that caused the show's ratings troubles. And here's hoping Liz Feldman enjoys all the success in the world in the future. She deserves it.
+ NBC also killed Marry Me, which featured "soft butch flannel queen" Kay, one of my favorite new lesbian characters of the 2014-2105 TV season, and one of the very few black lesbian characters on broadcast TV.
+ ABC passed on the Fortune Feimster/Tina Fey tag-team, Family Fortune, which would have been a multi-camera sitcom (co-starring Annie Potts!) about Fortune coming out to her family. I'm really bummed about this one not making it.
+ Fox cancelled The Mindy Project, Riese's favorite comedy and the show that gave us a new lesbian character of color named Dr. Jean and Julie Goldman and Laverne Cox on our screens this year. But! There's a very real chance Hulu is going to pick it up.
+ We also lost supporting queer characters on Parenthood, Heart of Dixie, and Red Band Society, none of which got renewed. Parenthood got a proper send off, at least.
---
The Unknown
+ One of the characters on Weird Loners came out as bi this week (which, again: we'll talk about in Boobs Tube!), but Fox still hasn't announced if the show will get a second season.
+ Person of Interest hasn't yet been renewed for a fifth season and it needs to be because if I don't get to see Root and Shaw make out some more I am going to LOSE MY MIND.
---
The Whatever
+ Supernatural is coming back for season 11, but hey guess what? They killed Charlie the lesbian this week, so until they resurrect her, I don't care.
+ The CW has given Arrow a fourth season, which I want to be excited about because Nyssa al Ghul is a lesbian woman of color who also is a badass motherfucker, but the show killed off bisexual superhero Sara Lance earlier this season and married Nyssa off to Oliver last week, so.
+ Gotham completely forgot Renee Montoya exists and played the Bisexual Psycho trope all over the finale with Barbara Kean, so until I hear about some serious progress on those two fronts, that show is dead to me.
+ The Good Wife is coming back but they messed up to bad with Kalinda in the end and now she's gone and so I don't care about it.
---
That's all I know for now. I'll update the unknowns as soon as they're known.