"Am I ready? What do I need?"
This is the warbling inner voice that greeted me this morning as I greased up my 32 week pregnant belly. The emotional content that trailed and lingered was rich with familiar (perhaps even collective) anxieties. In a consumerist driven society like my beloved Canada, many riches are to be found and made where shared major life-change anxieties churn. Oh, how I remember the cascade of personal hygiene products incessantly advertised, each cleverly promising a smoother (and sexier smelling) passage through puberty. Shudder. I dare not consult Amazon or the TV for guidance about parenting. At least, not yet. Anxious, groping shopping is a hollow rite.
Today, I'm seeking a comfy balance in preparing once again for new parenthood while experiencing totally reasonable feelings that anticipate an inevitable, monumental shift in the day-to-day. Readiness aside for a moment, "What do I need?" The internal responses that start to trickle in diverge into two clear streams. The first stream, very much influenced by my western culture, translates my question as, "What do I need to buy (to calm this anxiety)?" The second stream, very much influenced by my vulnerable ever-opening heart, hears, "What do I need to feel (to access the source of my anxieties to meet my actual needs)?" I don't mind speaking to both of these voices, and I don't resent the ease with which I can purchase helpful manufactured wares, but there's the rub. What is helpful right now?
Needs. Stuff. New parenting stuff. Let's talk about this.
---
First off, I'll give you a little personal context here. I am very much pregnant with my very much planned second child. I'm a genderqueer single parent who lives a quiet life in the deep woods. My first baby was home-birthed on my living room floor. By nature, I tend to be a rather primal, sensual and sensitive creature. I dig mindfulness and simplicity. I'm big on economy of personal energy, self empowerment and basking in beauty. I nurture a restorative lifestyle… while single parenting. Yes, it's definitely possible. I've put much careful thought and feeling into what objects live with me and my little one(s) in my home sanctuary. I feel both deeply comforted and inspired by my living environment. What I create at home supports my parenting, my livelihood and my personal growth. This kind of home design involves me being very honest with myself about how I actually live, my sensitivities and what matters to me independent of the "What every new parent needs" magazine articles or well meaning family input.
Here's a personal review of commonly marketed parenting wares and western culturally endorsed parenting preparation practices. It's been four years since I home-birthed my first child, and now, a few months before the arrival of another. The past four years have, for the most part, flowed beautifully and efficiently on the daily home rhythm front and I'm satisfied with the relatively minimal "parenting stuff" I acquired. But that's my comfort zone: minimal. These first couple of lists lightly graze what can be bought to equip the home for the new parenthood experience. First I'm discussing what doesn't work for me and why, and then I'm including a list of things that definitely do work for me. Take from them what's useful to you and know that your experience might be very different from mine, which is also perfectly great. I don't participate in judgy mom culture! Now on with the lists.
New Baby Stuff I Never Really Needed
A Freshly Painted Nursery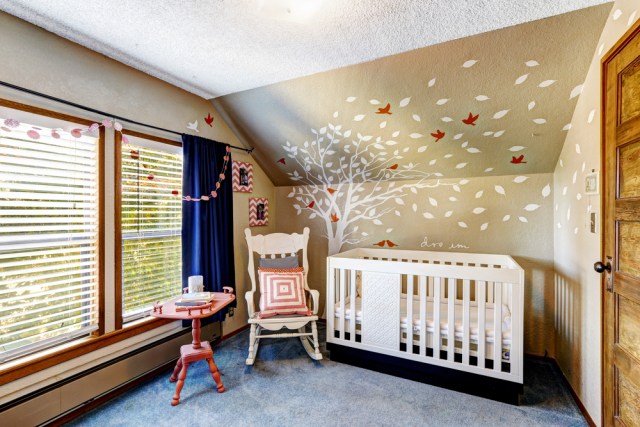 Can't do it. In much less feral circumstances I do not tolerate the odious smell of paint, VOC free or otherwise. My little family's bedroom is shared and swathed in lovingly hand-oiled wood, so imagining myself with heightened senses after birthing and the ethereal days/weeks/months afterward, having my nose led by solvents to a separate room separate to find my baby doesn't jive.
---
Baby Crib
I like to sleep with my babies, on a mattress, on the floor. When I'm exhausted, I appreciate the convenience of propping my body on one side as my infant nurses then we both sleep. A lot. I once tried to imagine rolling myself out of my nest to stagger down to a room animated with night cries and I couldn't make it past the doorway in my head before bear grunting, "No." I don't sleep very well unless I feel baby's body, hear her breathing. This lowers my heart rate significantly. A small chirp from my infant is all that is required to rouse my attention. She used to nap on my lap as I meditated. Her spontaneous naps became my cue to meditate, or sleep (hint: restorative parenting tip # 1).
---
Changing Table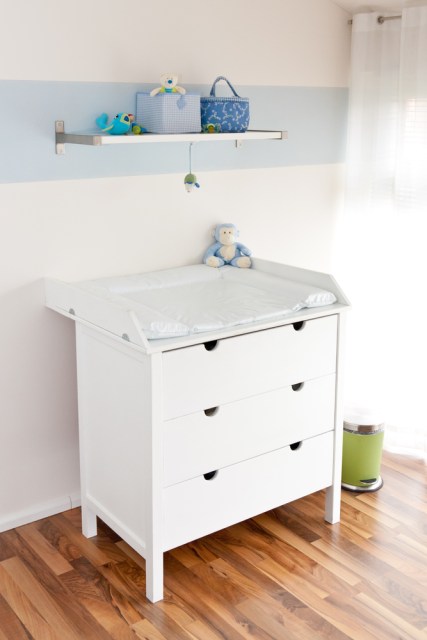 Immediately, I hear the voice of a neuropsychologist mentor of mine from university who worked with head trauma. I don't own a changing table. I love floors, especially pelvic floors. Deep squatting to attend to infants strengthens a Mama's pelvic floor, greatly reducing the incidence of the notorious pee sneeze. Just sayin'.
---
Baby Monitors
I am my baby's monitor. Lucky for me, I'm able to have my babies on me or beside me as I go about my day, work and all.
---
Bouncy Chairs / Exersaucers / Floor Gyms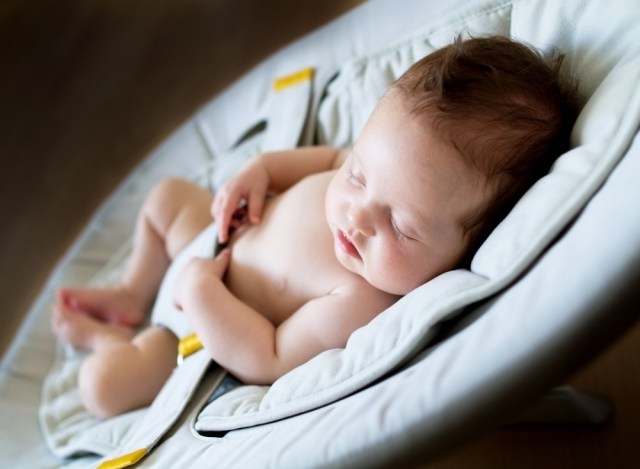 As I mentioned above, I'm a big fan of carrying babies. That is, without the use of baby wearing devices (which I love, thank-you Ergo). What human little monkeys! When given the regular opportunity, from a remarkably young age these wee ones will hold on to their loving, baby-carrying adults. All those strengthening core muscles, developing fine and gross motor skills, and little brains lighting up all while actively taking part in baby's own transport. Amazing. That, and things like bouncy chars are really bulky, and sometimes, I'll say it, ugly. If not second-hand, many carry a chemical smell that hurts my senses. Often they are not age appropriate for a newborn and wouldn't be used for a few months, if ever.
---
Pacifiers
Instead of using pacifiers to silence or soothe my little one, I breastfeed on demand, which tends to meet her needs. This isn't possible for everyone, but it works for me.
---
Baby Bottle Paraphernalia
Did I mention how grateful I am for my milk-producing breasts? I did develop a nasty case of mastitis after my first baby was born, which was painful and discouraging. I pumped my breast to clear the way for healthy functioning. For years afterward, typically around two in the morning, I thanked my breasts for my not needing to fiddle and diddle with bottles and rubber nipples and brushes.
---
Strollers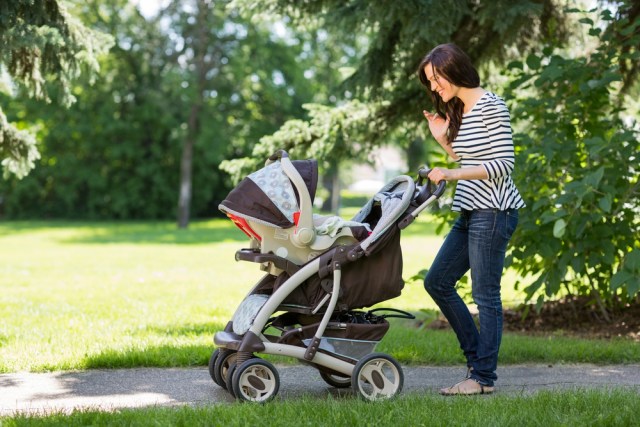 I used to be a survival instructor many years ago. I always carried my gear, and sometimes people, atop my load bearing, powerful hips and snugly against the core of my body for long treks so I wouldn't exhaust myself with awkward weight distribution or use of smaller joints to do the bulk of my work. After spending nine months slowly adjusting to carrying a baby inside my body, it just makes sense to me to keep that rough weight distribution going. Oh yah, then there's the whole baby-caregiver mutual attunement (physiological and emotional) factor. That's nice too.
---
Infant hygiene products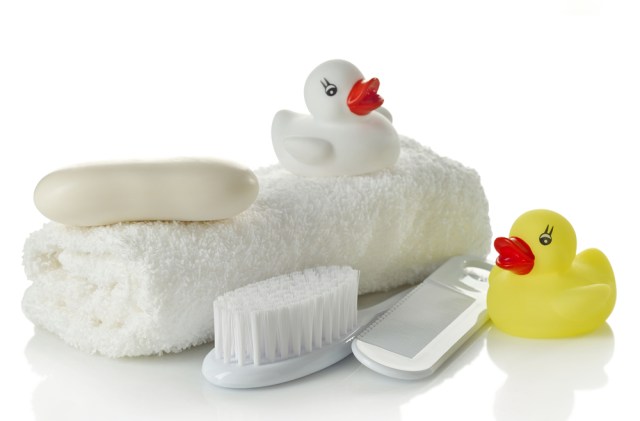 If you've ever smelled the top of the head of your newborn, then later, again and again found yourself huffing your newborn's head with oxytocin stimulating delight, you'll know what I'm talking about here. Newborns have a good smell that I don't ever want to wash off. I didn't own any infant hygiene products, and I didn't bathe the protective vernix off my newborn's body. When I did eventually bathe her, it was with water or with breast milk. Really — breast milk. Especially on bums.
---
Baby tubs and Buckets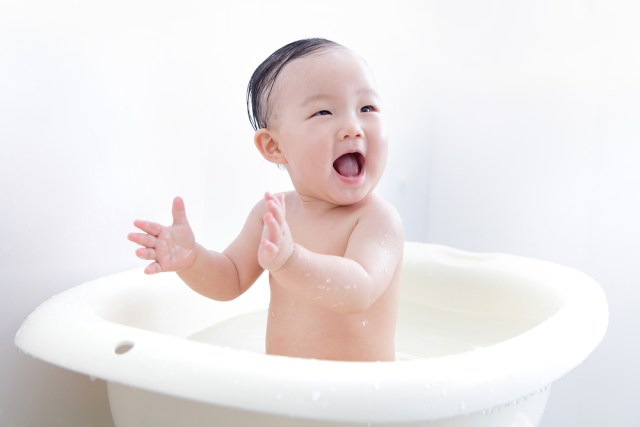 This may sound ridiculous, but ever since I watched a tragic baby-themed episode of Oprah in the nineties, I cannot place babies and buckets in the same space in my mind without welling up. On a more uplifting note, I own a cast iron tub scavenged from a field, which I now luxuriate in nightly. I occasionally share this experience with my little one. My mother is a big fan of plopping infants in her kitchen sink, and I do afford her this honour, as long as she puts the Johnson and Johnson products back in her bathroom cupboard.
---
Diapers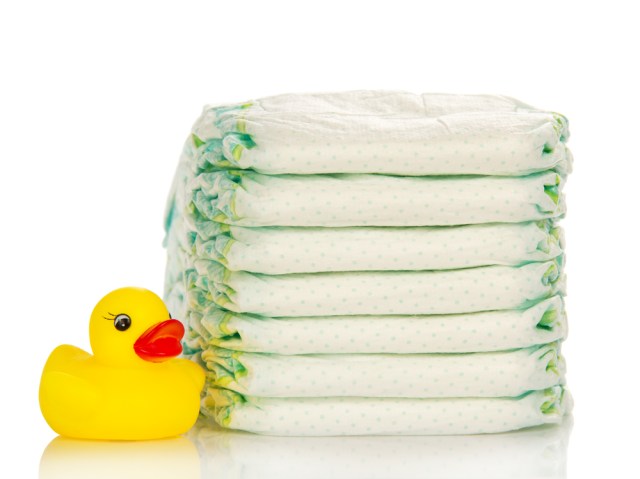 I was gifted a giant bin of super soft, second-hand quilted pre-fold cotton diapers, wool covers, the works. I was also gifted a big pack of newborn disposable diapers. Then I met my daughter. She fiercely informed me with all of her newborn communication powers that she would have NONE of ANY of THAT, cloth or disposable. Nope. Then I opened a gifted copy of the book, Diaper Free by Ingred Bauer and discovered the wonderful world of natural infant hygiene. Basically, a bare-bummed baby.
How does this work? Perhaps another post all together might clear that up, but what I will tell you is that we never contended with a rash on her tender skin. Pre-fold diapers became one of the most utilized pieces of parenting gear I owned. I carried/wore this child with a layer of wool and a pre-fold diaper next to my body. Much of the time I was able to "sense" when she needed to eliminate and I would hold her over a little potty or outside on the grass. At night she slept on layers of wool, sheepskins, and a cotton pre-fold under her bottom. Somehow, while sleeping, I also seemed to sense when she would pee and I'd wake up and swap the wet pre-fold for a dry one. I considered all this a service of assisting rather than training. She later essentially taught herself to toilet. Sometimes I would diaper her for visits with diaper-loving/peepoo fearing folk. Sometimes she would tolerate this.
---
Car seat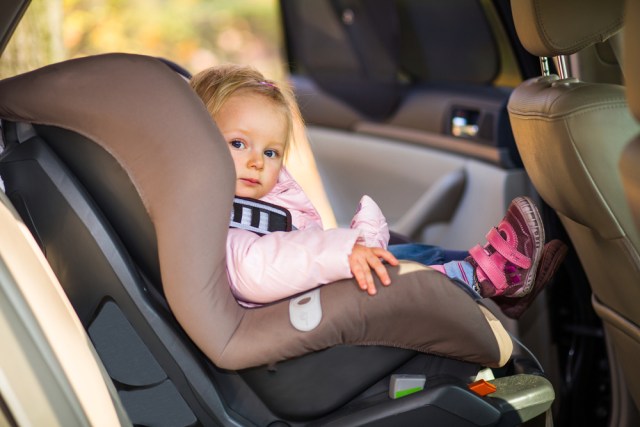 Fuck yes. This I actually needed, just not very often because I don't place an infant in a car very often. But when I do, thank you rear facing car seat. Now if only there was a car seat/baby carrier that somehow also attaches to Mama's body, comfortably, "safely" in the car. Come on, I know someone out there is just itching to develop this!
My Favorite Parenting and New Baby Items
Wool (re-purposed or otherwise, especially old cashmere) EVERYTHING to keep small bodies warm, and absorb pee
Colourful silk (re-purposed or otherwise) EVERYTHING to diffuse light, feel wonderful against the skin, uplift
ERGO baby carrier/Ring slings/Rebozos
A freezer full of lovingly made nourishing foods
Fresh fruit and veggies all the time
Chocolate
A big fat reminder that all your baby really wants/needs is YOU
A comfortable place to seat yourself with a very little person (rocking chair, hammock, papasan, bolster, zafu, floor, whatevs)
Comfortable clothing for Mama that baby can be worn inside
---
Now that we've talked about how to equip our homes, what can be done to equip ourselves for the experience of both birth and parenthood? Here are my recommendations:
A "Blessing Way"
Either instead of or in addition to a traditional, product-laden baby shower. This is an event where your birth support kin gather, share stories, hold space for your personal needs and free-flow of wild birthy feelings. Activities often include the creative preparation of talismans and gifts intended to assist you before and during birth. Blessing ways serve to love you exactly where you are. There is not much of a focus on baby products or fundraising. Blessing ways can help access what you actually want/need/desire for your birth and new baby experience while creating an opportunity to ask for assistance ahead of time. A blessing way is a big prayer for you and baby, with nourishing snacks and beverages.
---
Frozen food parties
It's probably a good time to ask yourself what you really enjoy eating, what foods comfort and nourish YOU. Then, ask your friends and family to come over and make them, for you, and put those meals in your freezer. This is an incredible personal investment that your body's future needs will definitely thank you for.
---
A deep clean and purge of your home before a single baby purchase happens
This can also be in the form of a party. Often when my anxieties prompt me to gather, I take a step back and purge first, while there's still time (dun, dun, dun… just kidding… no, really). Steep yourself in the experience of your home space as it is now. Then imagine how you would like your new parenting experience to feel. I found a very open loft space in the woods with lots of light. I decorated with hand-painted silks from artisan friends. I found an enormous hand-tied wool carpet (second-hand from an estate) that invites me to spend more time on the floor. Plants grow everywhere. This was a start for me. I have minimal furniture to appease my desire for a sense of openness and natural movement. I scaled back, a lot, before I added any new baby stuff. I also cleaned. With wonderful smelling essential oils that reduce anxiety. I waited, to hear what I needed next. I added nothing until I felt a very clear prompt. I also fashioned a mixed CD of the music that made me feel like planet earth is a wonderful place to be. Then I sat in the space, listening, imagining baby's arrival. This somehow assisted a smooth transition from baby in-body to baby in-arms. We still like to listen to it.
---
Massages for YOU while learning how to massage infants
During my first pregnancy, I just so happened to live near a massage school that gave free massages to pregnant women. Glorious. So glorious feeling that often, shortly afterward, I would life model at an art school to capture a gestural wisp of how AMAZING I FELT. And students didn't have many opportunities to draw super preggo figures. I also picked up a gently used copy of the book, Infant Massage by Vimala Schneider Mcclure. This book helped me enter a soothing imagined experience of new parenthood and later became quite ragged as my new infant glistened with jojoba oil.
---
Booking ample time off for after baby arrives. Book support of loved ones as well.
Although I did book a lengthy, commitment-free postpartum retreat for my first child, I must admit, I failed to book ample social/family physical support. In fact, I didn't ask for it at all. For some reason, I took on a very rugged, independent homesteading persona/approach to my baby-moon. I'm not doing that again this time around. Sign me up for pampering from my beloved. Love up my four year old daughter who will definitely need extra support during her own monumental life shift. Grandma, Grandpa, Apu, sweet besties, I call out for your support and thank you in advance. These are my cleaning and cooking and taking small children out for long hike elves and angels. Priceless. So grateful already.
---
So here I am, still greasy bellied, preparing for baby. I'll let you in on a little insight that does bring me comfort: I cannot be "ready" for birth, or parenting. A huge wave of anxiety dissipates when I embrace this fact. This is cosmic, uncontrollable, unpredictable territory folks. Birth will come. I will surrender. I will parent. I'm still surrendering. I am listening. What I have and what I am is enough. My needs do feel met. And because I'm willing to feel, I know I am able attune to my own shape-shifting needs as I go along, attuning to my baby's needs. Quite the dance.
Oh also, there is an electric device that warms baby bum towels that I just might pick up and give a whirl the next time I visit the big city. I just can't seem to resist. Product review to eventually follow.
I got this.
And so do you.