The first night of Hanukkah is over. I hope you lit the menorah with loved ones and had too much fun singing "le-had-lik ner shel…HAAAA-NUUU-KKAAH" for the first time this year. But what does it mean now that one night is down, with seven to go?
I have a secret to tell you about Hanukkah. As a kid, I remember my friends freaking out about how unfair the holiday seemed. Maybe you were one of these kids. Maybe you were someone who couldn't believe that Jewish kids had enough presents to last for eight days.
I'm not sure what other Jewish kids did when confronted with this situation, but I know what I did: I lied. "Why, yes," I would say. "On the first day I got my very own Motorola RAZR and on the last day I got some pearls, la la la." Then I would swing my Claire's string of pearls over my shoulder and walk down the middle school hallway into a mysterious ether, leaving the haters behind.
I'm sorry, everyone who I fooled. This was a lie and I will ask G-d for forgiveness during Yom Kippur. In fact, I think all Jews need to come clean about what we really get for Hanukkah. Luckily, I have compiled eight charts for your reference.
Drake my breath away. This is Jewphoria. Day one of Hanukkah should feel like this, as if every one of your dreams is handed to you on a latke-filled platter. Memorable day one gifts of my past include: a bike with glitter streamers, a polaroid camera with endless film packs, a furby, etc.
---
The second day is when your really crafty aunt gives you a fun Hanukkah paint-by-numbers and serves latkes on fine china. If you're lucky, you'll also get to decorate your own dreidel at Hebrew school. One year for this day I got Mary Kate and Ashley dolls. Not bad, Aunt Vicki.
---
Day three is like day one if you're vegan. Bubbe has to monitor her blood pressure now and recently went Paleo, so she'll make you something that she's really proud of from whittled vegetables. Naturally, you break out the dreidel and gorge on gelt with your siblings.
---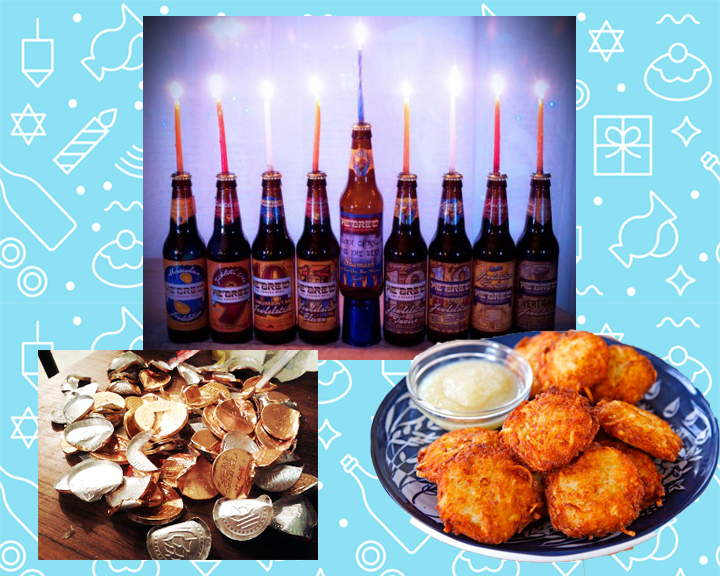 So you're out of Manischewitz. Or you're in college and you have to get creative with the menorah. Maybe you invite non-Jew friends over and they steal all your gelt so you have to gamble with alcohol. Either way, you're drunk, and you're gonna need those leftover latkes tomorrow morning.
---
Hanukkah is halfway over and this cat is not chill about it. From here on out, get ready to open up grab bags filled with any Hanukkah themed item that your relatives can find on the internet. Honestly, if I made a Holigay Gift Guide, it would probably just be a million of these "Dancing Kitty with Kippahwp_postsstickers which, and I really want to emphasize this, exist so much that you can actually buy them on the internet.
---
Day Six: Menorah Socks, Hanukkah Harry Sweater, Burnt Latkes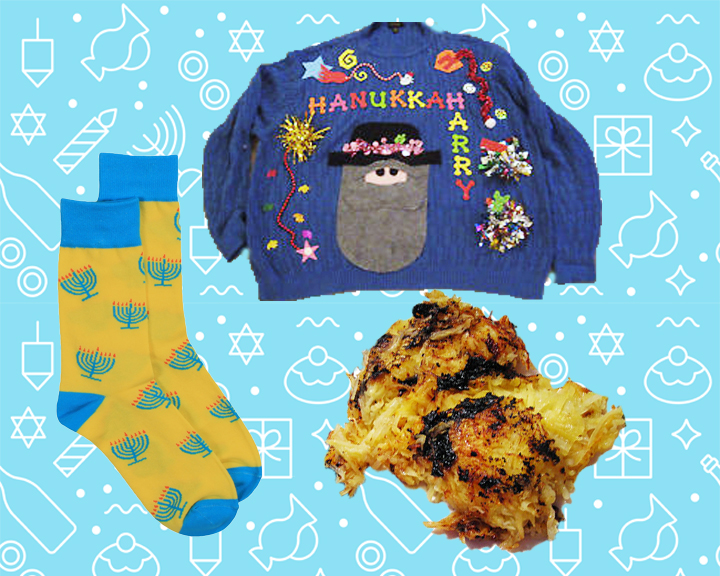 Happy Hanukkah, here's an Amish man on a sweater and some socks. Also we ran out of oil and the latkes are burned, so everything you know about this holiday is a lie.
---
Day Seven: Hashbrowns, Hand Menorah, Popsicle Stick Star of David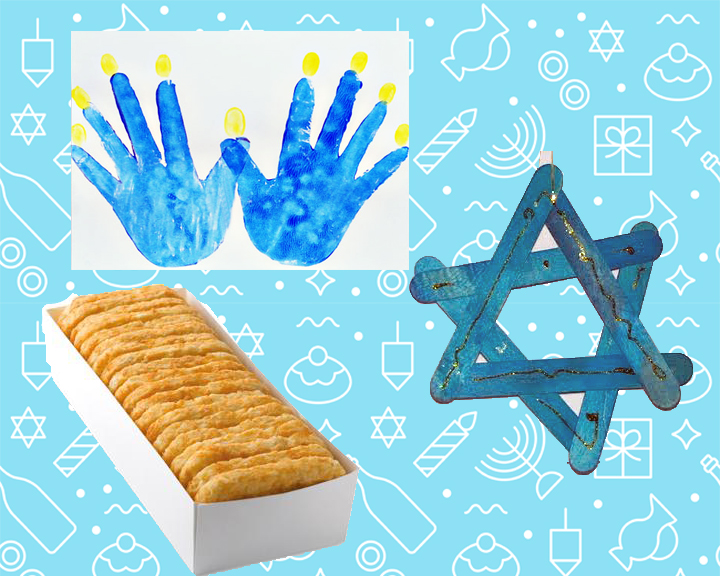 Hash browns have been going through a hard time lately and no one has told them that they're not latkes. Fun fact: I remember reading in the Talmud that this day is traditionally saved for nightmares filled with crafts from Jewish preschool days.
---
This is all you get.
Now that the secret's out, we can all come clean. What were some of your favorite gifts or some of your really awful gifts from past Hanukkahs?