Regardless of whether you're using it on a camping trip or just around the house, a pocket knife is hands down one of the Most Important Gadgets you can own. You can do so many things with it: slice cheese, open bottles or even carve the perfect stick for toasting marshmallows. They were the app for that before there was an app for that!
In general, pocket knife blades are smaller than regular knife blades for convenience and transportability. For the most part, the blade will be between 2″ and 4″ long. This may not be a long or strong enough blade if you want to do something like field dress an elk, but if your goals are more along the lines of cutting ropes and vegetables, you should be just fine. Manufacturers use all kinds of materials–from aluminum to wood to bone — to make the handle and all your favorite metals (think carbon and stainless steel) for the blades.
You have so many options at your fingertips when shopping for a knife, so narrowing down what you might use it for is a good place to start . Pocket knives can be as basic as a single blade, or they can hide two blades, three, or more! Maybe you will find a reason to need the Air Force Karambit Rescue Folder Spring Assist Pocket Knife or some scorpion throwing knives. Who knows? Variety is the spice of life.
Then you've got multitools. Multitools are perhaps more familiar to you as those little transformer-esque devices that house all kinds of useful tools in their handles. They're well known for their ability to solve any and all your camping (and life, if we're being honest) problems.
Make sure you check your new multitool's list of components before you buy it! It was W.C. Fields who wrote, "Once, in the wilds of Afghanistan, I lost my corkscrew, and we were forced to live on nothing but food and water for days." Do not share his fate! Make sure you have a corkscrew and a bottle opener! Check out Amazon's consumer reviews for a more diverse perspective.
With that in mind, let's take a look at the frankly frightening array of knives available to you.
+
The Original, Timeless Swiss Army Knife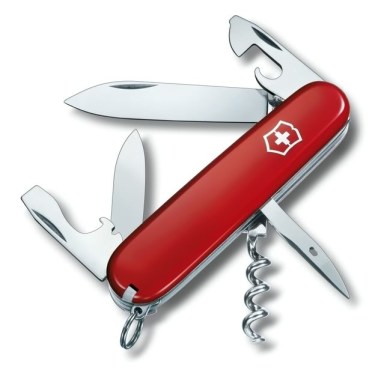 Did you know that the Swiss Army knife got its name from U.S. soldiers during World War II who couldn't pronounce "Schweizer Ofiziersmesser," the German translation of "Swiss officer's knife?" And yes — while all Swiss officers have carried a version of the same knife since the 1890s, it has become so popular since then that it is now part of the required gear for all astronauts on the international space station. The Swiss Army knife has evolved with the needs of the Swiss Army, and as of the early 2000s, modern models have been introduced that include features like USB flash drives, digital altimeters, and MP3 players.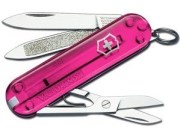 You can start small with a keychain-sized baby Swiss Army knife (Sooo many colors! And animal prints!) Or you can go crazypants with the world's largest Swiss Army knife, the Wenger 16999, which will only set you back $1,000. It definitely won't fit in your pocket, but it does include a fish scaler, a flashlight and what I'm pretty sure are tools with dental functions.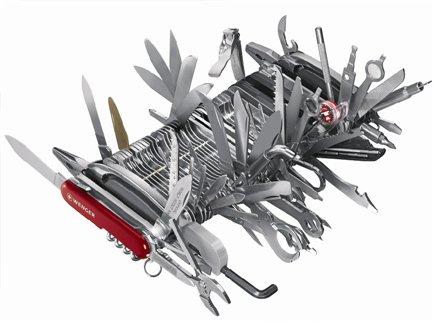 The thing I really like about Swiss Army knives is that they are engravable, which makes giving and getting them as presents kinda special. There's something about getting a Swiss Army knife in your favorite color with your initials on it that makes you feel simultaneously loved and ready to assemble furniture.
Price Range: <$10 – $1,000
+
Leatherman multitools were developed by Mr. Timothy Leatherman in the 1908s. Leatherman was inspired to design a "Boy Scout knife with pliers" after spending a large amount of a trip though Europe and the Middle East trying to repair a the repeatedly malfunctioning car he and his wife were travelling in and leaky hotel plumbing. The first prototype of the Leatherman multitool was (unsuccessfully) named "Mr. Crunch." Unlike Swiss Army knives that are structured predominantly around the central knife blade(s), Leatherman tools are built around a set of pliers, with the other components of the knife stored inside the two handles.
Price Range: <$20 – $100ish
+
In the 1930s—- back when they sold camping equipment instead of sex–Abercrombie and Fitch sold Gerber tools in their catalogue. Also! The host of Man vs. Wild uses a Gerber tool on the show. Like Leathermans, Gerber multitools are structured around a set of pliers. But unlike Leathermans, the pliers slide out of the end of the tool rather than folding out. Either way, though, both Leathermans and Gerbers come with cool holsters you can loop through your belt, so everyone's a winner.
Price Range: $10ish – $50ish
+
I have owned and used all three of these multitools and I liked them! Leatherman and Gerber are both relatively young companies and both originate from Portland, where I feel like they have the outdoorsy thing pretty much down to an art form.
It's worth mentioning that if you aren't into those and are really serious about buying a KNIFE knife, then there are also fixed-blade pocket knives. Fixed-blade pocket knives aren't really "pocket" knives at all, since the blade doesn't have anywhere to god. They're more what you'd sling on your belt/over your shoulder if you were intent on hunting kinds of activities where it's less about convenience and accessories than it is about winning the Hunger Games. There's a menacing selection of fixed blade knives available, some of which come with brass knuckles, spiky bits, and alien heads. Cato and Faith shop here.
Finally, and most awesomely, there are other quirky survival tools that you probably never knew about but will now desperately need.
The 11 Function Credit Card Survival Tool. This thing fits inside your wallet and is smaller than a credit card! It can do so many things! Price: $1.50!
+
The SE 6-1 Detachable Knife. It has: all the regular stuff plus cutlery! Price: $4.59. Sporks are so last year.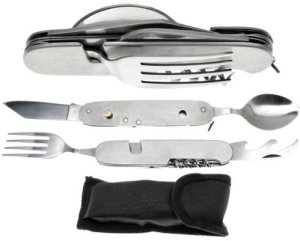 +
Swiss + Tech Keychain Multitool. It has 2 wrenches, 6 screwdrivers, a hand drill, and other things. Price: $8.67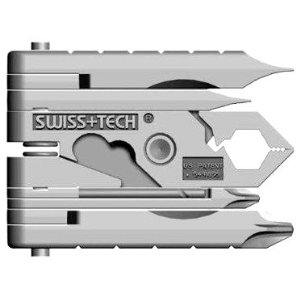 +
BodyGuard Emergency Hammer with Seat Belt Cutter and LED. For car-related disasters, this includes a spring-loaded hammer to break the car window, a seat belt cutter for getting yourself free, and a light and a sonic alarm to signal for help. Price: $14.00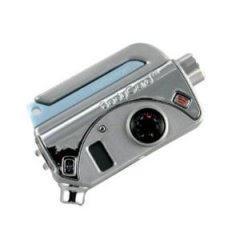 +
Kershaw Carabiner Tool. It's a carabiner! It's a tool! It's both! Price: $20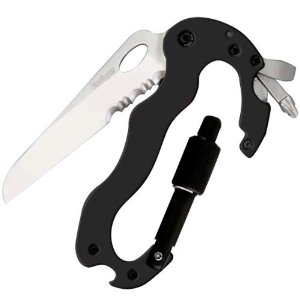 Once you have your knife, you need to know a couple last things about it. The experts agree: make sure that the blade is made from quality carbon/steel so it's able to hold a sharp edge over time and keep it clean and dry. If you're already on Amazon you can pick up a knife case and a sharpener for these purposes.
Oh also also! Responsibility! Open your knife away from you so you don't snap the blade down on your fingers when you close it. I got my first pocket knife when I was six and the first thing I did was slice my palm open…so, don't do that. Also try to avoid situations where a 127 Hours repeat could occur. I like your hands and want them to stay safely away from boulders. You need them more making s'mores and drinking microbrews around the campfire.