The thing about fire-building is that its a sexy skill. I've even included this awesome expertise on my dating profile. Yes, I'm so fantastic, I can build you a bonfire. We can roast marshmallows and talk about the stars. I've got romance down. (So why am I still single? The world may never know…) Anyway, I'm passing the torch. Start an awesome fire for the one you lust, and spend your evenings cuddled around it.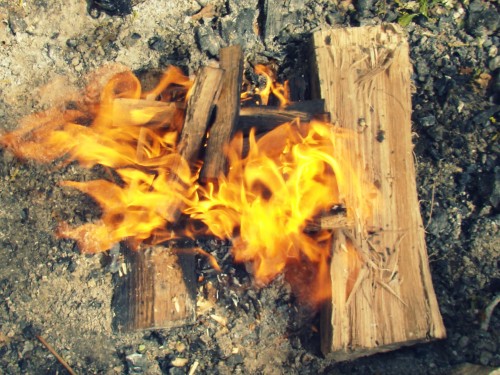 There are several important things you'll need to get your fire crackling. First, a quick reference. Fire needs three important things to stay alive: oxygen, heat, and fuel. If your fire isn't working, you're probably missing one of these key components. If you're missing fuel, find more! Just about anything burns, as long as its dry. And if your fire is hot enough, even the damp stuff will ignite. Heat is easy to solve. Matches, lighters, and magnesium strips will all bring flame to your pile of combustibles. Oxygen is probably the unsung hero of fire. After all, it doesn't seem necessary. If you want to lose your flame, you blow your candle out, right? But fire needs to breathe. Make sure your flame has enough room, that there are levels in your fire, or you'll end up snuffing it out. If you're not comfortable putting your lips next to your campfire and physically blowing on it, take a thick chunk of newspaper, a clipboard, or even a trash can lid and fan the flames.
When setting up a fire, grab all of your necessary materials before you get started. There's nothing so depressing as getting a flame, running off to the wood pile for supplies, and getting back to a smoking pile of ash. Grab your tinder, your kindling, and at least a few big fuel items before kneeling down over your campfire.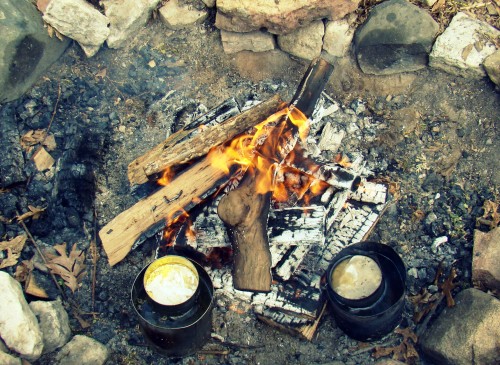 Tinder
Tinder is the stuff that instantly combusts. It's critical stuff because you can't just set a twig on fire. Every fire-starter has their preference for good tinder. If you want to look ridiculous (I often do!), you can start a fire with Fritos. All of the oil in them produces a pretty awesome flame, and it smells delicious as well. Laundry lint is my personal favorite. Hair works, whether synthetic or real. Newspaper, last year's tax returns, dry grass, and brittle dry leaves (make sure they crinkle when you crush them) are also good choices. Put your tinder in the center of your fire and pile up your kindling and fuel logs around it.
Kindling
Kindling is as important as tinder because tinder won't burn hot enough all on its own to heat up a thick log. Kindling is small wood — twigs, dry branches, or thin cuts off your large chunks of fire wood. Chopping kindling can potentially provide major props to your fire-starting sexiness. Make sure you do a few practice swings with the axe or hatchet so you don't chop off your toe. Go for pieces that are small, no thicker than your thumb. The best method I've found for chopping wood is to take one good swing (with the grain of the wood), and get the blade stuck. Then just pick up the wood (stuck to your axe) and bang it against a hard surface (the ground, another log, a bench) until it splits. Tada! Now you're a lumberjack.
Fuel
Fuel requires very little advanced prep. When you're starting out, stick to cut logs where the bark is stripped and you can see the "guts" of your tree. The stringier your wood grain, the easier it will be to light it. Elm and cedar are my favorites, but stick to wood that is local to your area to avoid spreading airborne diseases to living organisms. As your fire gets going, add larger fuels that take longer to burn. Don't add too much too soon. Let the flames work. They'll eat what you give them.
Build It
To get a good fire operational, use one of the following building methods: the log cabin, lean-to, or tipi.
The Log Cabin is my personal favorite. It's easy to build up after your flames eat the understory. Put a couple of fuel logs parallel in your fire pit. Build kindling on top of the logs, just the way you'd build a Lincoln Log toy cabin. Put your tinder in the middle and light it. As your kindling burns, add fuel logs to keep it going.
The Lean-To method is harder to build up, but heats up your kindling more directly. Place one fuel log in the fire pit, and lean four or five pieces of thin kindling against it. Stuff tinder underneath the kindling and ignite it. As it burns, add more fuel. It may look more haphazard than the log cabin, but as long as its flaming, it's good.
The Tipi method is great if your pit or surface is damp. Don't leave fuels sitting in water or on damp ground. Water suppresses heat, taking away one of the key factors in successful fire. To build a tipi, lean three pieces of kindling over a pile of tinder. If the ground is wet, put the tinder on top of something else (like a few pieces of extra kindling). As the flames rise, they'll ignite the kindling. It can be difficult to build on this fire, but one it's going, add more fuel any way feasible.
Mastering fire-starting is all about practice. Try not to light your clothes on fire. Keep a suppression method around for safety (metal trash can lids or buckets of dirt are better options than a bucket of water). Don't forget the marshmallows!


About the author: Allison is a well-seasoned camp instructor, an outdoorswoman, and a fire enthusiast (read: pyromaniac). When not teaching kids to love the environment, she sets enormous fires on the prairies of Northern Illinois and pouts when she has to put them out. Allison lit herself on fire four times as a kid, and feels that any week where she doesn't come home with her arm hair curly and singed is a week half-lived.