Welcome to NSFW Lesbosexy Sunday!
+ According to multiple new surveys by individual companies, a lot of people think basically anything, including Facebook, sleep, and bacon, is better than sex:
"The truth is that Americans on the whole are not devaluing sex, despite headlines to the contrary. For the most part, these surveys — which tend to be thoroughly unscientific and rely on minute samples — find that a minority of folks would give up sex for X, Y or Z. And yet that minority makes for a great, grabby news hook, especially when the sex-trumping variable is a newfangled piece of technology. These surveys powerfully feed into our fears over the way that technology is changing our world, especially the ways we relate to one another. At the same time, they validate those of us who have felt the pull of virtual, over real-world, intimacy. (And most of us have probably spent some time on both sides of that line.)"
+ Sleeping with someone on the first date: it might lead to marriage.
"Obviously this is some antiquated shit, but it's clinging to our modern dating scene with all its might. I know a number of liberal feminists who wouldn't dream of having sex on the first date (or even the second or third) because of the message it would send. As though sex somehow devalues you as a person. It taints the entirety of the date that came before. It makes a long-term relationship impossible. Lust can never become love. Well, bullshit, says this study. Love and lust aren't so far apart as traditionalists would have us believe."
+ As Carmen discussed in this week's Also Also Also, Brazen: Trans Women Safer Sex Guide, by Morgan M. Page, is available for free online as a pdf. It talks about talking about your trans status, negotiating safe sex, having safe sex, talking to doctors, post-surgery sex, and STIs.
"Let's face it: trans folks love words. We're creating new words and meanings to describe our identities, our bodies, and our lives all the time. And that's awesome! But it also makes it hard to be super inclusive of everyone all the time. In writing this guide, we're going to try to keep things simple, and use the broadest language possible, but no matter what words we use, we're going to end up leaving someone or some word out. We're really sorry if we've used any language that doesn't include you or doesn't feel like the most comfortable for you and your body. Feel free to cross words out that you don't like, and write in new ones!"
+ The Wirecutter has an intensive review of the best beginner vibrator. It is purple and $10.
+ The ten sexiest women in Indie Rock.
+ This erotic hand signalling chart is a naughty Surrealist adaptation of the American Sign Language manual alphabet, which might be convenient if you want to tell someone you want to deflower, lesbianise, or ensnare her.
+ Women like porn. So why do people keep insisting otherwise? Brook Magnanti explains:
"Participants ranked the films in order of how aroused they felt watching them. The heterosexual women in the study ranked male-male films the lowest, followed by female-female in the middle, and finally female-male films the highest. But when the genital arousal data were compared to these rankings, something interesting emerged.
It turned out that the physical data told a completely different story. Subjects claimed male-male porn interested them the least, but looking at the physical response, male-male and female-female films ranked similarly – both high. On paper, straight women ranked heterosexual pairings the most arousing, but their response while watching these films was actually lower than the other films.
Straight women were getting more physically turned on watching homosexual pairings, even films with no women in them at all, than they were by straight scenes. […]
These kinds of results paint a picture of real responses that are at odds with the stereotypes, and for that they deserve wider recognition."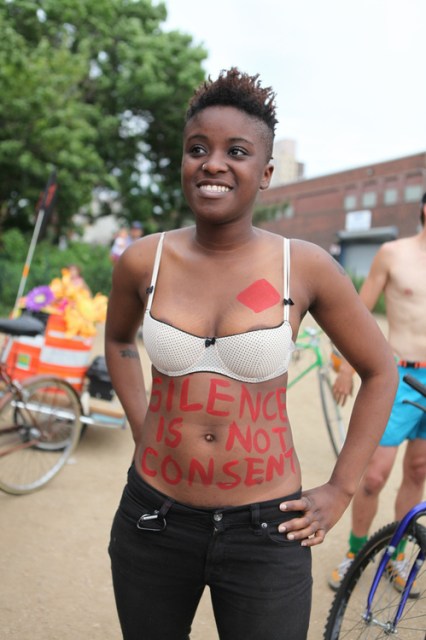 + It's a very heteronormative article/story, but still an interesting read:  Fat Sex – How One Women Let Herself Feel Pleasure:
Slowly, Alice started posing questions more to the point. Have you ever had sex with a large woman? Have you ever had sex with a, um, fat woman? Have you ever had sex with a … really fat woman? Did you like it? Some did, some didn't, but no matter what their response, the worst that happened was a blank screen. As it turns out, many of them liked fat women, because they have big breasts, and big asses, and places to squeeze, and put things.
Disclaimer: All of the photographs on NSFW Sundays are taken from various tumblrs and do not belong to us. All are linked and credited to the best of our abilities in hopes of attracting more traffic to the tumblrs and photographers who have blessed us with this imagery. The inclusion of a photograph here should not be interpreted as an assertion of the model's gender identity or sexual orientation. If there is a photo included here that belongs to you and you want it removed, please email our tech director at cee [at] autostraddle dot com and it will be removed promptly, no questions asked.