Happy Sunday Funday! This week I worked on the further perfection of my Pandora playlists and I am proud of how they are shaping up. Hopefully, you stayed cool and maybe wore your swimsuit once or twice or five times. Also, I hope you all had the opportunity to use sparklers, unless they aren't legal or available near you in which case I hope you found another source of unending joy.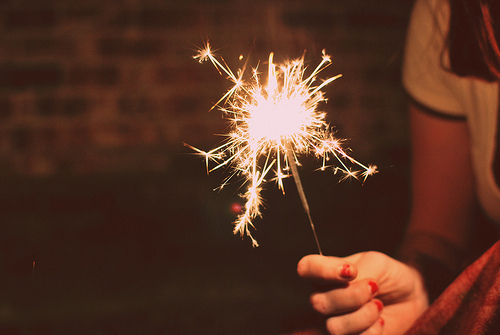 This week, I bring you positive feelings about the justice system – which is rare – and other feelings that are all somehow happy, optimistic, and brief at the same time. Did you know Jennifer Lopez is writing about lesbians and Google wants you to be loved all over the globe? Now you do.
Google's Global Gay Marriage Campaign
Yesterday, Google launched the "Legalize Love" campaign in Poland and Singapore. The effort will expand eventually to include every country in which Google holds offices, and is focused around ending homophobia:
Google's Mark Palmer-Edgecumbe said: 'We want our employees who are gay or lesbian or transgender to have the same experience outside the office as they do in the office. It is obviously a very ambitious piece of work.'
Google will work with other organizations to lobby the governments.
Palmer-Edgecumbe said: 'Singapore wants to be a global financial center and world leader and we can push them on the fact that being a global center and a world leader means you have to treat all people the same, irrespective of their sexual orientation.'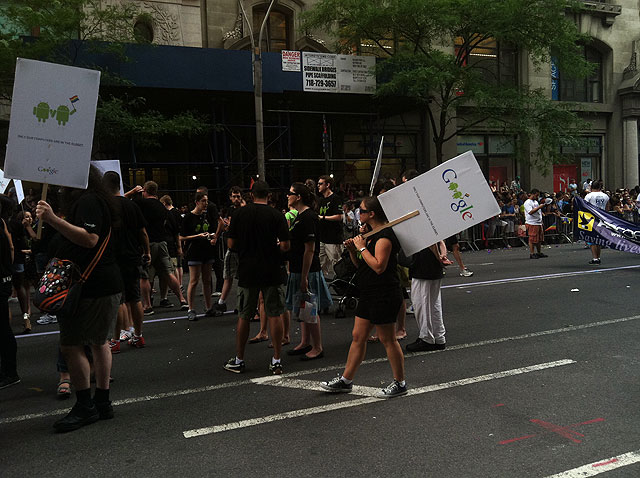 The campaign sprung out of concern on both a social and business level, based on the overriding idea that "this is the right thing to do" and also by a history of problems for LGBT employees for Google stationed around the world. When homophobia persists and makes it impossible for a work environment to be successful, it slows down operations and complicates arrangements, and makes it harder to hire LGBT employees at all. And for that reason Google is encouraging countries to take leadership in ending anti-gay sentiment and improving the average day of their gay citizens.
The campaign will focus on regions where it is illegal to be gay, or similarly homophobic areas.
The Rest: Gay Marriage Round-Up
+ Efforts to reverse gay marriage in New York were dismissed by the state's Appellate court this week:
Gov. Andrew Cuomo applauded the ruling.
"The court's decision affirms that in our state, there is marriage equality for all, and with this decision, New York continues to stand as a progressive leader for the nation," he said in a statement.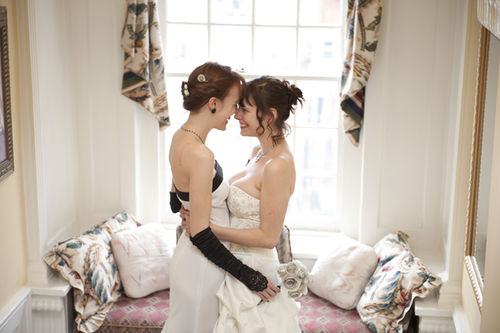 + Taiwan is about to experience the first same-sex Buddhist wedding in its nation's history, and at the helm are two women hoping to make an impact on the region's attitudes toward same-sex couples.
+ Australian politician Malcolm Turnbull can't make sense of the anti-gay-marriage movement anymore, and is now approaching the issue from a gradualist perspective by advocating for same-sex civil unions to be made legal in the nation:
"We should not miss the opportunity to legislate for civil unions for same sex couples in this parliament," Mr Turnbull said.
"I recognise that will be seen by many as not good enough. But it is better than nothing and, as I said in the House last week on another issue, it is a great mistake to allow your conception of the perfect to be the enemy of the good."
Latinos Love Gay People, Also Are Gay People Sometimes
Today, 21 Hispanic groups across the nation launched a public education campaign that advocates for the acceptance of LGBT family members. The "Familia es Familia" effort will begin with its official launch at the National Council of La Raza annual conference in Las Vegas.
Gay Blood Donations May Be Coming Soon
In light of a national shortage, The FDA has begun to reevaluate the long-standing ban on gay men being able to give blood.
The Advocate Endorses Obama
The Advocate has officially endorsed Barack Obama for President – marking the magazine's first endorsement in decades:
[Obama] has approached many of [the LGBT community's] challenges with intellect and foresight, though the long game was not often apparent to many, including this publication when we argued for a quicker pace for change. Obama deftly ended the military's 17-year-long "don't ask, don't tell" policy, allowing enough military leaders to reject the policy before pushing for repeal so that there was little room for Republican opposition. He has directed the Justice Department to not defend aspects of the extraordinarily discriminatory Defense of Marriage Act, calling it unconstitutional and urging its repeal. Now five federal judges have declared parts of DOMA unconstitutional.
And in every speech, at every opportunity, Obama describes LGBTs as his brothers and sisters, full members of our society. In college commencement addresses, in his address to the NAACP, in an "It Gets Better" video message to teenagers, at the National Prayer Breakfast, he has called for respect, dignity, and equality for LGBT people. At an address to the General Assembly of the United Nations in 2011 the president said, "No country should deny people their rights because of who they love, which is why we must stand up for the rights of gays and lesbians everywhere."
In an open letter, Editor Matthew Breen noted that The Advocate typically critiques leadership rather than reward small gains. He doesn't expect the critique to end – and knows Obama will, in the end, do us right. "We will push," he wrote. "But for now, we celebrate."
Positive Feelings About Justice
+ In Denver, the Sheriff's Department has worked on addressing the issue of trans* inmates with a progressive policy on their placement and treatment within the jail system, including the creation of a Transgender Review Board that will decide accommodations for each on a case-by-case basis. The city sees one to three transgender inmates each month.
People behind this policy say it's about basic human rights …"It's very much about equality," said Courtney Gray with the LGBT Community Center of Colorado. "It's about respecting people, although someone may have broken the law." "This is definitely the most progressive policy in the state," Gray said. "Nationally, it's definitely one of the most progressive and comprehensive in the country."
+ The Washington, DC Police Gay and Lesbian Liaison Unit now has a full-time Sergeant for the first time since 2009.
Serena Williams Takes Wimbeldon
Serena Williams took home a Wimbledon title this year. Again. This is her first title since 2010, after which she overcame serious health problems.
Chad Griffin Goes Home
Chad Griffin spent his first day as the new President of the Human Rights Campaign at home in Arkansas, where he was often victimized by gay bullying, in an effort to improve the lives of gay youth:
…last month [Griffin] returned to the Arkansas community where he spent his Sundays in a Baptist church and heard kids call him gay slurs in school, to show that he stands with young gay people in small towns across the country.
"One's state's borders should not determine one's rights," said Griffin, the new president of the Human Rights Campaign.
As the first Southerner to head the Washington-based group, Griffin has a knack for translating the fight for gay rights into language familiar to people in the Bible Belt. He sometimes borrows phrases from the pulpit — brothers and sisters, God's children — to advocate equality for lesbian, gay, bisexual and transgender people.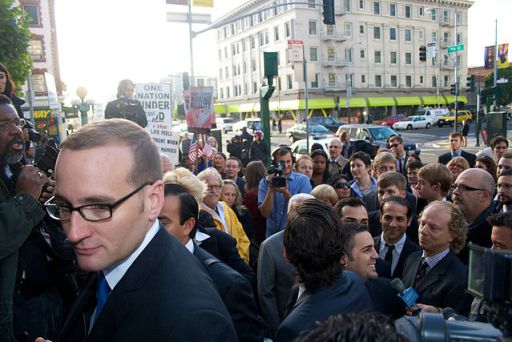 Jennifer Lopez Scripting A Lesbian Show for ABC Family
Jennifer Lopez is in the process of creating an ABC Family drama centered around a lesbian family. If the show is picked up, she may also be a guest star. To anyone who ever watched and rewatched a JLo video alone – this one's for you:
According to a new report from Deadline, actress/singer/perfumist/dancer/MILF 'American Idol' judge Jennifer Lopez is looking to develop a new hour-long series with ABC Family.  The as-yet-untitled series will follow a lesbian couple who have their already child-heavy household turned upside down when a wayward teenage girl moves in with them.
One of the adoptive mothers of the series is a police officer, while the other teaches private school.  Together, they have one biological son and adopted teen twins, one a boy, the other a girl.
Pandas On A Slide
These pandas are on a slide. That is all.