Lesbian and bisexual women and otherwise-identified queermos are so cute when they're naked and in your bed/arms/dreams. You probably bookmarked all of these queer sexy photography spots after reading that post I just linked to, but some of you have done a lot of drugs in your life and have really bad memories.
Regardless (and that last sentence might not even be on topic, it's hard to tell these days, feel free to disregard it) (I should start making footnotes David Foster Wallace style to everything), here are some of the world's favorite famous lesbian and bisexual women in various degrees of undress:
+
+
+
+
+
+
+
+
+
+
There! Wasn't that lovely? Well, there's more where that came from in the form of links and photographs of people who aren't famous, except for the one from Weeds where the person IS famous.
+
A Tumblr You Would Enjoy:
Curvature is erotic art photographs from all over the web. Highly visually stimulating.
Sex Hurts:
8 Sex Injuries to Watch Out For: spank marks are included, I'm sure you'll like that.
Kids These Days:
So apparently "half the women aged 16 to 25 surveyed by Family Planning NSW said they had sometimes been pressured to give oral sex, and many reported that young men "expect" to receive it. As you can imagine, the parents of Australia are a bit concerned.+
A Short Movie About Girls Sort of Rubbing Against Things:
Two minutes of pure sexiness (very NSFW!) via grays provocation, which is also very NSFW.
Orgasm Studies:
What can 2,914 Australian twins tell us about the evolution of the female orgasm? This is important stuff.
+
This Book is Bunk:
And, on that same exact topic, check out this takedown of the book A Billion Wicked Thoughts, which is supposed to be about sexuality and porn and that men like sex and women don't like sex. It's like this, mrs.naughty explains:
There's a logical fallacy called "cherry picking" which is essentially this: you come up with a hypothesis. You then seek out data to back your assertions. You ignore any contradictory evidence and only use the stuff that supports your theory.
Then you write a book about it. Cue the articles in major newspapers and interviews on TV. Suddenly, your delightful theory is accepted uncritically as fact.
Thus, we come to A Billion Wicked Thoughts, the book by Ogi Ogas and Sai Gaddam.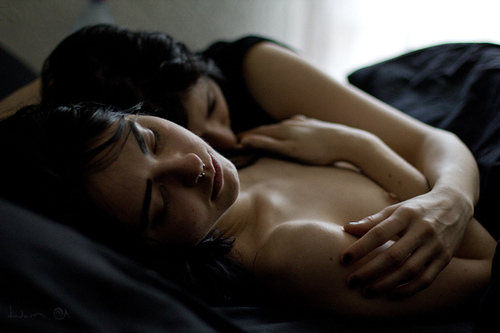 Dícen
Look, someone made a strange movie for you, it takes place in a field of dandelions and involves two women kissing each other. It's a teaser for the film Dícen and is described as, "una pequeña historia de ruptura. Un grito amargo, un monólogolleno de rabia mal contenida sobre lo que pudo ser y ya no será. Una poesía triste y agridulce de otra historia más, quese fue por culpa de los que hablan, de los que dicen…"
THEY TELL teaser3 from JUANMA CARRILLO on Vimeo.
Happy Sunday!