Welcome back to No Filter, your once-weekly stroll through the gardens of queer celebrity Instagram. This week, the fine folks at Oh No They Didn't decided that Gaby Dunn and Stephanie Beatriz are probably dating, which would be really excellent for this particular column so I'm crossing my fingers. If you are reading this, Gaby (and you are reading this), get to work. Also, Amandla Stenberg selfishly opted out of participating in this column and Cara Delevingne wore a shirt with her own face on it.
https://www.instagram.com/p/BXwLvatgiA3
I took a solemn vow that this week I would only post images that made me happy, so here is Gaby Dunn freaking out over a puppy.
---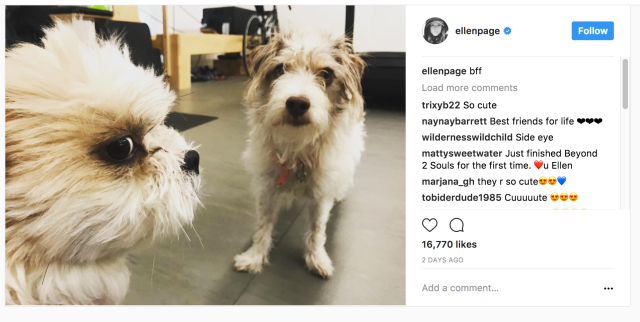 Is that PATTERS?!?!?!?!?!
---
https://www.instagram.com/p/BXmDfphBuVn/
I feel a great deal of Instagram potential from this pairing.
---

You know who belongs in this column? Chelsea Manning, forever always amen.
---

Evan Rachel Wood is trying to get back into my good graces by experimenting with different camera angles in her Instagram videos but I have not forgotten about Avril Lavigne; we are still in a fight.
---

I have no idea what Samira Wiley is doing in this cool motion capture contraption but whatever it is, it's probably adorable.
---

I'M NOT CRYING YOU'RE CRYING.
---
https://www.instagram.com/p/BX1BLZ3lQYg/?taken-by=teganandsara
Holiday is the hero this planet needs right now.
---
Join us next week, hahahaahahaha what could happen NEXT week?!?!?