by Rachel and Yvonne
Justice Department Releases Investigation of Baltimore Police Department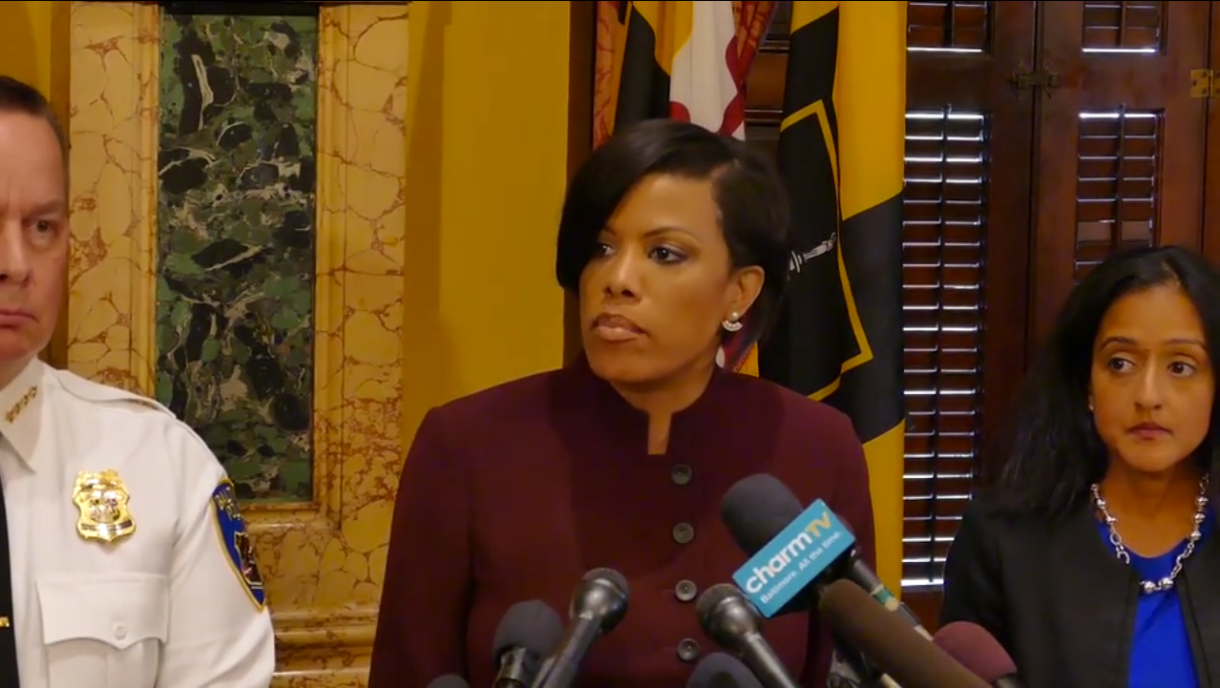 Not long after it became clear that no one would face any kind of justice in the death of Freddie Gray in a Baltimore police van, the Justice Department released its findings regarding a long-term investigation of the Baltimore Police Department. What it found is, in a word, damning — although not surprising. A brief overview:
The Justice Department announced today that it found reasonable cause to believe that the Baltimore City Police Department (BPD) engages in a pattern or practice of conduct that violates the First and Fourth Amendments of the Constitution as well as federal anti-discrimination laws. BPD makes stops, searches and arrests without the required justification; uses enforcement strategies that unlawfully subject African Americans to disproportionate rates of stops, searches and arrests; uses excessive force; and retaliates against individuals for their constitutionally-protected expression. The pattern or practice results from systemic deficiencies that have persisted within BPD for many years and has exacerbated community distrust of the police, particularly in the African-American community. The city and the department have also entered into an agreement in principle to work together, with community input, to create a federal court-enforceable consent decree addressing the deficiencies found during the investigation.
The report identifies many of these practices as stemming from "zero-tolerance policing," which they say looks like "officers making large numbers of stops, searches, and arrests—and often resorting to force—with minimal training and insufficient oversight from supervisors or through other accountability structures." The Justice Department claims that the kind of "proactive policing" that zero-tolerance espouses isn't fundamentally bad; it just needs to be "constitutional and community-oriented."
The executive summary provides an overview of the major issues the Justice Department found: unconstitutional stops, searches and arrests; discrimination against African Americans; use of excessive force; retaliation for activities protected by the first amendment; gender bias in sexual assault investigations; and deficient training and accountability. It's hard to imagine more that could be found wrong. It's a little weird, then, to read this in the closing of the executive summary:
Notwithstanding our findings, we are heartened by the support for police reform throughout BPD the City, and the broader Baltimore community. Based on the cooperation and spirit of engagement we witnessed throughout our investigation, we are optimistic that we will be able to work with the City, BPD, and the diverse communities of Baltimore to address the issues described in our findings and forge a court-enforceable agreement to develop enduring remedies to the constitutional and statutory violations we found. Indeed, although much work remains, BPD has already begun laying the foundation for reform by self-initiating changes to its policies, training, data management, and accountability systems.
Just at the end of July, police officers involved in the death of Freddie Gray sued prosecutor Marilyn Mosby for daring to bring charges against them, calling it defamation to charge them with manslaughter even though Gray's death was ruled a homicide. It's difficult to read that as the action of a department that's "laying the foundation for reform by self-initiating changes."
To many, who say that citizens have been speaking up about these issues for literally generations, the report isn't worth much. The New York Times quotes Sherrilyn Ifill, president of the NAACP Legal Defense and Educational Fund, as saying "African-Americans have not been silent about this… It's so rampant, it's so widespread, this kind of harassment of the African-American community in a city that's majority African-American, that you really have to ask yourself, Why did it take this?"
William H. Murphy Jr., the attorney representing Freddie Gray's family, told the Baltimore Sun, "Unless we rid the department of these cancerous tumors, the rotten police officers, we demoralize on a continual basis all the good guys who are forced to witness this under the blue wall of silence… They have to go. This is criminal conduct." His statement points to something crucial: the behaviors outlined in the Justice Department are indeed criminal, and many unconstitutional. So why is everyone who's enacted these crimes anonymous in the report, and why is there no mention of any judicial consequences for them? The report includes an agreement between the Justice Department and the BPD about steps for reform going forward, but it doesn't say anything about anyone within the department facing repercussions for what's already occurred — or even what repercussions will be enforced if the same practices recur. In the "accountability" section of the agreement, it says this: "BPD will strengthen its accountability measures, which may include audits, integrity checks, or using anonymous testers to assess whether officers are complying with policies. It will regularly audit samples of stops, searches, arrests, uses of force, and sexual assault investigations, use of force reports and incident reports to ensure that officers' actions comply with constitutional standards." It's not clear what will, if anything, happen to officers whose actions do not comply with constitutional standards.
---
Law & Order
+ Ecuador has set a date for Swedish prosecutors to question Julian Assange of Wikileaks about rape allegations from 2010 made by two different women.
+ Austin James Wilkerson was convicted of raping a classmate at the University of Colorado while she was drunk; he got a two-year jail sentence, but it's under work-release, meaning that he can go to work and school during the day, a punishment which many are saying is insufficient.
+ In 2008, when trans woman MB transitioned, it was a legal requirement in the UK to divorce if you were married, because same-sex marriage wasn't legal yet. MB didn't want to divorce her spouse, and so legally wasn't recognized as a woman — and because of that, she was eligible for pension five years later than she should have been as a woman. The Department of Work and Pensions is still fighting against giving her the five years of back pay.
+ James Larry Cosby was sentenced to life in prison for the capital murder of his 24-year-old daughter, Brittney Cosby, and her 24-year-old girlfriend, Crystal Jackson. Their bodies were found behind a convenience store dumpster in March 2014. Autopsy results found Cosby died from blunt force trauma to the head and Jackson died from a gunshot wound. A Galveston county jury heard seven days of testimony and deliberated for three hours before finding Cosby guilty. After Cosby's arrest, Brittney's mother, Loranda Remer, said Cosby didn't like that his daughter was gay. She told the Houston Chronicle: "He would throw it in her face," adding that her daughter quoted James Cosby as saying, "Don't throw that gay (expletive) around in this house."
+ Michigan State University will close it's all-women's study lounge after University of Michigan-Flint professor Mark Perry filed a civil rights complaint in July, arguing the lounge violated Title IX because it discriminated against men since they didn't have their own space. MSU concluded the study lounge, which has been opened since 1925, violated Title IX and now will be converted into an all-gender study lounge.
+ Kamilla Denise London, an incarcerated trans woman, filed a civil rights against a Delaware prison for denying her access to hormone therapy, reading her legal mail and for putting her in solitary confinement for her legal actions against them.
+ Black Lives Matter activist DeRay Mckesson filed a federal-class action lawsuit against the City of Baton Rouge. Mckesson claims the police used excessive force during his arrest on July 9th during a protest for Alton Sterling, a black man shot and killed by police. The lawsuit says police officers used "unconstitutional tactics to disturb, disrupt, infringe upon and criminalize plaintiffs and class members' constitutional rights to freedom of speech and assembly." Tactics used included "attacking, battering, beating and assaulting plaintiffs and class members without provocation or the need for defense," the suit says. The lawsuit demands all Baton Rouge protestors' arrest records to be expunged and their court costs to be reimbursed.
---
Police/Prison/Violence
+ Lee Coel, Florida police officers, shot and killed 73-year-old retired librarian Mary Knowlton during a role-playing exercise, when a simulation gun had a live round in it for some reason. Even before Knowlton was shot, he was already facing a lawsuit from an incident in November, when he stopped a man who was allegedly riding his bike at night without lights; when the unarmed man tried to bike away, Coel allowed his K-9 police dog to maul the man for a full two minutes.
+ LAPD shot and killed 14-year-old Jesse Romero this week after they arrived on the scene after reports of teens spraying graffiti and Romero ran from them. Officers say Romero had a gun; witnesses say that Romero threw the gun away from his body onto the ground when police arrived and before running. It appears that officers initially described Romero as being "in his 20s" when in actuality he was two weeks away from his 15th birthday. Locals held a vigil Wednesday night.
+ Earl Shaleek Pinckney was killed by police in Harrisburg, PA; police say they responded to a 911 call and that Pinckney was threatening his mother with a knife. His mother says that's not true:
Authorities said that police were responding to a 911 call made from the home. However, there is a difference in the accounts given by the cops and by Moss' mom that led to the killing. Police authorities state that the 20-year-old was holding his mom, Kim Thomas, at knifepoint. They add that he was killed after he failed to comply with the responding officers' request to drop the knife. However, Thomas begs to differ. An article in Heavy reveals that the devastated mother states that Moss was not holding a knife near her throat. She adds that he just had his hands around her head. Police came to the 2330 Green Street home after they received a 911 call.
---
On LGBT Discrimination
+ Model and YouTube star Gigi Gorgeous was apparently detained in the airport while trying to enter Dubai; she says that an immigration official told her "I was told you are transgender. You cannot come into the country."
+ LGBT Indonesians are described as "under attack" from state interests and religious hardliners.
The latest attacks include parliamentary and judicial efforts to persecute sexual and gender minorities. Indonesian lawmakers are pushing an anti-LGBT draft law, saying it is necessary to protect society from what they term "LGBT propaganda." An Islamic pro-family group called the Family Love Alliance has submitted a judicial review to the Constitutional Court, asking the justices to revise the penal code and criminalize gay sex. (Unlike its neighboring countries like Malaysia, Singapore and Hong Kong — all three of them former British colonies — Indonesia has never had law that penalizes homosexual acts. The exception is Aceh, which implements Shari'a.)
+ Uganda's "kill the gays bill" didn't pass, but that doesn't mean LGBT Ugandans are safe from their government.
Last November, the Ugandan Parliament passed the Non-Governmental Organizations Act, which requires all NGOs to apply for permits to operate and gives the government the power to jail the leaders of organizations that they determine go "against public interests." This posed a new threat to organizations likeSexual Minorities Uganda (SMUG), though so far, SMUG and similar organizations have continued to operate. Indeed, Pride Uganda was set to hold many big events starting in early August. But last Thursday, as the community was gathered at Kampala's Club Venom to crown Mr./Ms./Mx. Pride Uganda, the nightclub celebration wasshut down by a police raid.
+ Transgender performer Valentine Steaphon was kicked out of a New York gay bar
because a straight, cis woman complained about Steaphon being in the women's restroom. Boots and Saddle Drag Lounge's security got involved and told Steaphon that she had to leave if she was making the cis woman uncomfortable. "This is exactly what the security said," Steaphon recalled. "He said 'Well we cater to straight women here so if you are making them feel uncomfortable in the bathroom, you have got to go.'" The bar released a statement about the situation and said they felt saddened a member of their community felt marginalized and are now updating bathroom signs to be gender-neutral and reminding staff to respect all their patrons.
---
Election 2016
+ It's becoming very cliche to argue that some bad behavior out of Donald Trump's campaign is new or shocking in a novel way, but here's a contender, I guess, for that: "A former staffer for Donald Trump's campaign alleged in a lawsuit this week that a top aide in North Carolina pulled out a gun while the pair traveled together in February and held the loaded firearm to the staffer's kneecap."
+ Looking at the Democratic Party's sexual assault policy within its own national convention, where at least one delegate says she was sexually assaulted.
+ The cyberattack, apparently based in Russia, that targeted Hillary's campaign's emails also targeted "more than 100 party officials and groups" within the Dems, according to officials.
---
Grab Bag
+ Itemid Al-Matar walked through a subway station while wearing a niqab and carrying a backpack; for that, she was tackled by five police officers for "suspicious behavior." Now she's filing a civil case for "excessive force, false arrest, violation of freedom of religious expression and malicious prosecution" against the city of Chicago and six police officers, saying that "blatant xenophobia, Islamophobia, and racial profiling" were at work.
+ The first-ever nationwide survey of US high school students has found unsurprising results for LGB teens: they're at greater risk for both mental illness and violence from their peers. The survey has been used before now, but only added questions about sexuality this year, which provided findings that over 40% of LGB teens have considered suicide and 29% attempted it in the past year. The survey didn't have questions about gender identity or trans status, so unfortunately that data isn't available in this year's results.
+ Out magazine reports that for months, there's been a shortage of injectable estrogen at the highest dosage which is mostly prescribed to trans women and hasn't returned to the market. Doctors haven't been able to give patients injectable estrogen Delestrogen and it's generic counterpart, Estradiol Valerate since mid-July. For now, patients have been prescribed estrogen pills or patches, which isn't preferred by many trans women who swear by injectables. A spokesperson for Par Pharmaceuticals, which manufactures Delestrogen, told Out magazine the company had to find a new supplier after the original one stopped making the product and are now waiting for FDA approval on the new drugs.
+ Lesbian Chef Tyonne Johns was tragically killed after catering a wedding reception in a Virginia park. As the wedding ended at 11 p.m., Johns was clearing up the plates, cups and loading tables and folding chairs into the company truck when 19-year-old park employee Kempton Bonds confronted her. He said the folding chairs were park property and not her company's. The argument escalated and Bonds stabbed Johns with a pocket knife. She was taken to a hospital where she died. Bonds was arrested and charged with second-degree murder.