As you know, there is currently a nasty virus overtaking this country and ruining everything (with the exception of its current proximity towards Donald Trump, upon whom I wish nothing but the worst), and now G.L.O.W,, which starting in Season Two featured two QPOC characters and also did a very gay Season Three, has added itself to that list of ruined things. Also on the docket for death is Teenage Bounty Hunters, which is also gay and involves women doing physical harm to others but in a funny way. This comes shortly after Netflix's cancellation of I Am Not Okay With This, which had a queer tomboy lead.
Despite its Season 4 renewal, Netflix has backed out of completing G.L.O.W. because "resuming GLOW production under COVID safety protocols proved too difficult, not only because of the close physical contact necessary for so many of the show's scenes, but also because of its large cast and the difficulty of filming in Los Angeles right now." The budget increase to make this feasible was apparently a hard "no" from Netflix. They have however found the money to keep up with Stranger Things.
In a statement to Deadline, co-creators Liz Flahive and Carly Mensch told Deadline:
"COVID has killed actual humans. It's a national tragedy and should be our focus. COVID also apparently took down our show. Netflix has decided not to finish filming the final season of GLOW. We were handed the creative freedom to make a complicated comedy about women and tell their stories. And wrestle. And now that's gone. There's a lot of shitty things happening in the world that are much bigger than this right now. But it still sucks that we don't get to see these 15 women in a frame together again. We'll miss our cast of weirdo clowns and our heroic crew. It was the best job. Register to vote. Please vote."
All of the actors have been paid for Season Four although only one episode completed filming prior to COVID's shut-down. Unclear if this has extended to the crew.
The internet is upset, just like me:
I try not to get too upset about cancellations. But I'm so sad about GLOW, bc I fell for that show the minute I saw the pilot—so bold, warped and goofy, and yet, so emotionally sharp & realistic about the 1980s for women. AND I WANTED TO SEE BETTY GILPIN HEAD UP A TV NETWORK.

— Gremliny Nussboo (@emilynussbaum) October 5, 2020
Netflix getting this ruthless with its cancellations, even necessarily Amid Pandemic, feels like the true end of an era https://t.co/v31x9FUQ0q

— Caroline Darya Framke (@carolineframke) October 5, 2020
Hetflix calm down, look at your life choices

— Emily Andras (@emtothea) October 5, 2020
Valerie, who writes for esteemed queer website Autostraddle dot com, summed it up thusly: "The Outer Banks was the worst show I've watched in quarantine and Teenage Bounty Hunters was one of the best shows I've watched in the past year and I know it's not necessarily fair to compare them/i'm just one person with opinions but i'm angry That Outer Banks and their heterosexual nonsense got renewed but TBH didn't."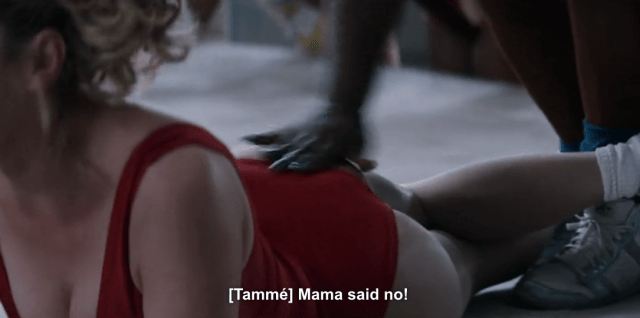 ---
Before you go!
It takes funding to keep this publication by and for queer women and trans people of all genders running every day. We will never put our site behind a paywall because we know how important it is to keep Autostraddle free. But that means we rely on the support of our A+ Members.
Still, 99.9% of our readers are not members.
A+ membership starts at just $4/month.
If you're able to, will you join A+ and keep Autostraddle here and working for everyone?
Join A+