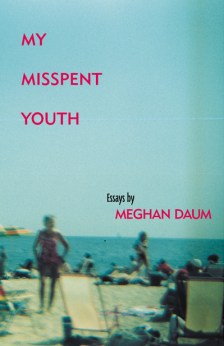 I've read Meghan Daum's essay collection My Misspent Youth at least three times since purchasing it in 2001. I like to give it to other people, too, and have them read it, so then they can talk to me about it as they read it, which gives me the experience of reading it for the first time all over again.
Today Daum's title essay, My Misspent Youth, popped up on longform.org (A site which curates a feed of long-form journalism/essays, providing four or five stories a day — stories from any point in time covering a wide range of topics. I usually end up reading about 50% of the stories they post every day, which is a lot, and I love it.), and I thought — Oh! Fantastic! I love that essay by Meghan Daum! — and I figured someone had like, re-published it in The New Yorker for some reason (in my imagination, The New Yorker is a big fan of the repub).
But I clicked and it turns out that it's right there on the Meghan Daum website and maybe it always has been! What a day!
Longform.org describes "My Misspent Youth" as "life and debt, in New York" which I think means it's timely now (again). Now everybody is talking about money and debt, openly, but when I read this essay for the second time (in 2004, I believe) it resonated anew and seemed a big deal to me because I had a lot of debt and so did most of the creative-minded women I knew but it was more embarrassing than it is now. Women didn't really write about it and so I rarely read about it, unless it was in retrospect — written by someone on a high horse who'd gotten that high by climbing themselves out of said debt. I think I still have trouble, now, talking about debt.
Anyhow, this is from My Misspent Youth:
"I've always been somebody who exerts a great deal of energy trying to get my realities to match my fantasies, even if the fantasies are made from materials that are no longer manufactured, even if some governmental agency has assessed my aspirations and pronounced them a health hazard… it wasn't until recently that I began to realize that I wasn't having quite as good a time here as I once did. I say this as someone who has had a very, very, very good time in New York. I say this as someone  who has enjoyed a good deal of professional success here, particularly considering that I am so young and committed to a field that is notoriously low paying and unsteady. But low pay and unsteadiness never really bothered me all that much. I've historically been pretty good at getting by on what I have, especially if you apply the increasingly common definition of "getting by," which has more to do with keeping up appearances than keeping things under control.
Like a social smoker whose supposedly endearing desire to emulate Marlene Dietrich has landed her in a cancer ward, I have recently woken up to the frightening fallout of my own romantic notions of life in the big city: I am completely over my head in debt. I have not made a life for myself in New York City. I have purchased a life for myself."
Also on Meghan Daum's website, I see, is an interview with Meghan Daum about her book My Misspent Youth. This is the part about the essay My Misspent Youth:
Let's talk about some of the individual essays. The title piece, My Misspent Youth, caused quite a stir when it was first published in The New Yorker. You were very explicit about the debt you accrued while living in New York City. But you've said the piece ultimately isn't about money. What is it about then?
MD: The chronicle of my debt was really a means of getting into a larger, more universal subject—not that debt isn't fairly universal these days. The piece is really about my experience trying to live out a particular fantasy I had about being a New Yorker and being a writer in New York and how I was almost financially ruined by simply trying to live what used to be considered a modest lifestyle. Over the last twenty years, the economic situation in New York City, particularly as it's reflected in the cost of real estate, created a situation where the very people who gave the city is creative and cultural cachet—the artists, the intellectuals, the bohemians—simply cannot afford to live there anymore. I find that immensely sad. The essay, to me, is really a valentine to New York. A sad valentine. Maybe even a "Dr. Johnwp_postsletter.
I thought about this essay a lot a little over a year ago when I left New York for California. I thought about this essay and about Joan Didion's Goodbye to All That, which famously declared that New York City is a place for "the very rich" and "the very young." In the interview I pulled from above, the questioner asks Daum about Didion (see, she thought of it too) —
You dumped New York for Nebraska. To that end, your essay is often compared to Joan Didion's famous homage to New York "Goodbye to All That,wp_postswhich she wrote right before she left the city and returned to California. Was her essay a starting point for you?
MD: I am flattered at the comparison. But most of my inspiration for my essay came from Edith Wharton's novel "The House of Mirth,wp_postswhich is about a young woman trying in vain to survive in turn-of-the-century New York in extremely class conscious circles. She dies at the end—guess she should have moved to Nebraska!
I still associate this essay with Goodbye to All That, no matter what she says. Here's something from that:
"[W]hen you are twenty-two or twenty-three, you figure that later you will have a high emotional balance, and be able to pay whatever it costs. I still believed in possibilities then, still had the sense, so peculiar to New York, that something extraordinary would happen any minute, any day, any month."
-Joan Didion, Goodbye to All That
I got into Meghan Daum in the first place because one of her essays appeared in a book called Personals: Dreams and Nightmares From the Lives of 20 Young Writers, which I bought when I was first getting into writing non-fiction and had already read all the Harpers feature stories available in our school library.
I used her essay to teach creative non-fiction writing to, I believe, high school freshmen in Grayling, Michigan. (In my copy of the book, a post-it note reading "20 copies" remains on the page where her essay begins.)
That essay was called "On the Fringes of The Physical World" and it was about an internet romance but you have to keep in mind that she wrote this in 1997, before everyone had internet romances, and what she was describing was so unique and specific and secret and like it wasn't necessarily about me but it would be soon. ("I would stay up until 3:00 AM typing with him, smiling at the screen, getting so giddy that I couldn't fall asleep. I was having difficulty recalling what I used to do at night. My phone was tied up for hours at a time. No one in the real world could reach me, and I didn't really care.") It still makes sense today, even though they chatted on America Online and she had no idea what he looked like until she met him.
"All the tangible stuff — the trees outside, my friends, the weather — fell away. I could physically feel my brain. My body did not exist. I had no skin, no hair, no bones; all desire had converted itself into a cerebral current that reached nothing but my frontal lobe. Lust was something not felt but thought. My brain was devouring all of my other organs and gaining speed with each swallow. There was no outdoors, the sky and wind were irrelevant. There was only the computer screen and the phone, my chair, and maybe a glass of water."
Right? And look, it turns out that this essay, too, exists on the internet, in a place where you can read it, and maybe should.
They interviewed her about this one, too:
The first essay, On the Fringes of the Physical World is about an email relationship. In the wake of internet dating, this is something that's become very common today. Has your perspective changed since you wrote the essay?
MD:    On the Fringes was first published in The New Yorker in 1997 under the title "Virtual Love.wp_postsNow that internet dating seems to be the default mode of dating in general—no one looks up from their newspapers in the coffee shop anymore, they just run home to their computers—the essay seems quaint in a way. But it was never really a piece about dating. To me, the point of interest was how email communication, particularly when it involves romance or flirtation, is more akin to 18th century courtship than it is a form of post-modern malaise. The epistolary nature of it reveals our need to go back to a more traditional form of communication. The irony is that modern technology is fostering an old-fashioned tradition.
So there you have it: feelings about money and feelings about the internet, from over ten years ago, that will remind you of how you felt yesterday.
And while we're talking about class, anyhow, if you haven't read Sady's thing on class, you should do that immediately.