Riese's Team Pick:
When I'm not writing excessively lengthy articles, I enjoy reading them, and the stacks of magazines on all available surfaces of my studio apartment testify to this passion. There's so much online though these days, where do we even begin?
Well, this week Byliner launched, which aims to "discover and discuss great reads by great writers."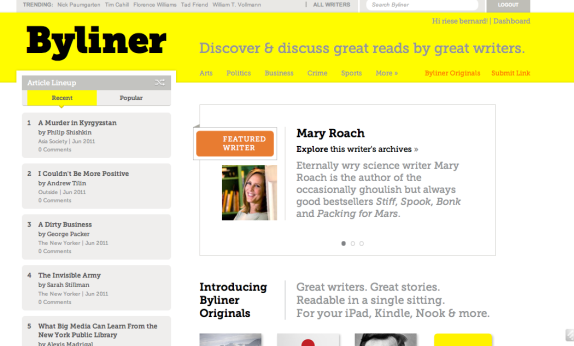 In addition to publishing Byliner Press original stories by writers like Jon Krakauer and Tad Friend, Byliner accepts member-submitted links to great things they read on other sites — like lesbian writer Ariel Levy's "My First Time, Twice" from Guernica (which is actually about sex with a dude) and Oliver Miller's "AOL Hell: An AOL Content Slave Speaks Out" from The Faster Times.
Much like longform, which I've been visiting daily ever since that time they posted all the American Magazine Awards finalists, Byliner presents thematically curated lists of articles (to celebrate their launch, Byliner has a "How to Launch a Business" list). Byliner also is a social network for writers.
So what about longform?
Longform.org posts new and classic non-fiction articles, curated from across the web, that are too long and too interesting to be read on a web browser.
We recommend enjoying them using read later services like Instapaper and Read It Later and feature buttons to save articles with one click.
Launched in April 2010, Longform.org has been featured by Slate, New York Magazine, The Guardian, and others.
You can pick stories by tags, eras, topics, writers — and they have stuff that goes all the way back to like last century as well as things published yesterday. Curated thematic lists have topics like Commencement Addresses 1979-2011 or A Requiem for Glenn Beck. There's just so much there, it's like all the best parts of magazines organized for you. I print them out and read them and feel happy all day.