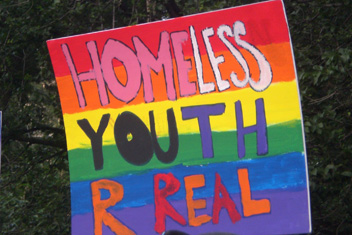 Kids in foster care don't always see the same people every day. Instead, they tend to face a recurring cast of characters: social workers, teachers, judges, lawyers. In addition to being the kids' only real options for adult support, these people also decide what's best for their clients, and represent and defend their rights in court. That's why it's crucial that these professionals aren't bigots who think their clients are going to hell.
While I think most of these professionals mean well, they don't always understand the uniquely vulnerable position of LGBTQ teens. Often they aren't equipped to deal with, say, a transgender runaway. And these kids do face a very unique, very severe set of problems. Here's what it's like to be an average, run-of-the-mill LGBTQ youth these days:
+ 36.5 % of LGBTQ youth in 9-12th grade have attempted suicide
+ 84% of LGBTQ students report verbal harassment because of their sexual orientation
+ 82.9% of LGBTQ students report that faculty or staff never intervened or intervened only some of the time when these remarks were made
+ 41% of self-identified gay and lesbian youth reported violence from family members, peers, or strangers.
Up to 25% of gay kids are rejected by their families and become homeless, at which point they're twice as likely than straight homeless teens to be subjected to violence on the streets and in the shelter system. They suffer from inordinate rates of mental illness, trauma, HIV infection and substance abuse.
So what can we do?
+
When I was a queer kid growing up in Northern Virginia, it'd be an understatement to say these issues didn't concern me. On my list of worries, "LGTBQ homelessness" or "the foster care system" would've ranked far below such priorities as "beating my sister's SAT scores" and "making sure someone (anyone) tied a balloon on my locker for my birthday." I don't think I even saw foster kids or homeless teens as my peers, but with an estimated 20% to 40% of them being gay, they were my peers in more ways than one.
Now that I've long since finished my SATs and aged out of my locker-focused worries, I'm proud to say that I have the brain capacity to not only comprehend the struggle of LGBTQ youth, but to also do something about it.
I work on a lot of cause-related or political projects and honestly, it's an incredibly rare thing to feel like something you're doing actually matters, in any way. But the Opening Doors Project is doing something real, and it definitely matters.
This isn't a tacky petition or a bullshit awareness campaign that exists solely for the purpose of getting your email address so you can receive horrible marketing copy every day for the remainder of your twenties. It's a project that funds lawyers to travel the country training other lawyers, judges, social service providers, teachers and other totally relevant community members on how to not discriminate against LGBTQ kids in foster care.
It's not just about "it gets better," it's about making things better right now. This project has trained hundreds of the most important adults in LGBTQ kids' daily lives on how to support and represent them as they move through and beyond the system.
The Opening Doors Project, while not super sexy with custom celebrity photos, is the nitty gritty of change. It's old school, local community organizing at its best.
+
In 2007, social service workers and child advocates in Prince George's County, Maryland, identified that, quelle surprise, their staff and volunteers didn't know how to address the unique challenges of LGBTQ children.
The Opening Doors Project created the Prince George's County LGBTQ Youth Task Force to provide training and support for legal and social service professionals on the front lines. Since the task force's inception, they've established a Group Home Bill of Rights for LGBTQ youth and have published a resource guide for professionals working with foster kids.
Although I'm not a social worker, a teacher, a judge, or, in spite of my mother's best efforts, a lawyer, I have gotten the chance to lend my—ahem—online video expertise to support this project. Have a look:
Now I'm asking you guys to lend your expertise. LGBTQ foster kids need smart, excited people who care to start and join community task forces to help out. These volunteers receive training and become mentors, which is where you (yes you!) come in. If you've ever been to any sort of community action meeting or activity, you know that, more often than not, these things are filled with older people who are just slightly more in touch with Prairie Home Companion than with the issues confronting a thirteen year-old transgender* kid.  And while nobody loves old people more than I do, we can't leave these things entirely up to them or they'll just ruin it like they did social security.
These task forces are badass. They consist of an amazing cross-section of local leaders and regular people, but as the obvious future of all things gay, we also need to be involved.
If you feel compelled, and I know you do, take a second to sign up at The Kids Are Listening. You'll receive an email from an actual human involved with the project (most likely an awesome guy named Garry) who will get you plugged in to joining or starting a task force in your community or explaining how to become a mentor.
Even in my nuclear family-supported, middle-class, suburban childhood, it would have made a huge impact if I'd been surrounded by adults who celebrated and supported being gay, and who proactively mentored me from a place of genuine understanding. This impact is tenfold in the life of a foster kid who must go without a family's support.
Do it for your community; for the kids you see hanging out at the train station or the bus mall every morning. Or just do it as a spiritual lifeline to your confused teen self. It's simple. It's fun. And it makes a huge difference.