Jamie's Team Pick
I've just started climbing at Brooklyn Boulders, the largest indoor rock climbing gym in New York City, and it's a pretty mind blowing place.  I'll be blogging about my experience climbing there, and while chatting up the project I was told about the LGBT Rock Climbing Club CRUX which has been around since 2008. Sidenote: It looks like Logo showed up to film them for an episode of a dating show?
Their mission is the following:
– encourage competitive participation in local, national and international sporting competitions and events
– fundraise to support local and national LGBT organizations
– provide programming to support at-risk LGBT youth
– increase LGBT visibility within the sporting community

– create a welcoming, supportive environment for members of the LGBT community to encourage participation in sports
The group meets at Brooklyn Boulders every Friday night so I'm definitely penciling that in sometime soon. I mean look at these guys! Here is a photo of the group before marching at Pride via their Meetup page: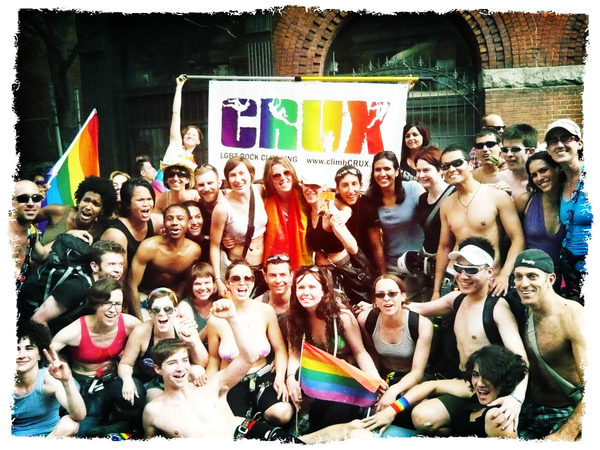 And a few photos of some CRUX members climbing for good measure. Climb on!