Have you occupied any pre-determined crowd-selected public spaces lately? Do you plan to? Are you a bit annoyed with the corporate takeover of American government, extreme wealth inequity and the mishandling of taxpayer-subsidized Wall Street bailouts? Sure you are! (No seriously what's happening right now feels, oddly, like a dream come true.)
But why be annoyed when you could get ANGRY?! The best way to prepare for this kind of thing is to get as riled up as possible. I personally attribute at least 50% of my knowledge about Corruption and Corporate America to documentaries.
T

Ten Movies To Get You Really Riled Up And Ready to Occupy Something
+
Inside Job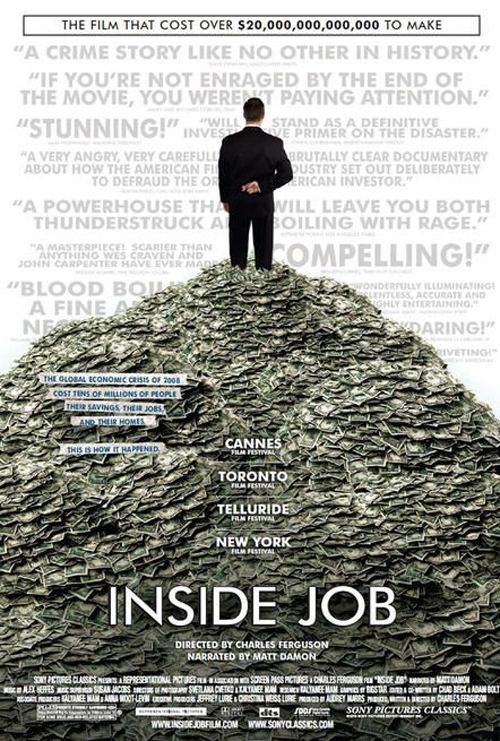 This Academy-Award winning documentary, directed by Charles Ferguson and narrated by Matt Damon, is where you must begin with your journey towards Total Outrage.
The Director's Statement:
"This film attempts to provide a comprehensive portrayal of an extremely important and timely subject: the worst financial crisis since the Depression, which continues to haunt us via Europe's debt problems and global financial instability. It was a completely avoidable crisis; indeed for 40 years after the reforms following the Great Depression, the United States did not have a single financial crisis. However, the progressive deregulation of the financial sector since the 1980s gave rise to an increasingly criminal industry, whose "innovations" have produced a succession of financial crises. Each crisis has been worse than the last; and yet, due to the industry's increasing wealth and power, each crisis has seen few people go to prison. In the case of this crisis, nobody has gone to prison, despite fraud that caused trillions of dollars in losses. I hope that the film, in less than two hours, will enable everyone to understand the fundamental nature and causes of this problem. It is also my hope that, whatever political opinions individual viewers may have, that after seeing this film we can all agree on the importance of restoring honesty and stability to our financial system, and of holding accountable those to destroyed it."
+
+
+
Casino Jack and the United States of Money
Julie & Brandy in Your Box Office "Season One: The Sh*t You Didn't See" contains excerpts from the abandoned episode wherein Julie & Brandy attended Casino Jack and the United States of Money and then wanted to punch people in the face. The film explains all the shady behind-the-scenes shit that fueled the economic crisis of 2008, led by one douchebag named Jack Abramoff, who spent like a minute in jail for all this crap.
+
+
+
Wal-Mart: The High Cost of Low Prices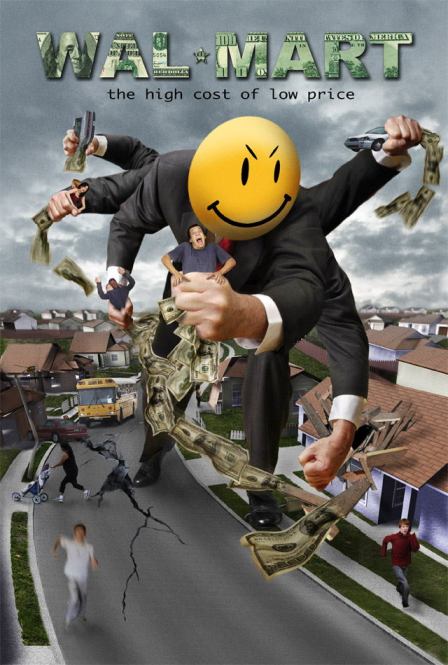 I wrote about this film a while ago and I said it then and I'll say it again now — you need to see this. It's the epitome of what Occupy Wall Street is protesting against. I tend to be too poor to vote with my wallet in general, but Wal-Mart is one store I will never shop in again, ever.
+
+
+
Sicko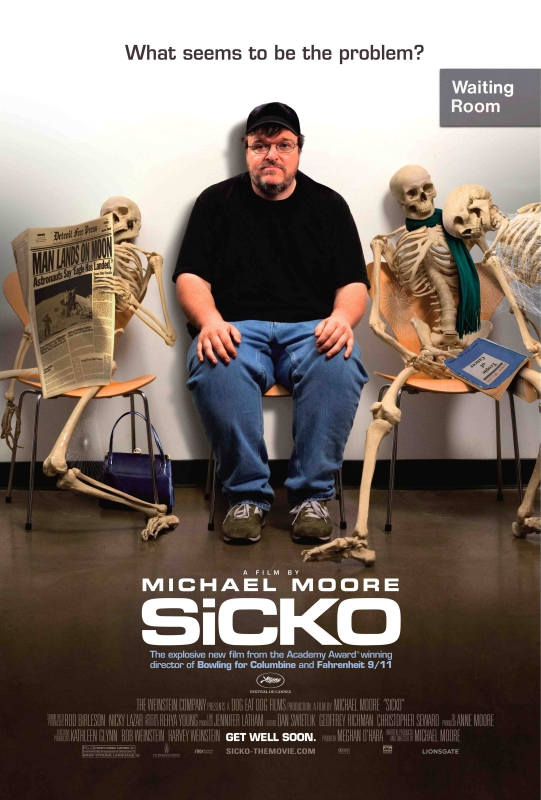 So everyone has mixed feelings about Michael Moore and many have really strong negative feelings about Michael Moore but this is a good movie. It's about health care, obviously, but it's also really about how the lack of free health care is what drives the sort of ruthless capitalism most Americans have no choice but to participate in — because getting a certain kind of job is literally a matter of life or death.
+
+
+
The One Percent
watch on youtube [it's also on netflix instant watch]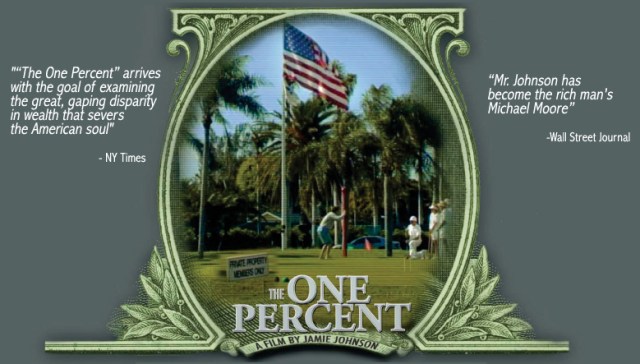 In 2003, 20-year-old Jamie Johnson, heir to the Johnson & Johnson pharmaceutical empire, upset his family and a handful of other mega-rich people with Born Rich, a Sundance Selected Emmy-nominated documentary about what it's like to be an heir to a fortune. He interviewed his friends including the Rockefellers, the Trumps, the whole nine yards, "candidly revealing the great privileges and the excess baggage that go along with their high net worth."
In The One Percent, Jamie follows a similar line of questioning wherein he talks to some of the richest people in the country about their ethics, business practices, and everyday lives. Unsurprisingly, he upsets his family (and Warren Buffett) and reveals some complicated but deeply embedded systems of moral reconciliation for the economist who promoted the "trickle-down" idea to begin with.
+

++


Pages: 1 2See entire article on one page