1 week ahead of time
+ SERIOUSLY PACK EVERYTHING WHAT THE FUCK IS WRONG WITH YOU just put Hoarders on Netflix and get to it.
+ Institute a rule that the only social events allowed are "helping you pack." People who try to convince you to come out for drinks or to a party just one last time are your enemies. Frenemies. Whatever.
+ If you have a pet, see if you can get pet drugs for it. These exist. I don't know what your personal vet's disposition towards this idea is, but I can attest that a two-day drive with an unhappy, crying cat is way worse than the same drive with a stoned cat. I think I will get yelled at in the comments for this but I sincerely believe both you and your beloved pet will be happier for this.
+ I lied about how you can only have friends over to help you pack, you can also have friends over to help you eat all your perishable food/food you don't want to pack. You can also have friends come over to talk you down from panic attacks about packing, but only if the episode ends in packing.
+ If you need to buy furniture or anything in your new location, nowish is a good time to start making Craigslist inquiries.

3 days ahead of time
+ If you haven't done so already, bite the bullet and just start eating delivery for every meal. All your pots and pans and dishes should be packed by now.
+  You are not as packed as you thought you were going to be. Trust me. Call around and make sure at least one person is available for last-minute day-before packing assistance. It is okay if this person is your mother.
+ I live(d) in a city, and it had shitty and insane parking rules. If this is also the case for you, you may also be able to do what I did, which was go to the city parking office and get special parking signs that blocked off part of your street for the truck or car or whatever on the day of your move, so you didn't just have to hope that there would happen to be three spaces free right next to each other. It's worth at least calling.

Last day before moving
+ If you managed to get the abovementioned Xanax, now is the time to use it.
+ If you can pre-load anything that you've packed, i.e. put it in a car or truck the night before, do that. All I know about packing trucks is that the weight is supposed to go in the front (near the cab, or the direction you're driving) and that the boxes should go on bottom and furniture on top. I also ended up stuffing my bike in upside down on top of my mattress, though, so maybe don't listen to me. (I didn't have the money for a bike rack, see step 1.)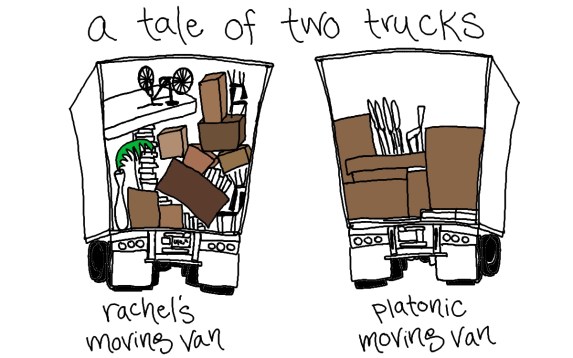 Moving Day!
It's all about road trip snacks and coffee. Maybe get a bagel. Maybe you won't be able to find good bagels where you're going, or at least it will be harder. That's my only real advice. Get a bagel and some coffee and go.
All cartoons via Autostraddle's own Intern Laura!
Have some moving tips? Share them in the comments!
Pages: 1 2See entire article on one page